In the third of nine articles exploring 9 things he has found surprising in business, Peter Massey explains why art, architecture, music, stories and smell matter at work.
What Did Conquering Leaders Know
What do art, architecture, music, smell and stories have in common? Apart from the latter, they are not things you might discuss too often at work.
Yet every conquering leader knows the importance of their symbolism, their role in creating legends and in sharing memorable experiences. They are at the heart of memory, legacy and your leadership story. Smell – we'll come back to that!
Power Pose

If you think of the Tudor era, Holbein's portraits of Henry VII, Henry VIII and Elizabeth have come down to us through the ages, still full of regal power. "Don't mess with me." "Don't question my right."
In the Renaissance, the powerful Medici benefactors of Leonardo da Vinci's art and invention sponsored him for reasons of cultural and military power.
Their names have come down the ages with his. As of course has the written word – coded or not. Machiavelli's The Prince is still published.
The Romans and the Norman conquerors shared a love of monumental buildings that said "Look up to us, look what we can do." "Get on board or be crushed."
Again those messages come down to us to this day: from Hadrian's Wall to the the Tower of London. From the city walls of Chester, York and Canterbury to the great stone cathedrals using the architectural skills of the Normans, itself part of the Masons' original story.
Handel's Water Music was used by Hanoverian King George I to impress his British subjects. Allegri's soaring polyphonic Miserere spawned the legend that it had been passed on and sung from memory in the Sistine Chapel until the child Mozart wrote it down after listening to it once. It symbolized the power of the church and the Pope.
Amplified
And often these senses come in combinations at their most powerful. Art, architecture and music together create stories in our minds which stick.
The Miserere sung under those stretching fingers by Michelangelo in the stunning vault of the Sistine Chapel.
The Welsh Male Voice Choir at the Principality Stadium in Cardiff with the amazing roof structure closed and the scene painted noisy red.
A shaft of light flying from the hole in the roof of Rome's Pantheon built in AD 24. Maybe your favourite Abba tune in hologram form on a transportable zero carbon set counts too!
And often these senses come in combinations at their most powerful. Art, architecture and music together create stories in our minds which stick.
Our emotions are stimulated to the max and memories lodged.
Memories
Memory works in peculiar ways. One of the oldest evolutionary parts of our brain, the amygdala, is involved in how we store emotional responses into memories.
It's the fast in Thinking, Fast and Slow (Kahneman). We know that pleasurable experiences, be they stimulated by place, sight, sound or people, stick with us.
I'm not suggesting you go out and raise a Nelson's column to yourself or write a personal anthem for you to walk into reception by.
But what if you think just a little more about the environment you're working in, the creativity of the visuals and the sound track to the day, then would it stimulate the grey cells of your teams?
Art for Art's Sake
So, for example, we use visual minutes, created by artists capturing what people are talking about. We've used art work instead of delivering a PowerPoint.
Time and Place
We select venues that have unusual histories to tell, are set in unusual places or allow stimulating outdoor activities. Be it Silverstone, the House of Lords or Dans Le Noir, one is trying to bring all the senses into creating memorable occasions.
Thank You for the Music
We don't often use music at work, but I frequently roll into a presentation using Pink Floyd's "Comfortably Numb" – to represent the way many businesses are to their customers' needs.
For me it means something specific in memory, maybe it will to others afterwards. Alan Parson's "Sirius" from Eye in the Sky will always be a memory of being driven through Wokingham in an Alfa Romeo with a rally driving Irish friend explaining the song's use as the opening of their in-house conference – I wasn't there but it stuck.
Where Does Smell Fit In?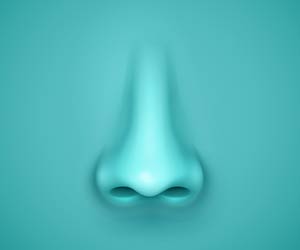 Oh and where does smell fit in? Castrol or Jean-Paul Gaultier..… Smell also works swiftly and in more complex ways with at least 1,000 different receptors and using the hippocampus, another ancient art of the brain.
As a petrol-head, for me, the smell of Castrol mineral oil is the essence of vintage cars. A garage once told me of a trick they used: they boot-polished the floor mats to get the smell of vintage leather back into a car.
And of course every past girlfriend or boyfriend used a particular perfume and you can still identify it when someone wafts past, with resultant memories and stories flooding back.
A Waft of Scent
I don't think I've consciously used smell at work, but one company told me of research they did.
Customers told them that the smell of pine trees represented the outdoors and by association a greener environment. However the use of pine vapours in retail resulted in the shop smelling like a toilet!
Better Stories, Better Days
Of course if you're in advertising you probably know all these "tricks", but we could all make more of our senses to make our team meetings and away days more memorable and enjoyable.
So What?
Editor Jonty provoked me on what to do about it:
Art matters – so should you put art on the walls?
Smell matters – should you be spraying perfume, or just regularly opening the windows (as long as it's not winter of hay fever season?)
Architecture – move building?
Music – review your music on hold?
So many ideas, but here are just my top inexpensive ideas per sense. What are yours?
Some Simple Ideas
Art:
Big and visible suggestions wall – blackboard paint or whiteboard or, most satisfyingly, big pens on naked walls. But review it, act on it, feedback on it otherwise it goes sour.
Find the amateur artists on your staff and give them free rein with colour and form all over the walls.
Take meetings in art galleries for walking and talking stimulated by your surroundings.
We use visual minutes whereby artists listen to us working and create a work of art to represent the outcomes or the findings, rather than minutes, reports or lists of actions.
Smell:
Control of fresh air and temperatures is often a bugbear amongst teams. Have those discussions and see what can be improved.
Take meetings outside, walking and talking. They are far more effective in the fresh air stimulated by where you work or where you can easily meet up.
Think about smells as you would when selling a house or running a supermarket. Put the coffee on, put some bread in the oven, slice an apple… what's possible in your space?
Architecture:
Is a move impossible? What would it do to retention and attraction of staff and customers? Culture changes with working environments and locations and can be less expensive than a major consulting programme.
Give some design students some work experience to come up with low-cost schemes for your existing space.
Move the furniture – a change is as good as a rest!
Music:
Yes, Jonty – please change the music on hold, but more importantly, look at why there's any hold and what your IVR and bot design is!
Music whilst you work… Ask people what they want and when. Popmaster with coffee maybe? A sharing library online? Some peace and quiet?
A visit from Harry Styles might beyond the budget, but you don't know if you don't ask.
Written by: Peter Massey at Budd
If you liked this article from Peter, read these articles next: