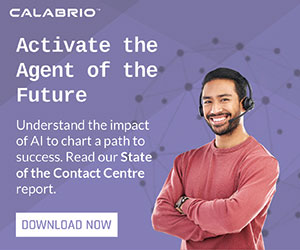 Despite all the technologies evolving to support new channels for connecting companies to their customers, the heart of the customer relationship hasn't changed.
Customers rely on a business to provide them with the products they want or need, and when they trust that a company truly cares about them, they are more likely to be loyal.
Calabrio's mission remains to empower contact centre agents around the world to connect with customers in new ways and better understand their wants and needs, so agents – and every other employee – can deliver a fantastic customer experience at every level of the company.
That is why Calabrio has been positioned as the only Visionary in the 2019 Gartner Magic Quadrant for Workforce Engagement Management (WEM) for the third year in a row.
According to Gartner: "There are four key pillars of focus for delivering great customer service experiences within a leading customer service organisation:
1) Getting connected to the customer
2) Being able to orchestrate the process
3) Having access to the relevant information
and 4) Being able to manage the required resources."
In light of this, Thomas Goodmanson, the CEO at Calabrio, says: "We recognise that our customers are our most valuable resource for decision-making, and finding new ways to get better connected to our customers has always been a top priority." 
"As a result, we have learned how to listen and foster human connections, allowing us to create solutions our customers love and maintain relationships that drive loyalty."
"We are very proud of our positioning in the 2019 Gartner Magic Quadrant for Workforce Engagement Management, and are excited about the innovations we will continue to deliver to transform our industry."
This blog post has been re-published by kind permission of Calabrio – View the
Original Article
For more information about Calabrio - visit the
Calabrio Website