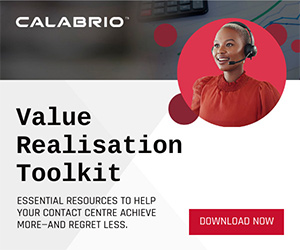 Calabrio has released a new version of Calabrio ONE – an intelligent, fully integrated enterprise workforce optimisation (WFO) and engagement suite.
The new Calabrio ONE platform features customer-driven capabilities to manage large-scale, dynamic enterprise environments.
Calabrio ONE includes call recording, quality management (QM), workforce management (WFM), voice-of-the-customer analytics, and advanced reporting – to record, capture and analyse contact centre interactions, and provide a single view of the customer for an improved experience.
"Enterprise customers require technology that scales quickly based on contact centre volume and business complexity," said Matt Matsui, Chief Product Officer at Calabrio.
"Our latest release of Calabrio ONE delivers on our long-standing promise of easy, personalised and smart solutions. This launch is a continuation of our partnership with enterprise customers to innovate the modern contact centre."
Workforce Management (WFM)
New WFM features drive accuracy and predictability into scheduling and forecasting for large contact centre workforces.
Forecasting improvements to enable more accurate detection of macro and micro trends in contact volumes
Sophisticated prioritisation rules to ensure proper scheduling
Improved schedule creation options that allow for ad hoc and unplanned schedules
Suite-Wide Platform and Quality Management
This latest release of Calabrio ONE eases enterprise administration of users and systems to reduce the burden on IT and contact centre staff.
Simplified user administration makes it easier to configure large numbers of users in a dynamic environment
Improved management of network capacity for on-premises deployments
System monitoring capabilities coupled with proactive server maintenance processes
Notifications for closed loop performance management
Analytics Engine
With this release, Calabrio also introduces the latest evolution of speech analytics, improving transcription-based speech recognition and analysis.
Leverages GPU accelerated hardware allowing customers to transcribe audio at up to 150X speeds
Reduces the overall hardware footprint and total cost of ownership
Provides a significant boost in speech recognition accuracy
Calabrio ONE also continues to exceed industry standards through deeper integrations with leading Contact Centre as a Service (CCaaS) providers Amazon Connect and Cisco Customer Journey Platform.