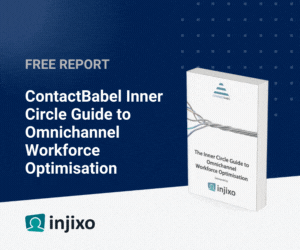 We have pulled together all of the main workforce management (WFM) case studies, from major WFM software vendors, into one, easy to find place.
Sector – Utilities
1. Thames Water
Thames Water is the UK's largest water and wastewater services company. Every day, it supplies some 2,600 million litres of tap water to 8.5 million customers across the London and Thames Valley area. Thames Water also removes and treats 4,300 million litres of sewage for an area covering 13.6 million customers.
"Our front-office staff worked in a carefully managed contact centre environment, with a dedicated, three-person planning team that used complex spreadsheets to manage shifts, breaks, and holidays for our 350 agents," said Will Brown, Head of Planning at Thames Water.
"While functional, this solution was limiting, particularly at times when our average monthly call volume of around 300,000 calls experienced seasonal peaks, during which activity levels can grow by almost 50 percent."
"We also found that planning and forecasting tended to be reactive, and was inevitably impacted when our key planners were either on holiday or away from work."
Thames Water now uses the Impact 360 Workforce Management System from Verint. The solution provides Thames with a centralised planning and forecasting hub, allowing the organisation to schedule activities for its 700 customer service employees across both its contact centre front- and back-office operations.
"We were particularly impressed by powerful features, such as the 'pulse' screen that tracks key operational metrics to provide a real-time graphical view of forecasted, actual, and predicted contact volumes. We've found this a particularly useful feature for flagging potential problems early,
allowing us to take corrective action right away," said Will Brown.
"When the project first went live, our adherence was 81 percent. Very quickly, this started to improve. Now, by using Impact 360, we are consistently running at around 97 percent adherence."
Sector – Retail
2. The Book People
The Book People have chosen injixo WFM to help improve their customer service levels.
The company
The Book People is a discount bookseller based in the UK. They sell books online through mail order catalogues and in workplaces through a direct sales team of over 400 booksellers.
The challenge
Prior to using injixo WFM, The Book People's planning team used Excel for workforce scheduling. Shift patterns were fixed regardless of fluctuating inbound volume.
While multiple call types are handled by The Book People, they found it difficult to generate multi-skill schedules. This is because the company releases a new brochure every three weeks that always generates a spike in call volumes, compounding planning complexity. Staff planning was a time-consuming and labour-intensive task.
It became clear that an alternative method of shift management – that also included accurate forecasting, multi-skill scheduling capability, flexible rotas with adequate coverage and holiday management – was required.
The solution
The Book People implemented injixo WFM to support the entire WFM cycle, which includes forecasting, scheduling, daily management, holiday processing and real-time reporting.
The benefits
Affordability – Cost efficiency was the key consideration for The Book People. injixo WFM resolved this concern due to the cloud-based nature of the application, plus the option to increase or reduce capacity and monthly fees based on business need.
Forecasting accuracy – The ability to view injixo WFM forecast output, such as the increase and decrease in call volumes in graphical form, was a key factor for The Book People.
Zero effort updates – injixo WFM is a cloud-based application that does not require on-premise installation. Product updates are implemented automatically without any additional effort and with very little impact on The Book People's IT team.
Multi-skill scheduling functionality – True multi-skill scheduling unlocks pooling efficiencies, which enables contact centres to do more with less.
Employee involvement – injixo Me enables The Book People's agents to have self-service access to schedules and holiday requests any time and anywhere, including on their personal mobile devices, reducing uncertainty and errors in time management while improving schedule adherence and employee morale.
The results
Increased time and cost efficiencies – The Book People have gained a 5% increase in customer service levels and a 20% reduction in headcount using injixo WFM.
Continuously updated forecasting capability and real-time reporting – The ability to generate daily real-time reports for staffing and call volumes.
Effective multi-skill scheduling against requirements – The multi-skill scheduling aspect of injixo WFM is considered a major improvement compared to the laborious manual procedures in Excel.
Improved agent participation in the planning process – The Book People has found that the self-service agent portal injixo Me enables agents to be more proactive through schedule viewing and holiday requests.
These key areas enable The Book People's planning team to be more effective through optimised scheduling, where agents are in the right place at the right time, as well as being more engaged in their daily activities.
"injixo WFM has been invaluable to us," said Mark Shuttleworth, Planning and Reporting Supervisor at The Book People. "It's a fantastic application."
Sector – Financial Services
3. Nationwide
When Steve Trott, head of planning and support, joined Nationwide Direct in March 2007, he decided to introduce a new format of training and development for the planning team within his division.
"The idea behind the team manager training was to give them an insight into what planners do and what role they – as team managers – play in making planning successful," says Trott.
"The courses provided team managers with a basic education about scheduling, real-time planning, reporting and hotspots."
"We also showed them how planning systems work and used them to demonstrate the impact it can have on a contact centre network if team managers remove even a small number of people [from making frontline calls], where other team managers are making similar actions in another centre."
The findings of Nationwide's employee engagement survey show an 18% uplift in staff satisfaction within the planning and support team. The same survey reveals that the team now feels 15% more committed to Nationwide Direct than it did six months ago, and believes that communication is 18% better.
Crucially, staff within the team reckon that their learning and development has improved considerably – rating it 28% better than at the end of 2008.
4. Ingenico
Ingenico is the world's largest provider of payment and transactions systems used by banking, retail, petroleum, transportation and government agencies to accelerate and secure the flow of electronic commerce. Ingenico has more than 10 million payment terminals in use in more than 90 countries.
Its UK contact centre based in Northwich, Cheshire provides 24-hour support for merchants using Chip and Pin terminals in the UK and Republic of Ireland. It employs 65 full-time agents, including 3 part-time staff, to manage enquiries and support for its ten different product types and services.
Management at the contact centre were concerned that the existing manual resourcing processes were not effectively balancing workforce requirements with call demands.
The shift patterns were fairly inflexible and Ingenico was keen to implement a more flexible working pattern to reduce agent attrition levels. In addition, with a requirement for all merchants to utilise Chip and Pin terminals coming into force in February 2006, the Ingenico contact centre needed to accurately forecast staffing levels to manage the anticipated increase in the level of enquiries.
Ingenico therefore wanted to automate and improve planning and forecasting practices within its 50-seat UK contact centre. Implementing a workforce management solution would help Ingenico to balance resources with call demand more effectively and create efficiencies in the planning process, particularly around managing agents.
Following an analysis of the available workforce management solutions, Ingenico selected GMT Planet workforce management, because of its ease of use, the fit of GMT Planet's features to Ingenico's needs and its confidence in GMT's ability to implement the solution and train and support the teams.
The new system went live in September 2006 on the helpdesk of 39 agents and in November 2006 in customer services with 15 agents. It very quickly brought the following benefits:
Reduced overtime costs by 25%
Achieved and maintained service levels of over 80% each month
Delivered insight into resources required to manage new business
Reduced time spent on resourcing by 87%
The implementation of GMT Planet has enabled Ingenico to address staffing issues and improve productivity at its Cheshire contact centre. Ingenico took this opportunity to introduce new employee working terms.
The combination of more flexible hours over a longer period managed through GMT Planet combined with a new pay structure has reduced agent attrition levels within the contact centre. This has significantly contributed to enhanced customer service levels by reducing response times and ensuring the right number of agents with the right skills are scheduled to resolve issues faster.
Agent satisfaction and productivity has also increased by allowing agents to manage their holiday and time-off requests. This responsibility, combined with a greater awareness of shift requirements around call volumes, has improved general positivity within the contact centre.
Sector – Emergency Services
5. Humberside Police Force
Humberside Police Force serves a population of 900,000 residents over four divisional areas: Kingston-upon-Hull, East Riding, North East Lincolnshire and North Lincolnshire.
Its switchboard, command centres and customer service crime centres are staffed 24/7 by 350 agents across three different locations, who responded to over 860,000 calls during the period April 2005 to March 2006.
Like all emergency service operations, Humberside Police Force faces considerable challenges in accurately resourcing for unpredictable demand. It is vital to forecast for people with the right skills to be in the right place to respond to calls at the right time.
A review of call handling management in 2004 led to Humberside Police setting up a Call Handling Project aimed at enhancing service levels and recommended a workforce management system as a key component in achieving this goal.
Following a review of market solutions, Humberside Police selected GMT Planet via GMT's partnership with Unisys and has been impressed with the level of support from GMT.
GMT Planet was chosen for its strong functionality, ease of use and reporting capabilities, combined with detailed forecasting which will enable Humberside Police to improve the scheduling of staff based on availability, skills and proficiency.
GMT's web-based Employee Time Centre (ETC) also allows staff to amend their availability, make annual leave requests electronically and track the status of these requests online, which should reduce delays in approving leave.
Through more accurate matching of resources to inbound call demand across its switchboard, two command centres and two customer service crime centres, Humberside Police aims to further enhance public satisfaction with call handling and exceed service levels.
GMT Planet will also support the development of a more flexible working initiative for its 370 contact centre staff focused on driving performance through a more balanced work-life ethos.
6. West Midlands Police
The West Midlands Police is the second largest police force in the United Kingdom behind London's Metropolitan Police Service, serving a population of over 2.5 million citizens.
The central switchboard staff at police headquarters answered nearly 3 million calls in 2008, with 90% of them answered in 10 seconds or less. A dedicated team of 61 full and part-time operators and six supervisors staff the department 24 hours a day, 365 days a year.
West Midlands Police set up a special project team to address the growing number of problems associated with call handling including call abandonment, improving the average time-to-answer and reducing repeat calls. It was also keen to revamp its historic rotating shift patterns in order to give staff flexibility in their working hours and reduce the time supervisors spent resolving staffing issues.
In addition, West Midlands Police faced challenges from the huge demand of data outputs from their ACD management information system and were manually trying to resource against demand.
In evaluating solutions, it became clear that a tool was required that would support the West Midland Police's strong work–life balance ethos whilst meeting the high levels of performance required.
GMT Planet was chosen for its features and functionality, and especially for particular strengths such as powerful, robust and accurate forecasting; easy-to-follow graphic displays; and the ability to schedule staff based on availability, skills and proficiency.
Since deploying GMT Planet Workforce Management, staffing demand is better understood and schedule fit dramatically improved from 49% to a target of 85%, making a net saving of £94k in the first year.
Since implementation, the overtime budget has only been necessary to cover public holidays, with an approximate annual saving of £50k. In addition, GMT Planet's self-service Employee Time Centre has succeeded in reducing the amount of time supervisors spend organising and resolving staffing issues, so they can now focus on more productive tasks, such as supervising calls within the call centre.
In summary, West Midlands Police has seen the following benefits:
80% reduction in overtime costs
Staff turnover has improved from nearly 16% to less than 2%
Abandoned calls have been reduced from 27,000 to 788 per month on average
Public satisfaction with call handling increased from 85% to 96%
Additionally, the introduction of flexible working has been successful because GMT Planet provides an easy-to-use tool that enables resource planners to analyse the impact of each request. Both staff confidence in the system and more choice in flexible working hours have improved attendance and morale on all shifts and reduced employee turnover.
The implementation of GMT Planet also contributed to West Midlands Police central switchboard winning the Best Public Sector Call Centre Workplace Award. The newly improved West Midlands Police Call Centre also won the prestigious 'Innovation of the Year Award' given by the Professional Planning Forum at their annual conference.
Sector – Local Councils
7. Vale of Glamorgan Council
The Vale of Glamorgan Council is the governing body for the Vale of Glamorgan, one of the Principal Areas of Wales. Vale of Glamorgan Council is committed to delivering against the Welsh Assembly Government's vision for improving public services in Wales, which is based on key themes such as putting the customer centre stage and making the best use of resources.
The Council's innovative OneVale initiative is a programme of transformational change aimed at putting service users centre stage and allowing them to interact with the Council in the way that suits them best. To enable this, the Council opened a contact centre and one-stop-shop at its Civic Offices in Barry.
However, the Council was keen to extend its contact centre operations beyond basic switchboard functionality, and was committed to deploying its contact centre operation as an essential delivery component across the entire spectrum of Council services.
The Council's goal was to develop a best-practice contact centre operation built on a best of breed platform – to enable growth and a certain amount of "future proofing" for its platform investment.
The contact centre needed to use state-of-the-art technology, optimised for maximum efficiency, but also structured to provide customers with the highest quality service.
After a detailed market assessment the Council selected Sabio, the specialist contact centre technology and services company, because of its in-depth Avaya platform expertise and its proven ability to design and implement solutions based on Verint's Impact 360 workforce optimisation applications.
Sabio implemented a solution based on Avaya's Communication Manager IP platform and reporting technology within the Council's OneVale customer interaction programme. In addition Sabio integrated Verint's Impact 360 Workforce Management and Quality Monitoring solutions to provide the council with a comprehensive Workforce Optimisation (WFO) strategy.
This would optimise agent resource planning and scheduling in the Council's Barry contact centre, as well as record customer calls and support the Council's Quality Assurance programme.
Sabio's implementation of an advanced contact centre infrastructure and WFO technology has achieved a number of key benefits, including:
Helped OneVale to deliver on its First Contact Resolution goals – on track to hit 80% target across services
Allowed the Council to go beyond simple enquiries and handle complex and specialised processes such as Adult Social Services within its OneVale contact centre
Enabled delivery of OneVale one number strategy, with 300 numbers reduced down to just one
Significantly reduced call volumes for complex interactions – down from 5–7 calls to just 1–2 on average for key activities such as Social Services
Delivered BPR improvements to support broader OneVale efficiency targets
Sector – Travel
8. Eurostar
Eurostar operates a high-speed rail service linking St. Pancras International, Ebbsfleet International and Ashford International to Paris, Brussels, Lille, Calais, Disneyland Resort Paris, Avignon and the French Alps with services via the Channel Tunnel.
Eurostar's UK-based contact centre operation is headquartered in Ashford, Kent and has a full-time workforce of over 195 agents, handling over 1.3 million calls per year.
These agents are responsible for answering a wide variety of calls including those from consumer and travel agent telephone bookings, support of online reservations, and administration of Eurostar's Frequent Traveller programme.
In addition, call durations vary widely between types of calls as does the volume of each call type from day to day, making workload forecasting quite a challenge.
Furthermore, Eurostar's incumbent system provided very limited means to forecast call volumes based on call types and duration.
The Operations teams resorted to using large numbers of complex spreadsheets to work around these limitations. This manual, time-consuming process effectively prevented contact centre management from having real-time visibility into its operation and therefore accurately reacting to changes throughout the day.
Eurostar's incumbent system was also extremely limited in providing agent self-service support. Agents had no ability to specify their schedule availability, request time off, or request shifts.
The system was also unable to produce vital management information, such as schedule adherence, that was necessary to serve Eurostar's customers effectively.
Armed with a long list of requirements, Eurostar embarked on its analysis of leading solutions in the market. It was looking for a technology solution with solid capabilities in accurate forecasting, intelligent scheduling, robust intra-day management, flexible agent self-service and powerful management analytics.
Eurostar also knew that it needed to find a partner that could deploy its solution into Eurostar's telephony environment quickly and be willing to work shoulder-to-shoulder with Eurostar throughout the process.
In keeping with its reputation of conducting thorough value discovery, GMT worked to completely understand Eurostar's functional and technical requirements.
GMT also helped Eurostar create a set of operational and business objectives to help define clearly how the project's success would be measured.
The implementation of GMT Planet has more than lived up to expectations.
Key success factors of the project include more accurately matching workload with the available resources, therefore creating more precise schedules; providing greater intra-day visibility to fluctuations in workload; and extending agent self-service.
Within two weeks of implementation, Eurostar was able to produce more accurate forecasts, while agents have become proactive in using the software to improve their work-life balance, which has improved morale and retention.
Also, for the first time, team leaders have real-time visibility into the contact centre operation enabling them to make adjustments to help ensure its service level goals are met.
GMT Planet has enabled Eurostar to:
Achieve better visibility into call arrival patterns and create improved schedules as a result
Create accurate, workable forecasts in as little as 2 weeks after implementation
Facilitate greater teamwork between team managers
Improve ability to react to and schedule for unexpected workload
9. RAC
RAC Rescue provides a 24/7 service to its members, 365 days per year. RAC Patrols provide roadside assistance for approximately 2.5 million breakdowns each year.
Over 700 contact centre agents in two contact centres co-ordinate the breakdown operations, dealing with approximately five million incoming emergency calls a year.
For several years, RAC Rescue had used an automated staff planning system. However, as the size of the organisation grew and as the complexity of the fairness rules increased, RAC found the previous solution no longer met its needs as it was incapable of automatically producing optimised schedules which also guaranteed compliance with the fairness rules.
The scheduling process required a large amount of manual intervention and this was very time consuming and error prone. Consequently, RAC decided to find a new workforce management (WFM) solution.
The decision was made in favour of InVision, since InVision Enterprise WFM (iWFM) was the only system capable of increasing schedule efficiency while respecting RAC´s scheduling constraints, i.e. the complex set of fairness rules.
Before the implementation of InVision Enterprise WFM, a team of nine Roster Builders set up the schedules for a total of 3,500 employees at RAC Rescue. The scheduling of patrols for one geographic 'cell' for a period of one year took at least one week and was error prone.
Now, an optimised, rule-compliant schedule is produced within twelve minutes by the InVision software. Union representatives still check the schedules each time they are produced to ensure rule-compliance, but in practice the rosters are near faultless and queries have practically been eliminated, so this process has been streamlined.
One of the main objectives of RAC was the reduction of understaffed and overstaffed shifts, i.e. the improvement of coverage and service level. Tests by RAC Rescue showed a 12% reduction of over- and under- staffed shifts.
Tests comparing the former schedules and the ones generated with iWFM showed an improvement in coverage of 1.3% which translates into avoided outsourcing costs of approximately £1.3 million per year.
A member of the RAC contact centre team adds: "By implementing the InVision solution, our planning effort has been reduced considerably: building rosters used to take us up to one week per geographic cell – now it's only fifteen minutes."
"The InVision WFM solution enables us to schedule our employees in an effective and optimised manner, taking into account the flexibility of our colleagues while guaranteeing that all the work/life balance fairness rules are respected."
"Scheduling our colleagues more effectively has resulted in a reduction of outsourcing to third parties and we estimate that this is saving us over £1million per year."
10. Addison Lee
Addison Lee is a London-based premium minicab firm, and provides minicab, chauffeur and international courier services to over 12,000 London corporate account customers.
Addison Lee carries out up to 20,000 jobs each day, with the bookings handled by some 300 agents – most working from a modern contact centre based at the company's Central London headquarters and 85 homeworkers based across the South of England.
The call centre typically receives over 100,000 calls each week, however, call volumes can vary significantly according to factors such as holidays and half-terms, so the centre has to be flexible enough to accommodate volumes that range between 10,000 and 40,000 calls a day.
Addison Lee wanted to make sure that their operations were running as effectively as possible. Key to this would be the successful implementation of a best practice Workforce Management (WFM) solution.
After an in-depth procurement process, including an initial 3-month trial, they eventually selected Sabio to implement Verint's Impact 360 Workforce Management solution.
Agents have seen their individual earnings increase since implementing WFM.
"We pay our agents a bonus based on the number of bookings they make, and as the WFM tool has helped us to achieve a significant increase in our occupancy rate, agents are seeing a subsequent increase in their bonus payments," explained Chris De Souza.
"Since implementing the WFM solution, however, we've been able to formalise our forecasting and scheduling process for our homeworkers and agents in the contact centre, and the same work can now be handled by a single resource manager."
"This not only makes our resource management more efficient, but also frees our specialist staff to spend less time scheduling and more time analysing our contact centre performance and identifying ways for further improvements."
Sector – Healthcare
11. Active Health Partners (AHP)
Active Health Partners (AHP) offers a cost-effective, pro-active health and absence reporting and management service to UK employers.
AHP's London-based Nursing Contact Centre employs a highly skilled team of 40 nurses, alongside 10 non-medical staff and an occupational health team, all supported by four team managers.
Many staff continue to work shifts in local hospitals, and AHP places great importance on training, maintaining and updating medical knowledge to ensure it is offering the most valuable service.
Since its inception, the Nursing Contact Centre has grown dramatically and AHP has opened a second office in the north of England to support this demand. AHP's legacy spreadsheet-based staff scheduling system became ill-equipped to effectively schedule the increasing number of staff and calls from new business.
AHP therefore wanted to implement a workforce management solution that could predict call volumes with their associated peaks and troughs, and schedule staff around their hospital shifts to meet these requirements. From a management perspective, AHP wanted to identify how to utilise the nurses' time during shifts effectively and required a resource that could help them track and report on productivity.
Following an analysis of market solutions, AHP identified GMT Planet as the only workforce management solution that met its criteria.
Since deployment, GMT Planet has significantly enhanced the accuracy both of current staffing levels for existing campaigns, and in forecasting staff for new customers and predicted call volumes.
AHP is now providing staff with rotas four weeks in advance and it has enabled the forecasting of outbound work plans and the on-going rotation of training, outbound and inbound call management and breaks.
AHP is now accurately forecasting existing and predicted call demand. This means that it can take on new clients, confident that it can support each one, manage the peaks and troughs of call volumes without overstaffing and underutilising the experience of the nursing staff, and equally manage the variable call handling times for each call.
GMT Planet has enabled AHP to:
Identify a 25% level of overstaffing
Achieve weekly service level targets through more accurate forecasting
Drive down costs across the contact centre
analyse staff productivity in real time, giving management visibility of breaks and call response times, and allowing staff visibility to this data has increased productivity levels
Deliver visibility to multiple work streams for the first time including inbound and outbound calls and emails
Sector – Services
12. Atkins helpdesk
Atkins is the largest multi-disciplinary consultancy in Europe and the world's eleventh largest international design firm employing approximately 16,000 employees globally.
Atkins delivers a range of professional property asset management services to thousands of properties across the UK and manages the demand/supply interface via a customer-focused helpdesk of 100 operators, based in Leeds.
In 2009 the helpdesk was handling over 1 million inbound calls and ¼ million outbound calls per year, across various private and public sector customers with differing service level agreements (SLAs), schedules were becoming increasingly complex to manage with holidays and absences cumbersome to report on using just Excel spreadsheets.
Following a full cost–benefit analysis, the NICE Perform Call Recording and IEX TotalView Workforce Management (WFM) solution from Business Systems UK Ltd was recommended and implemented.
Since implementation Atkins has seen an overall cost reduction as a result of deploying more appropriate shift patterns as identified by WFM. This in turn has led to better management of surges and peaks in call volumes. Atkins' customers benefit from improved service and lower costs.
Atkins has also seen adherence increase from 76% to 90%. In addition, the planning feature has allowed Atkins to create a 'bad weather day' model which has been instrumental in assisting with 'what if' scenario resource planning.
The implementation has also resulted in a 2% decrease in absences due to real-time information providing the helpdesk with autonomy and ownership of absence rather than being reliant on outdated HR reports.
Atkins has also achieved reductions in seasonal recruitment spend and in future will be able to apply robust recruitment modelling by employing flexible shift patterns.
13. Bright Horizons
Bright Horizons was founded to provide an innovative solution to the lack of affordable, high-quality, childcare for working families. Over the past 20 years their hard work, commitment and dedication has had fantastic results. They have seen impressive growth in terms of numbers of clients and nurseries, and also in the range of services that they provide.
Bright Horizons pioneered the provision of emergency dependent care through their back-up care programmes, and they have made significant achievements in their field – including the operation of the only dedicated back-up care nursery in Europe for one of their investment banking clients in London.
A huge part of the back-up care programme is how critical it is that someone is able to get through to the company quickly. Someone may have to work within an hour, therefore if they are being put on hold for 10 minutes, those minutes are lost from the day.
Before injixo got involved, Bright Horizons were doing workforce management on a spreadsheet, which was time consuming, as there is only so much that can be achieved on a spreadsheet. Running hypothetical scenarios and testing different schedules becomes tedious, therefore having the software that injixo provides means this service is extremely helpful to Bright Horizons.
Bright Horizons wanted functionality, which is something that injixo was able to provide. Since the introduction of the software, the company have found that their service levels have been more consistent. The immediate impact is the freeing up of human resources, who were otherwise spending time adjusting people's schedules rather than doing their real job.
Sector – Other
14. GoExcellent (Denmark)
GoExcellent AB was founded in 2000 as Excellent AB and grew into one of the leading contact centre companies in the Nordic region. The company was re-launched in summer 2009 as GoExcellent AB. Its core business is handling customer service and technical support calls on behalf of a disparate range of client companies.
Approximately 2,500 agents located at 12 sites handle customer interactions during GoExcellent's business hours, up to and including 24/7 operation. About 20 million customer contacts are handled per year by GoExcellent, with a mixture of inbound (70%) and outbound (30%) contacts.
For GoExcellent, achieving average handling time (AHT) targets is critical in the forecasting and scheduling process; AHT for inbound calls is typically a contractual commitment for each client and varies between 12 seconds and 10 minutes. Call handling accounts from 70% to about 100% of agents' work. For the remaining time, agents deal with back-office tasks such as emails and faxes.
GoExcellent required a tool to meet its requirements for forecasting, scheduling, monitoring and optimisation.
The tool needed to be capable of handling long business hours, a highly volatile volume of inbound calls, and the challenge of scheduling agents according to working practices which differ from country to country.
The need to observe legal requirements which differ between countries and sometimes within countries added to this complexity. Moreover, the solution needed to support multi-site scheduling and to be capable of mapping virtual structures.
In 2007, GoExcellent standardised on InVision Enterprise WFM to optimise the deployment of its agents. The fact that InVision Enterprise WFM offers Time Management functions (sometimes known as Time and Attendance) fully integrated into the WFM system was appealing to GoExcellent because of their complex flexible working arrangements, and the company decided to add the Time Management modules to its installation of InVision Enterprise WFM.
The software was installed first in Sweden in 2006, then rolled out to the sites in Denmark, Finland and Norway. This process included training of planners and supervisors.
A crucial aspect of the implementation was to ensure that the generated shifts comply with the relevant rules.
These rules and guidelines can include laws, contractual or union provisions, right down to individual agreements with sites and agents. For instance, there are distinct union rules for each of the three Swedish contact centres due to the fact that they are located in different parts of the country.
As a result of more accurate forecasting and optimised multi-site scheduling, GoExcellent has seen:
Schedule efficiency improved by 10-25%
Cost savings of 10-15% since periods of overstaffing have been significantly reduced and productivity increased
Multiple-site workforce management
Agents have also welcomed the introduction of iWFM and have responded well to a system that takes into account their needs; iWFM has had a positive impact on employee satisfaction and reduced attrition at GoExcellent.
In turn, this has resulted in a further improvement in service levels and a corresponding increase in customer satisfaction.
15. Vivento
Vivento Customer Services GmbH (VCS), headquartered in Bonn, was started in the beginning of 2004 as a 100% Telekom affiliate.
The company is among the top three players in the German contact centre market. VCS offers standalone and integrated services for customer relationship management, sales, and back-office functions such as scanning and document management.
Currently, VCS operates 16 sites across Germany and employs about 3,600 highly skilled agents. On average, approximately 240,000 requests are handled each day.
Inbound call handling accounts for about 20% of the agents' work and the remaining 80% is devoted to back-office tasks, i.e. the handling of emails, letters and fax documents.
Since the founding of Vivento in 2004, the workforce has been scheduled using the workforce management (WFM) solution from InVision Software.
The InVision Enterprise WFM is used both centrally (for projects handled multi-site) and locally (for projects handled at one site only).
Due to an increasing amount of back-office tasks, Vivento looked to InVision Software for a tool to complement the existing WFM system.
The expanded application needed to support a demand-oriented approach to planning of activities.
The application also had to offer the option to plan several projects within a single service centre on a parallel basis.
InVision Enterprise WFM (iWFM) had proven its functionality and reliability as a high quality solution partner at the parent company for more than 10 years and also was deployed by Vivento right from the beginning.
Thanks to the back-office solution of InVision Software, Vivento is now able to schedule agents in a differentiated and efficient way for both handling calls and documents. For service level adherence, the respective channels are given different priorities based on the specifics of each project.
The InVision Enterprise WFM uses these priority levels to help determine workload and drive forecasting requirements.
To avoid documents piling up and remaining unprocessed, they are included in forecasting and scheduling until they are finally handled.
At the end of the day, the status of the backlog folders is recorded and integrated into the forecast for the next day, with a corresponding prognosis of the incoming documents that are expected and a forecast of the number of agents required.
Moreover, when a default value defined within the system is exceeded, an alert is triggered so that the planner can adjust the staff scheduling accordingly to ensure that the documents will be processed within the given service level.
This has brought the following benefits for Vivento:
Planning efficiency improved by 35-40%
Cost savings of about 10% due to optimised agent scheduling
Increased customer satisfaction and transparent service level
Besides the cost savings and the increase in planning efficiency, the planning effort has been considerably reduced by using the InVision back-office solution.
While before, a group of 46 planners needed three days per week and project, now this is all done in one day, giving the planners more time for management-oriented analysis. This ensures high customer satisfaction as Vivento is able to adhere to the agreed service level thanks to demand-oriented back-office planning.
16. Novacroft
In late 2009, Novacroft recognised that its contact centre was not being run as efficiently as it could be.
The team was hampered by a lack of Workforce Management solution capability to enable it to handle very significant peaks in activity and create schedules that provided valued staff with the right work-life balance.
As the contact centre grew, so did the problems. Novacroft found it increasingly difficult to forecast customer demand and create meaningful schedules – resulting in inflated and unnecessary staff costs and disgruntled agents during these periods.
Novacroft recognised that it just wasn't providing the scheduling flexibility andvisibility its people required to be fulfilled in the workplace – a situation that was unacceptable to Novacroft's management.
The legacy spreadsheetbased system was also excessively time consuming, with Novacroft's Resource Planner struggling to provide weekly rotas, let alone create flexible shifts, accommodate change requests or even manage breaks and holidays.
After consultation with the team, Novacroft decided to move away from spreadsheet-based forecasting and scheduling, and, following a comprehensive review of the Workforce Management solution providers, selected GMT.
Novacroft selected GMT Planet, a scalable Workforce Management solution that has helped them optimise their contact centre workforce.
Featuring accurate forecasting capability, staffing requirement definition and optimised scheduling, comprehensive reporting, intra-day management, a Web-based employee module and much more, GMT Planet provided the functionality Novacroft required to achieve the targeted performance improvements and all the information necessary to enable effective, long-term planning and timely decision making.
Implementation of the Workforce Management solution was completed within 4 months of the start of the project and GMT continues to provide expertise and support on an ongoing basis.
17. Phocus Solutions
Phocus Solutions are an outsourcer for larger companies based in Montreal, Canada. The company employs over 350 agents, with the Montreal site operating 24 hours a day, 365 days a year.
Phocus Solutions determine agent availability and create schedules accordingly. Having injixo WFM in place means that managing the schedule is far easier and much less time consuming, as it is adjustable to the number of agents that can be used.
For Phocus Solutions, the visual nature of injixo Forecast makes it incredibly easy to use. They have also found that scheduling within injixo WFM is very efficient due to the real-time nature of the application and the multi-skilling capacity.
Before implementing injixo WFM, Phocus Solutions were using spreadsheets which they found to be extremely tedious. Therefore injixo WFM enables Phocus Solutions to build their schedules quickly and effectively compared to their previous processes.
18. Cofely
The team at Cofely GDF Suez, in partnership with North Tyneside Council (Cofely), has been using an injixo WFM system since 2011.
The problem
Before using the WFM system, Team Leaders planned their teams using spreadsheets. This was a lot of work, it was prone to error and there were lots of things that simply weren't possible.
Struggling with spreadsheets was also a very ineffective use of time.
Forecasting was also previously done with spreadsheets. This gave very limited capacity to forecast and plan. There was also no live feed of call data and – because volumes are volatile – there was a lot of daily fire-fighting.
The solution
With an injixo WFM system, forecast volumes are typically within 5% of actual, which is an improvement of around 20%. Team Leaders can be proactive instead of reactive and are freed up to spend time monitoring real-time performance and coaching their teams.
Optimised scheduling reduces periods of over- and under-staffing, and this has translated into a 13% improvement in schedule efficiency.
Because injixo is a cloud-based solution, the number of users (and monthly fees) can be scaled up and down according to business needs.
The benefits
Agents appreciate the flexibility of the schedules and feel more ownership and personal responsibility as a result. They also like the fact that they can access their schedules and request holidays on their smartphones.
The team at Cofely explain the additional benefits they have derived from injixo in the following YouTube video:
Thanks to each of the following workforce management software providers for sharing these case studies with us: Business Systems, Sabio, injixo, Verint and GMT.
For more on the topic of better implementing Workforce Management (WFM) Software, read our articles: