Well the voting is in.
We had an amazing response to this question – 735 votes.  It really seems to have piqued your interest.
So which term won out Contact Centre or Call Centre?
Well, the winner was Contact Centre, but only just.
Contact Centre scored 53% of the vote compared to Call Centre with 47%.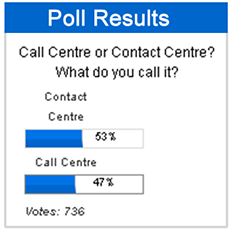 What's the difference? – People are confused.

There seems to be quite widespread confusion about what a contact centre is.  Responses indicate that a contact centre is a call centre that deals with emails or post, or even deals with a combination of inbound or outbound calls.
Contact Centre is seen as being more professional?
Contact centre seems to have been adopted to help address the poor image of call centres. The call centre is seen as the grubby end of the market, the type that no one likes, as opposed to the up-market contact centre, conveyed as being much more professional.
Call Centre is the most common keyword
Looking at the Google search stats we see that ten times as many people use the term "Call Centre" as opposed to "Contact Centre".
Our readers' statistics are even more skewed.  In October 8,600 people found us using the key word "Call Centre".  In comparison only 880 people used the keyword "Contact Centre".
Is a contact centre a place you go looking for a date?
One reader thought that contact centre could imply some form of dating agency.
Time to just call it Customer Services?
It looks as though some companies are no longer using either term and instead have gone back to calling their centre "Customer Services"
What do you think?  What do you call your centre?
Jonty Pearce, Editor