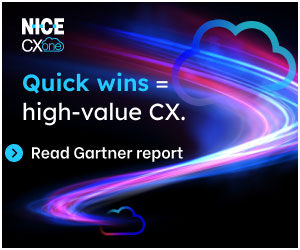 Catherine Forino at NICE explains the key characteristics contact centres should know about chatbots and virtual agents.
They're making customer service more convenient these days, but when it comes to describing a chatbot vs. a virtual agent, most people would be stumped.
Do the similarities and differences really matter? Yes, because they should be used in different ways to improve the customer experience, and contact centres need to know which solution is the right tool for the job.
Chatbots and virtual agents provide a number of benefits, and as technology evolves, they will play progressively larger roles in how businesses provide customer service and deliver superior CX. That's not to say they will completely replace human agents.
Rather, they should be viewed as the junior members of the agent team that handle more mundane tasks so their human counterparts can focus on higher value interactions.
Consumers are already seeing the value of chatbots and virtual agents. They're effective self-service options that are available 24/7 and can answer common questions, which many consumers find valuable.
According to a study by Drift, the top reason people say they would use a chatbot is to get a quick answer in an emergency.
Speed of response is a key benefit of using chatbots and virtual agents. In fact, Userlike research revealed that 68% of consumers like that these solutions respond quickly, which was the top vote getter for things people like about chatbots.
Despite these similarities, chatbots and virtual agents have key differences that make them separate solutions. Let's take a closer look at those differences in the following chatbot vs. virtual agent discussion.
What Is a Chatbot?
A chatbot is software that interacts with users according to a programmed set of rules. Unlike virtual agents, chatbots do not use artificial intelligence, which limits their capabilities.
Most of us are likely to be familiar with menu-driven chatbots. When you engage with this type of bot, you typically navigate through the conversation by selecting a series of menu options.
Hopefully, these menu options lead to a satisfying resolution, such as an answer to a question. If not, CX-focused brands will make it easy to escalate to a customer service agent.
Another type of rule-based chatbot focuses on keywords. They are programmed to identify keywords and fetch the most likely response from a knowledge base.
This type of bot can be ineffective if users don't use words it can identify or if keywords have multiple meanings, and may be the reason why NICE research found 80% of consumers still believe chatbots need to get smarter in order to use them regularly.
Despite these limitations, chatbots can provide great CX when programmed well and used appropriately. Rule-based chatbots are good at completing simple, predictable tasks, such as providing password reset instructions or collecting customer information.
However, they're really only as good as they're programmed to be, putting the onus on businesses to design them with the customer and purpose in mind and regularly maintain the chatbots after implementation.
What Is a Virtual Agent?
A virtual agent is also a program that interacts with users by simulating human conversation, but unlike chatbots, virtual agents are infused with artificial intelligence (AI).
AI gives them capabilities beyond a regular chatbot, which means virtual agents are typically capable of handling a wider variety of interactions.
Additionally, virtual agents that use natural language processing (NLP) can create a better customer experience by allowing users to use normal language.
This means customers don't need to navigate menus or guess the right keywords. Interacting with a virtual agent is similar to interacting with a virtual assistant such as Siri or Alexa.
Machine learning, a form of AI, also gives virtual agents an advantage over chatbots. Machine learning makes virtual agents smarter with use.
This means they can learn to understand user intent and predict the next question a customer will ask based on what follow-up questions users have asked in the past. Providing an answer to a question a customer hasn't even asked yet is the kind of proactive customer service people value.
Similar to chatbots, the performance of a virtual agent relies on how it's set up and maintained. Virtual agents that use AI need to be "trained" by consuming vast quantities of data, preferably actual interactions that have taken place in the past. This allows the solution to identify patterns it can use to understand concepts such as user intent.
These advanced capabilities make virtual agents a great tool for handling tasks such as converting online shoppers and authenticating people who call the contact centre seeking help.
Key Benefits of Chatbots and Virtual Agents
While it's important to understand the differences of chatbots vs. virtual agents, it's equally necessary to understand the similar benefits both can deliver.
Effective Self-Service
When designed well and used in the right context, chatbots and virtual agents can be an effective way for customers to handle their own matters.
Today's consumers want to be able to resolve their own issues and find their own answers. For many, self-service through methods such as online knowledge bases and bots is more convenient and appealing than engaging with an agent.
In fact, one study found that one in three consumers would rather clean a toilet than talk to customer service.
Use of self-service is growing substantially. Our research revealed that 95% of businesses reported year over year growth of self-service requests in 2021, with an overall weighted average increase of 37%. What's more, 81% of consumers want more self-service.
Chatbots and virtual agents can play a prominent role in a business's self-service strategy. Here are some examples of use cases both can perform.
Providing users with a link to the company's return policy and process
Collecting information about the nature of a customer's issue and then seamlessly passing the information and the customer to a live agent
Recommending products
Providing pricing information
Additionally, because they have more capabilities, virtual agents can help customers complete transactions such as opening an insurance claim or activating a new credit card.
Improve the Agent Experience
Chatbots and virtual agents don't just satisfy customers; they can also enrich an agent's job. All too often, an agent's day is filled with drudgery.
It's hard to get excited about a day full of telling customers the steps they need to follow to assemble a product.
If a bot can provide a link to a video that shows customers how to assemble products, that means agents can spend their time on more value-added and satisfying tasks—like helping a customer figure out why they had so many leftover parts after putting a product together.
By making agents' roles more fulfilling, contact centres can increase engagement, which is a key to providing exceptional customer service experiences. Plus, this can help curb the high agent turnover so many contact centres grapple with.
Reduce Operating Costs
Agent wages are by far the largest cost category in a contact centre. Most centres struggle to find a balance between containing costs and satisfying customers with shorter wait times. It's hard to find a contact centre that doesn't feel constrained by its budget.
This brings us to one of the many attractive characteristics of chatbots and virtual agents—they deliver a very low cost to serve.
In fact, Gartner estimates that an average self-service transaction costs $0.10, compared to $8.01 for the average agent-assisted interaction. In other words, agent assistance is about 80 times more expensive than self-service.
The savings can really add up for contact centers that successfully shift a portion of their agent-assisted volume to chatbots or virtual agents. That savings enables them to invest in areas such as new technology or pay increases that will strengthen their operations and ultimately lead to better CX.
This blog post has been re-published by kind permission of NICE – View the
Original Article
For more information about NICE - visit the
NICE Website