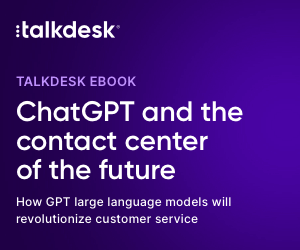 Génesis Longo at Talkdesk outlines four tips to turn your contact centre into a business growth centre.
Contact centres are hubs of critical interaction points between companies and their customers.
Too often, the customer service experience is a disappointing one, as customers can't get answers to basic questions and hang up filled with frustration.
That bad experience damages business reputation—due to poor reviews and word of mouth—and negatively influences customer retention and loyalty.
Part of the problem stems from companies that have deemed contact centres as non-essential pieces of their operational models, outsourcing customer experience to others who may be unfamiliar with the company, its products or services, and its procedures.
Others have the contact centre in-house but manage it as a cost centre—prioritizing cost-containment over CX improvement and optimization, resulting in "good enough" customer experiences.
Contact centres represent opportunities for growth in a number of areas, and they are the missing link to the customer experience transformation.
Positioned as an engagement layer between other core systems—a CX hub—contact centres are a business growth centre that connect all the digital dots and create a seamless and easy experience for customers.
As C-suite executives begin to map out strategies and formulate budgets for the new year, optimizing contact centres through investments should be a key focus.
Keep reading and discover 4 tips to convert contact centres into business growth centres.
1. Contact Centre as a Business Growth Centre
66% of CX professionals across industries reported that positioning the contact centre as a profit centre for the business is a top operational priority.
Anyone that engages with your customers has the power to drive revenue. With the right tools, your agents can become trusted advisers and 'concierges'.
Doing so enables your contact centre to be recognized for driving revenue growth and customer acquisition.
Consider these initiatives:
Train Agents for Growth Mindset.
Expand on agent customer care skills to effectively advise customers and promote upsell and cross-sell opportunities, generating revenue.
Empower agents with information, next steps, and best recommendations to convert more leads.
Run Impactful Outbound Campaigns.
Engage with more prospects by increasing agent outbound call performance.
Make it even easier for agents to proactively reach out and connect with prospects and customers while staying compliant and productive.
Turn Customer Intent Into Action.
When customers are browsing your website or using your mobile app, proactively message them to capture and convert leads.
Identify key conversation points, such as competitor mentions, common objections, and more to understand customer needs and drive them towards a buying decision.
2. Contact Centre as a Customer Engagement and Loyalty Centre
75% of CX leaders rate increasing customer loyalty and retention through the call centre strategy as a high priority.
Gone are the days of reaction. Contact centres can serve as an engagement layer across the customer journey, becoming the critical hub for customer data.
Companies must thoughtfully, proactively, and predictively engage customers on their terms to continue being the brand they love.
How?
Be Trustworthy.
Shift customer mindset to view your agents as more than 'fixers,' but also as trusted consultants.
Connect customers with the best subject matter expert to build trust and relationships.
Build Deep Customer Relationships.
Treat customers as individuals by personalizing their experiences with your brand.
Exceed their expectations every time, through any channel, by applying the data you've accumulated at the right time.
Get so good at customizing their experience that you start anticipating their needs.
Deliver VIP Experiences.
Retain high-value customers by:
Proactively sending rewards.
Offering first-priority routing—VIP treatment.
Matching them with your top-tier reps—or the best subject matter expert for solving the issue.
3. Contact Centre as an Innovation and Collaboration Centre
81% of CX leaders cite more business intelligence to share with the broader company as an "important" or "very important" factor for success.
The contact centre is a rich source of customer data, feedback, and emotion. Mine, convert, and transform that data into informed recommendations that can be shared with the broader organization.
Expanding contact centre technology throughout your entire organization will create a collaborative environment where the contact centre drives informed strategies, cross-functional alignment, and ultimately amplifies the voice of your customer.
Share the Goldmine With Your Organization.
Contact centres have valuable customer insight data but may not realize the goldmine they're sitting on.
Share the wealth of historical and real-time customer insights with the rest of the organization to listen and truly understand your customers.
Show customers you care by acting on their input on products and services.
Walk in Your Customers' Shoes.
Think from your customers' perspective and design processes around it.
Understand their challenges and frustrations, and find ways to make their lives easier across all of your business practices.
Amplify the Customer Voice.
Build a strong base of customer advocates by gathering the voice of the customer at every moment to drive customer-centric decisions.
Empower the teams across your organization with customer insights to better understand each customer's 'why' and become the organization that "gets me."
4. Contact Centre as a Brand Enhancement and Employee Engagement Centre
Businesses risk losing up to 22% of their customers when people find just one negative review about the company.
Every conversation between your team and your customers matters – your employees are your greatest ambassadors. And it's important that your employees stay engaged.
Make sure that your employees do the following:
Narrate a Consistent Brand Message.
Trust your agents to always be on brand and deliver the right message, despite any changes to your product, service, or positioning.
Proactively deliver relevant information and recommended next steps as your agents engage with customers.
Communicate Your Purpose, Cause, and Values Appropriately.
Customers want to know what you stand for, and they're getting more comfortable asking about it.
Your reputation is no longer just about what you say; it's also about what you don't say.
Effectively and intelligently over-communicate with customers to stay on top of your brand's reputation.
Monitor and Protect Your Brand's Health and Reputation.
Ensure your employees are living up to your brand standards—rather than finding out through a negative review or call-out on social media.
Empower managers and supervisors to assess and improve employee engagement in real-time.
Repositioning the perception of contact centres as growth centres, or CX hubs, will take some time, but leading CX professionals are on to this notion, and are now embracing the wealth of customer data and business intelligence that exists in contact centres to help sell this vision.
This blog post has been re-published by kind permission of Talkdesk – View the
Original Article
For more information about Talkdesk - visit the
Talkdesk Website