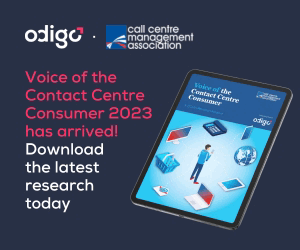 Elisabeth De Longeaux at Odigo shares insights on why enhancing customer experience has never been easier than with a live chat service.
At a time when customer expectations have never been more demanding and customer experience (CX) has never been more important, organisations are looking for ways to provide the customer service that sets them apart from their competitors.
Read on to learn how your organisation can leverage a live chat service to deliver memorable CX, increase agent engagement and drive contact centre efficiency.
The proliferation of new channels, continued advancement of artificial intelligence (AI), acceleration of automation and deployment of reliable, convenient self-service options have drastically altered the CX landscape.
However, customers across the generational divide still appreciate the human touch that comes from skilled, empathetic professionals. This is why a Live Chat Service, which augments contact centre agents with cutting-edge technology, is a vital component of world-class customer service.
A recent Salesforce study found that 41% of UK consumers state that live chat is their preferred support channel. Whether it's used for customer service or sales, live chat tools can give customers real-time interaction. There are three main benefits here:
For many customers, online chat software is more convenient and less stressful than speaking to a stranger on the phone,
It's easier to interrupt a session and return with the document or reference they need, and they know they'll be understood,
Most customer service chat software includes the ability to voice call, screen share or send screenshots. This makes it an effective tool for resolving support issues quickly.
Integrating Live Chat in Customer Service
Contact centre managers know that today's customers expect personalised and efficient service. But live chat's value is more than swift resolutions; it is about ideally timed engagement.
Customers can receive on-the-spot support that answers questions, encourages a sale or simply smooths their customer journey.
For example, after introducing Service Cloud, leading UK cleaning brand Vax increased first contact resolution from 78% to 87%, while reducing phone contact from 81% to 76.5% at the same time. This freed up agents for more business-critical tasks such as up-selling and cross-selling opportunities.
Live chat was a crucial factor here and 91% of Vax's customers who engaged with this channel said they found it useful and would do it again.
Live chat is the most synchronous of digital channels as customers are able to receive immediate answers, but speed is just one of the features live chat has to offer.
Live chat and chatbot solutions are complementary; together they deliver CX that combines the best of virtual and human agents. Chatbots help qualify customers and complete basic tasks, transferring to human agents for more complex requests.
The end result? Higher conversion rates.
Live chat customer service features a targeting engine, allowing organisations to proactively engage customers at the ideal point in their customer journey. A perfectly-timed engagement is further enhanced through a co-browsing function that gives agents the ability to see what their customer sees.
Using Live Chat in Customer Service Boosts Agent Engagement
This past year has seen contact centres adopt remote working models that have relocated agents en masse. Isolation from colleagues combined with the stress of a highly demanding job can have a detrimental impact on agent engagement and performance.
Live chat enables agents to showcase their skills through meaningful interactions with customers that make shifts more meaningful.
Building rapport with customers gives agents increased confidence, raises job satisfaction and helps them meet key performance indicators (KPIs), including FCR and customer satisfaction (CSAT) rates.
Rewarding agent engagement also translates into boosts in productivity, as agents can manage, on average, four conversations through live chat customer service. Further, for international organisations with multi-language capacity, a live chat service can remove language barriers.
Not only does live chat achieve faster resolutions, it empowers agents to manage call volumes and save time and effort through a channel that gives them the ability to directly address customers' needs.
Additionally, live chat is less stressful than the voice channel as it contains tools designed to assist agents, like automatic answers and predictive typing.
To increase net promoter scores (NPS), organisations should strive to achieve a symmetry of attention, which argues that the happier your contact centre agents are, the happier your customers will be. A live chat service is a proven method of raising agents' satisfaction.
Live Chat Customer Service Drives Contact Centre Efficiency
Turning a contact centre from a cost centre to a value centre is a difficult task for any manager, which is why a live chat customer service channel is increasingly playing a vital role in CX offers. Not only does a Live Chat Service Make Customer Acquisition and Onboarding Easier, it Also Provides Reliable, Secure Support.
The higher levels of agent productivity correlate to a reduction in cost, as Live Chat is 20-30% Cheaper Than the Voice Channel.
Not only is a live chat service easy to implement and personalise, it makes it easier for contact centre managers to monitor and control operations and service. The ability to propose an alternative channel helps to better handle call volumes and manage peak periods.
Hubspot's 2020 State of Service Report indicates that 90% of companies viewed live chat as a successful channel for helping customers. However, only 29% of companies admitted to using a live chat service, meaning that it still presents a competitive advantage.
It is clear that by integrating a live chat service into a contact centre's communication strategy, not only will an organisation's CX improve, but it will also have an edge over its competition.
Industry observers are confident that the trends to pay attention to, whether related to new technology or changing behaviours, indicate that CX in 2021 will be human-focused and increasingly personalised – which is exactly what live chat customer service is.
A Live Chat Service – a Key Part of Channel-less CX
Providing customer experience as it was meant to be requires being available to your customers where and when they need you.
A live chat customer service option meets some customers' expectations, but not all. Truly memorable CX must seamlessly link all voice and digital channels in a data-driven approach that produces fast, effective and personalised CX.
This blog post has been re-published by kind permission of Odigo – View the Original Article

For more information about Odigo - visit the Odigo Website