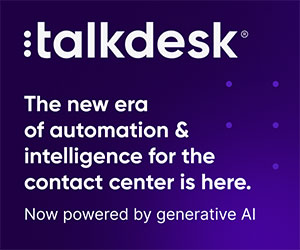 Marta Lima at Talkdesk looks at how empowering agents to be the best at their job—and experts at using contact centre technology—is the key to exceeding contact centre KPIs, working fast and cost-effectively, and providing the support customers need.
The most successful call centres—those that best reflect your brand and deliver delightful and seamless experiences—start with the best training. Information and communication technologies (ICT) are revolutionizing not only the way agents work and interact with customers, but also their training.
From artificial intelligence (AI) to machine learning—technology plays a major part in call centre productivity and has been transforming the industry over the last decade.
Increased customer satisfaction and higher brand loyalty due to personalization, shorter waiting times, and first contact resolution are just some of the benefits we can mention. But keeping up with the latest technology is not all it takes to achieve outstanding key performance indicators (KPIs).
The use of advanced ICT requires agents to have additional technical skills to handle contact centre software and adequately perform their job.
To ensure that agents are capable of leveraging the most recent technology to deliver a better and more efficient CX—and that they feel confident using this technology—contact centre managers are making training a priority.
In order to develop a training protocol that is cost-effective, efficient, and has the most impact on the capabilities of the agent, managers must understand the relationship between ICT and call centre agent training.
3 Technologies That Are Transforming Call Centre Agent Training.
The evolution of ICT has a major impact on call centre training—namely on the uprise of investment of time and money on agent training—but specific technologies have different effects on training demands. Learn how each of the main three contact centre technologies is impacting agents' training:
1. Interaction Automation Technologies.
Interaction automation technologies (such as IVR, speech recognition technologies, virtual agents, or voice and chatbots) automate customer interactions in the contact centre.
They highly benefit customer support in contact centres, working as a self-service tool that performs simple operations without the need for human intervention—simplifying the workload of human agents, reducing the operational costs, and offering a fast, efficient, and autonomous resolution for customer issues.
2. Workflow Automation Technologies.
Automated workflows help agents and managers to accomplish more tasks, more accurately, in less time. Here are some examples of automated workflows:
At the end of a call, create a helpdesk ticket.
If a call is missed, send an email to the sales manager.
When creating a new contact in your call centre software, create one in your customer relationship management (CRM) system.
When a voicemail is left, create a helpdesk ticket.
Automated workflow features reduce errors and after-call work by automating follow-up tasks—particularly those that require updating databases. It saves the agents' time and allows them to focus on the customers and in addressing them proactively.
By automating after-call tasks and others you can redirect your training into more complex issues and train your agents with the necessary technical and soft skills to handle harder inquiries.
3. Enhanced Interaction Technologies.
When we talk about enhanced interaction technologies, we are talking about specific features that make customer–agent interactions smoother, easier, and more effective.
Speech and text analytics analyze customer interactions across several contact channels and find key moments, topics, customer intents, and sentiments to offer agents insights to create the next best action and more frictionless customer experiences and seize upsell opportunities.
This type of technology is particularly interesting for agent training. Supervisors can leverage AI-powered insights of voice and text interactions to evaluate the agent's performance and detect any issues that might be impacting their interactions—and spot every opportunity to elevate CX.
To Wrap Up.
AI and automation technologies are transforming the way we interact every day— and the contact centre is no exception. AI technologies allow contact centres to be available 24/7, address customer issues in a blink of an eye, and deliver a much more rich and complete CX.
But it doesn't replace human agents—it empowers them to do their job faster, more effectively, and with extra confidence.
To seize the potential of ICT in the contact centre your should support your workforce with the tools and guidance they need to succeed every step of the way and make sure they are aligned with your contact centre strategy.
This blog post has been re-published by kind permission of Talkdesk – View the
Original Article
For more information about Talkdesk - visit the
Talkdesk Website