The Interactive Voice Messaging (IVM) solution from Qire has been used to issue 176,000 messages to customers in arrears, connecting Severn Trent agents with the account holder to not only boost collection rates but also ensure optimum operational efficiency and promote more personal contact with customers.
According to Russell Mackuin, Debt Strategy and Controls Manager at Severn Trent: "As well as recovering millions in overdue bill payments, the payments we are now receiving are on average over 30% higher than those previously achieved through traditional contact methods such as through dialler-based calling or postal campaigns.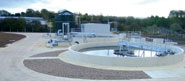 "The Qire IVM solution has proven to be a highly effective tool for contact management and resource utilisation, enabling us to reduce debtor days, whilst helping meet ours and the Regulator's desire to make more personal contact with our customers."
A key benefit of the Qire solution is that it provides a cost-free call for the customer, a move welcomed by regulators and customer support groups, and a key element of Severn Trent's customer service strategy.
The call whisper functionality of the Qire solution gives Severn Trent agents customer details and account number when they speak with the account holder, simultaneously boosting efficiency by reducing the time taken on a call, but also improving customer service by streamlining the process.
Previously, using manual dial-out processes or predictive diallers, up to 50-60% of the call centre agents' time would be spent contacting someone other than the person responsible for payment.  IVM filters out wrong party numbers before the agent speaks to the party, making agents more efficient.
The Qire solution verifies the identity of the account holder and connects them to a live agent to discuss their account and payment options.  If the account holder is not at home, then messages are automatically left to encourage them to call in.
The Qire solution has removed the need for a dialler upgrade, which would have proven costly and time-consuming, requiring extensive internal testing.  Support, maintenance and upgrades are managed by Qire as part of the service, simplifying management and reducing internal costs for Severn Trent.
Severn Trent has integrated the Qire solution into its new Tallyman debt recovery system for an integrated approach to credit management.  Multiple campaigns can be carried out each day, with automatic reports generated to meet OFWAT requirements and ensure account status is up to date and can be handled accurately.
Severn Trent is looking to extend the use of the Qire IVM solution and will be trialling the use of text messaging and reverse blind transfers, as well as automated payment options and wider applications including automated meter reading and operational communications with customers, to inform them of issues such as supply problems and maintenance works.