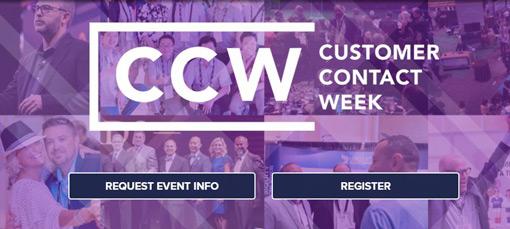 About the Event
THE DATE: January 15 – 18, 2019
We had a blast at New Orleans last January, but we're headed the City of Music this coming January 15-18. We're sharpening the agenda next year with more world-class speakers. The Expo Hall will have even more innovative and state-of-the-art technologies and networking activities for you to meet the people you should connect with most.
Expert speakers are confirmed include:
Jenn Lim, CEO & Chief Happiness Officer, Delivering Happiness
Jake Petersen, VP, Customer Experience, MoviePass
Natalie Higgins, SVP, Director of Customer Experience, Citizens Bank
Kris Crichton, VP, Sales and AccountManagement, Equifax
Kelly Steele, VP, Customer Experience, Freddie Mac
and more!
THE ORGANISERS: IQPC
THE WEBLINK: https://www.customercontactweekwinter.com
Date and Time
Starting:
Tuesday 15th January 2019

Ending:
Friday 18th January 2019
Location
Date and Time
Starting:
Tuesday 15th January 2019

Ending:
Friday 18th January 2019
Location