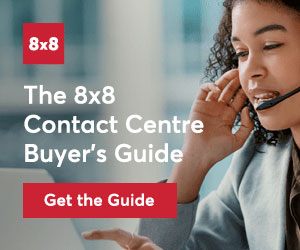 Tricia Morris of 8×8 shares insights about the latest customer experience trends.
One of the most hyped decades for business innovation is now well in flight. Whether you consider its start a setback or a boost, there's no doubt that recent events have accelerated technology trends and the need for digital transformation to the point where last year's existing gaps are this year's daunting divides.
Gartner predicts that through 2024, businesses will need to accelerate their digital transformation plans by at least five years just to survive.
But as we know in this age of across-the-board digital disruption, new leaders can be made at any time with the correct pivot and focus.
According to Innosight research, half of the companies now on the S&P 500 will be replaced over the next 10 years.
The Role of Customer Experience
Customer experience (CX) plays a huge part in digital disruption. Think Amazon with its almost unbeatable convenience – or Domino's Pizza, whose stock soared from $3 a share in 2008 to more than $370 by focusing on the voice of the customer.
In 2021 and beyond, brands are banking on the best balance of technology and humanity, as customers have mastered engaging from a distance and now businesses must too.
Self-service, video and SMS use are skyrocketing. And organizations that rushed in 2020 to incorporate disparate forms of these technologies must now get their long-term digital house in order in a way that breaks down silos between corporate employees, contact centre agents, and the customer.
The result: a better experience for all.
Technology Trends Accelerate
The lines between employee experience and customer experience are blurring. Trends around virtual engagement, actionable analytics, AI, and platform use as a jump start in bringing people, process and technology together are accelerating.
Making remote work work was so last year….
Recent events have taught us that we need to be able to move fast, be agile, and be prepared for any situation – to operate from anywhere. Now it's time to focus on doing that better than anyone else.
This blog post has been re-published by kind permission of 8x8 – View the
Original Article
For more information about 8x8 - visit the
8x8 Website