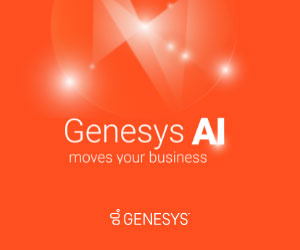 Our panel of experts highlight customer experience trends that are beginning to take hold in the contact centre and beyond.
1. Brands Recognize That Great Customer Experiences Hinge on Design
Designing a service is all about putting the user experience at the forefront of decision-making.
In order to provide great customer experience, you should put your focus on the design of each of the following features, according to Customer Strategist Journal:
Reachability: Focus on channel relevance and usability
Service convenience: Focus on customer self-service, when necessary
Purchase convenience: Focus on reducing customer effort
Personalization: Focus on requirements and expectations from different customers
Simplicity and ease of use: Focus on optimization of the customer journey
Channel flexibility: Focus on customer history across various touchpoints
2. Organizations Re-evaluate Their Channel Strategy
Customers have a variety of channels to choose from when interacting with a brand. In the contact centre space, channel process re-evaluation is growing in importance as customer expectations and competitors' strategy continue to evolve.
An example here is phone support and how it is different today than it was years ago. When your customer reaches out to you via phone, chances are they've already exhausted their search for a resolution via digital means. There is an urgency to get an issue fixed.
Companies that provide the best customer experience offer the right channel based on the type of conversation that the customer needs to have.
Companies that provide the best customer experience offer the right channel based on the type of conversation that the customer needs to have.
For example, an interaction done via messaging usually relates to a low-urgency topic, while voice interaction, as mentioned above, often involves a problem that needs urgent resolution.
3. Life Is Being Breathed Into IVR Journeys
The interactive voice response (IVR) is the first taste of your customer service that customers will have, and first impressions count.
Brands are now realizing this and paying more attention to the IVR journeys that they are creating, as they consider:
Have we created an IVR maze for our customers?
How many levels does a customer have to go through before getting to a live advisor?
Are we passing IVR data to the advisor in order to prevent the customer from having to provide the same information multiple times?
Yet still – according to Accenture – 89% of customers get frustrated because they need to repeat their issues multiple times.
So, pay attention to connecting channels and use the IVR to prompt a better customer journey. By doing this, you should be able to easily carry conversational context across channels.
4. Self-Service Becomes a Priority
What does self-service mean for your business strategy? Well, weak self-service options can lead to customer frustration, which means that bad self-service is a worse customer experience than no self-service at all.
In the context of a contact centre, self-service features and their advantages can be numerous.
A visual IVR enables your customers to see their navigation options when they call you from a mobile device…
For example, a visual IVR enables your customers to see their navigation options when they call you from a mobile device, while a built-in knowledge base system helps customers help themselves with articles and other sorts of information.
Self-service features are all about making the user journey as easy and short as possible, while making the user autonomous and happy with the brand.
5. Brands Increase Executive Awareness of Customer Experience
The challenge for the customer experience universe is that economics is the single biggest topic that divides the perspectives of top executives and the professionals who run customer experience initiatives.
This gap is a problem because the executives running these initiatives consistently state that they are underfunded.
However, there is now a trend of putting more focus on the business case behind your strategy for customer experience, considering things like:
What does it mean for the organization?
Is it driving revenue?
Is it boosting Net Promoter Score (NPS)?
Is it driving customer retention?
Take those puzzle pieces and make sure you raise sufficient funding in order to place customer experience at the top of your organization's priorities.
Thanks to João Safara at Talkdesk
6. Customer Loyalty Is Declining
Consumer expectations are heightening, and in turn, loyalty is waning. This has arguably been driven by digitally focused brands such as Amazon and Uber, who are making customers increasingly intolerant towards poor customer service.
As a result, many studies have predicted that now is the time that businesses will really recognize the importance of customer experience as a key differentiator.
The phone plays a vital role in improving customer service by allowing businesses to personalize communications to the individual.
Despite this, a high percentage of firms see call centres as a way to block customers from engaging, instead of encouraging positive human interaction.
Many businesses' telephony systems remain in the dark ages, delivering slow, frustrating and non-personalized experiences.
Thanks to Neil Hammerton at Natterbox
Natterbox also sponsored a special podcast on the topic of customer experience, featuring industry expert Annette Franz, which you can check out below.
The Contact Centre Podcast – Episode 23:
What Makes A Great Customer Experience?
For more information on this podcast visit Podcast – What Makes a Great Customer Experience?
7. Organizations "Get" Emotion
A better understanding of consumer emotion has been on the customer experience wish list for years and that's because building emotional connections with customers has become a best practice for creating loyalty.
Most companies, however, still struggle to truly understand how to effectively measure the impact and meaning of these emotional cues.
Yet, for the first time, there is a clear understanding that teaching contact centre advisors to build rapport is not enough to create emotional connections with customers.
Emotion needs context. It needs to be combined with words and other situational factors to provide a clear picture of what is taking place in the moment.
For the customer experience to really benefit from customer emotion, organizations need to plan their customer journeys to include moments of high customer emotion and be able to measure sentiment at these moments.
8. Customer Surveys Take a Back Seat
Organizations have relied upon customer feedback to measure customer experience satisfaction levels for years.
But while surveys remain a valuable tool, they are only a small part of the customer experience picture, and organizations are shifting their approach to focus on capturing unsolicited feedback.
The issue with solicited communications like surveys is that they scale toward the extremes. Speaking in general terms, only those who have had an exceptionally positive or negative experience complete surveys.
The 10% on either end of the scale blurs the picture. The middle 80% matters most — this is where the most insightful feedback can be found.
In 2020, expect CX leaders to rely more heavily on real-time feedback captured during customer conversations to inform and drive change within their organizations.
Thanks to Frank Sherlock at CallMiner
9. "In the Moment" Customer Experience Emerges
News headlines are awash with details of contact centres embracing new technology – from chatbots to robotic process automation (RPA), self-service to speech analytics. These technologies have all been designed to make the customer's experience with a brand easier and quicker.
The logical next step is to extend the use of these technologies so that they can be used to alter a customer's experience whilst they are having it.
This customer experience trend will see contact centres begin to use technology to adapt their approach as it is happening.
Rather than anticipating a customer's need, or responding to it after the event, this customer experience trend will see contact centres begin to use technology to adapt their approach as it is happening.
What this means in practice is using the tools to their full extent.
For example, a contact centre can use an IVR to identify which advisor or department to route a call to. However, if they couple it with sentiment tracking, contact centres can better understand how a customer was sounding and, if the customer sounds upset, a chatbot can route them through to the contact centre immediately.
Handling a situation "in the moment" and adjusting an advisor's response is critical if you are to turn a detractor round and keep delivering exceptional customer experience.
10. The Service Recovery Paradox
The human touch has never mattered more than in today's self-service-driven world.
Today, an advisor providing a solution to a problem may no longer be enough – customers want you to feel their pain and to sympathize with them.
This connection can be very valuable to the contact centre as, according to the service recovery paradox, when we solve a customer's problem – and blow their socks off in the process – we create a better experience than if the problem never occurred in the first place.
According to the service recovery paradox, when we solve a customer's problem – and blow their socks off in the process – we create a better experience than if the problem never occurred in the first place.
Advisors therefore need to be supported and trained to engage with their customers on a new level – offering sympathy and displaying empathy, yet maintaining (friendly) authority over the situation.
Contact centres who want to set themselves apart here should employ many different coaching techniques which are adapted to the different ways that people learn, to better communicate and connect with customers in a way that is going to engage them in the long term.
11. Video Adds Another Dimension to Customer Service
As a new generation of customers who have grown up with video calls becomes fully fledged, financially independent, consumers of products, the channels we use to communicate with them will have to evolve to match expectations.
While video may seem somewhat of a novelty, some brands have already taken this leap forward. Amazon offers video support into its Kindle devices through its "Mayday" feature, and footwear retailer Schuh provides video support as a standard communication option.
It's not just about appeasing a younger, more tech-savvy generation either. The reality is that being able to see an advisor in the contact centre can provide an extra dimension of customer service and reassure customers, in person, that they matter.
This reinforcement of the human touch is growing in importance, as brands fight to retain customers and deliver an exceptional customer experience.
Thanks to Valur Svansson at IP Integration
12. Customers Are Helping Customers to Get What They Want
Smart organizations are becoming increasingly "savvy" around social service.
The concept is around having outsourced customer service people in place that are focused on screening, aggregating, filtering, re-posting and sharing great ideas and content from existing customers that help other customers.
The content of social service interaction could be used to inform the development of FAQs and knowledge bases.
It could be about sharing content developed on Google and social media platforms through the business's own website. It could also involve incentivizing or rewarding customers who go into a user forum and post a response that helps a specific customer with a need.
On the back of this, companies can create content that's shared, used and accessed by customers as and when they hit the same problem.
13. 5G Starts to Influence Customer Experiences
The quality, depth and breadth of data that can be transmitted at high-speed on a 5G network is so much greater than that which can be transmitted on a 4G one.
Where 5G really comes into its own is in its capability to make the applications we have in place today work much better and more effectively.
Today's smartphones will be able to manage and deal with far more complex requirements in much faster times than they can today.
Its advent means that the apps on today's smartphones will be able to manage and deal with far more complex requirements in much faster times than they can today.
We are already seeing applications such as video conferencing utilized more in the workplace, such as within the health sector or distance education.
Augmented reality (AR) will also gain ground under the influence of 5G, as retailers will be able to present a view of what a product will look like before their customer makes a purchase.
14. Contact Centres Start to Predict Customer Behaviour
This customer experience trend involves using historical data – looking back over a whole trend of data over 10,000 customers, for example – to evaluate if when they take one action, they then typically go onto take another.
It could also be looking at one individual's behaviour at a more granular, specific level or it could be evaluating behaviour in real time.
This last example might typically include "listening out" for keywords; sensing emotion, understanding the tone of the language being used.
It also involves upskilling the agent and bringing information both to the agent and the customer to address an enquiry.
All of this helps fulfil the basic customer need of making the fastest journey possible from point A to point B, with the least amount of effort on their side.
Thanks to Jeremy Payne at Enghouse Interactive 
15. The Employee Experience Increases Its Influence on Customer Experience
You simply can't ignore the link between employee experience and customer experience.
In fact, companies that invest in employee experience are four times more profitable than those that don't, according to the Harvard Business Review.
When employees aren't trained properly, lack confidence in their abilities, or don't have the resources they need to be successful, it has a serious impact on customer service.
The flip side is when employees are knowledgeable, empowered, and supported, they're able to provide the best possible customer experience.
According to Gallup, companies with highly engaged employees outperform their competitors by 147%.
So, for contact centres looking to improve their customer service metrics, the best place to start is with their own employees.
Thanks to Amanda Verner at ProcedureFlow
16. Contact Centre Roles Become More Strategic
Thanks to the rise of self-service, many simple customer queries can be automated. While this is great for reducing contact centre demand and lowering customer effort, it will impact the role of the customer service advisor.
This customer experience trend will mean that advisors will primarily focus their time on complicated queries, freeing up time so they can deliver exceptional service during these interactions.
Because of this, service providers will need to train their advisors to a higher calibre and provide solutions to better support advisors in solving complex issues.
Service providers need to think strategically about their training to ensure their advisors and teams can cover all possible problems. This will allow for a two-pronged approach that ensures customers will receive the proper level of assistance for their query.
Thanks to Omar Javaid at Vonage
17. Customers Begin to Crave Privacy and Transparency
Customers' expectations for personalized interactions and experiences have pushed businesses to adopt technologies that enable them to tailor a customer's experience to their identity, interests or past interactions.
Many consumers' concerns about how much information is stored and used by businesses have fuelled an even greater interest in safeguarding their own personal and demographic data.
Yet at the same time, many consumers' concerns about how much information is stored and used by businesses have fuelled an even greater interest in safeguarding their own personal and demographic data.
Businesses that adopt a transparent and respectful policy regarding how data is collected and used not only satisfy industry regulations, but also promote trust and help build long-term customer loyalty.
18. Multichannel Turns Into Omnichannel
The difference between mere multichannel customer service that simply offers channel choice and a true omnichannel experience is becoming even more pronounced.
One of the biggest sources of customer dissatisfaction is being asked to repeat the same information more than once.
In an omnichannel contact centre, the context of each interaction is preserved when a customer is passed to a new advisor or moves from one channel to another.
Thanks to Colleen Sheley at Aspect Software
19. Personalization Becomes a Tool for Customer Convenience
As customer experience becomes a key business differentiator for many, brands are looking to impress customers with individualized engagement.
Yet despite this growing trend, Forrester's CX Index has stagnated for the last three years, with not a single company getting the top rating of "excellent".
The common deterrent to a personalized customer experience is a failure to collect and manage customer data, pointing to the need to make better use of the contact centre CRM.
Often called systems of record, CRM systems capture and maintain customer data. While they "keep the lights on", guiding customers and contact centre advisors to answers, many organizations are not using the technology to its full potential.
To stay ahead of the pack and better personalize customer experience, give advisors the customer's backstory before they pick up the phone, with a single, centralized CRM that sits behind every channel.
Thanks to Anand Subramaniam at eGain
20. Artificial Intelligence Grows in Value
Contact centres are facilitating a shift in their working practices, as customer satisfaction is the ultimate customer experience goal in 2020. It is now crucial that customers leave calls satisfied.
However, calls are becoming more complex and emotional, with customer service advisors expected to deal with much more complexity, requiring them to be experts in more areas and also more empathetic than ever before.
As such, advisors need extra facilities to expedite the call process, which is where AI becomes relevant.
For example, the technology will help to dynamically manage calls via AI call routing, allowing the relevant advisor to know the type of enquiry they are about to receive and therefore be prepped sufficiently to resolve a call satisfactorily.
This process allows the advisor to utilize the expert subject knowledge they have, along with their enhanced emotional intelligence skills for successful first-time call resolution (FCR).
Thanks to Nigel Dunn at Jabra
21. Channel Hopping Becomes a Common Customer Behaviour
Multiple ways of communicating has become the norm.
Consider applying for a credit card. Having seen an offer advertised online, the customer begins their online application from their smartphone. With autofill, Google makes sure most of the fields in the application are automatically filled.
When completing the last part of the application (providing contact details), the customer switches to browsing the web.
A few days later while visiting a branch, the customer simply signs the documentation, or if the online profile was left incomplete, the customer might receive a reminder text or email.
Customers are more ready than ever to walk away after a bad service experience, so making sure all your communication channels are available, integrated and personalized to the customer's own preference is highly beneficial.
Great customer experience means more repeat business and deeper customer loyalty. Customers are more ready than ever to walk away after a bad service experience, so making sure all your communication channels are available, integrated and personalized to the customer's own preference is highly beneficial.
22. The Growth of Automation
Robotic process automation (RPA) software is on a huge growth curve. Market research company IDC expects the market to grow at a compound annual growth rate of 49.3% and hit $3.7 billion by 2022.
This customer experience trend is built on the fact that RPA is a great tool to automate repetitive processes and increase efficiency, accuracy and speed.
Great use cases for RPA include tightened customer service workflows, support for chatbots, product delivery management (post-order placement), instantaneous customer feedback analysis and response, and much more.
RPA also allows your contact centre advisors to focus on tasks that are less mundane and of greater value to the business. That means that through this form of advanced automation, businesses achieve two key workplace benefits: greater satisfaction for employees as well as efficiency gains and cost savings.
Thanks to Garry White at Business Systems
23. Organizations Find the Right Human–Automation Balance
One of the biggest customer experience trends will be finding the right balance between automation and human customer support.
Take chatbots as an example. Many contact centres are jumping on the chatbot bandwagon in a quest to provide 24/7 support to consumers, across every stage of the buying journey.
Also, many are hoping that chatbots can aid the quest to improve customer experience while keeping costs down.
However, balancing the requirement to manage costs while meeting customer needs is not easy. The key is to make customers fall in love with your automated options, by designing them around consumer needs.  Get this wrong and you could increase demands for live assistance.
Yet brands who can get this right can earn customer trust by empowering their advisors to meet both the customer's emotional and functional needs when a customer query cannot be resolved by an automated channel.
Thanks to Sadam Iqbal at Intrado
24. Contact Centres Monitor Their Audio Connections
Many customers now only pick up the phone when they have a pressing, emotional issue to resolve. Yet connectivity and audio connection issues sometimes can often make a difficult situation for the customer even worse.
The last thing they want to experience is connectivity or audio quality problems with the phone call itself before they even get as far as having a conversation.
Recognizing this, a growing customer experience trend that is transforming global communications is phone number testing.
Through proactive monitoring of international numbers, contact centres are replicating their customers' experience and resolving telecoms issues before they are customer-impacting.
Thanks to Kevin Buckley at Spearline
25. Companies Look to Technology to Measure the Customer Journey
One customer experience trend that more companies are opting to action is analysing the complete journey across multiple touchpoints.
As product and price increasingly become more commoditized, the customer experience is going to be a differentiator in your customer retention and acquisition strategies.
By aggregating all customer conversations with or about your brand into a single omnichannel view and analysing all the experience feedback they provide, you can pinpoint and proactively engage with customers at risk of churn or customers that have potential for upsell.
With this 360-degree view of the customer journey, you can improve processes, products and policies across your entire organization and positively impact the bottom line.
Find out more organizational goals for developing customer experience in our article: Improve Customer Experience: 5 Strategies That You NEED to Try
26. Lowering Customer Effort Remains a Key Focus
Using effort as a key performance indicator (KPI) helps companies spot emerging issues before they explode into major points of friction that impact loyalty and revenue.
The latest technology in contact centres can now automatically quantify customers' perceived effort by analysing feedback and interactions on every channel.
Being able to assess, quantify, and track effort automatically without relying solely on solicited survey feedback will be a valuable capability for customer experience leaders.
Thanks to Shorit Ghosh at Clarabridge
27. Digital Preferences Are Changing
Organizations are increasingly looking to create an effortless and consistent digital-centric experience framework, that caters to today's consumer digital preferences.
Some contact centres then try to create a new standard of personalization for smarter customer interactions, using advanced analytics, AI and automation technologies.
There is also a lot of work going into internal environments in order to meet the expectations of a new generation of employees, providing workforce mobility, flexibility and engagement.
Finally, more contact centres are moving their operations to the cloud, in order to reduce cost, streamline operations and accelerate continuous customer experience innovation.
Thanks to Aviad Abiri at NICE
28. The Rise of the Machine (Learning)
With rapid advancement of technology, the proliferation of cloud-based platforms and remote workforces, technology adoption is a key part of maximizing your revenues.
These external factors, coupled with the unique changes occurring within the customer experience industry, mark a new frontier on the digital landscape.
There has been a lot of talk about AI, and for good reason. We're already exposed to it on a daily basis from personal assistants, smart home assistants and cameras on our smartphones.
Contact centres leveraging the capabilities of AI has become a popular customer experience trend because it allows companies to create memorable and more efficient customer experiences.
Through the use of tools such as predictive routing, knowledge-based AI and natural language processing (NLP), advisors are better equipped to solve customer problems quickly and seamlessly.
Thanks to Brendan Dykes at Genesys
29. Messaging Apps Are Being Used for Proactive Communication
Organizations are getting better at anticipating and solving issues before they arise in the contact centre.
For example, housing associations/councils now pinpoint likely delays in service, such as during peak holiday times or in adverse conditions.
They can then send outbound messages offering to help customers through these times with self-service options, reducing the number of inbound calls to the contact centre.
Send outbound messages offering to help customers through these times with self-service options, reducing the number of inbound calls to the contact centre.
Also, this organization sends interactive messages for appointment reminders.
For example, they can remind someone about a property viewing and ask for a response on whether they're coming, aren't interested or would like to rearrange.
By doing this, the company provides a better customer experience, saves staff time, maximizes the chance of the property being rented out and generates rental income more rapidly.
30. Brands Try Interacting With Customers in Their Own Way
One likely customer experience trend is that this year, there will be more investment in ensuring that customers can transition easily to talk to a live advisor.
Organizations are investing in tech which consolidates digital, mobile and social customer service channels on a single advisor desktop. This allows advisors to manage the interactive, real-time communications that today's customers want.
They can have two-way conversations via voice, webchat, email, Facebook Messenger, SMS, rich communication services (RCS), Apple Business Chat (ABC), WhatsApp and Twitter DM.
For example, one home improvements company saw the value of demonstrating online how to do certain DIY jobs.
The company implemented multimedia live chat, sharing links to how-to videos and also offering video calls if required. This has reduced inbound traffic and provided a convenient way for customers to solve challenges.
Thanks to Ken Reid at Rostrvm Solutions 
For more from our experts on the topic of improving customer experience, read our articles: