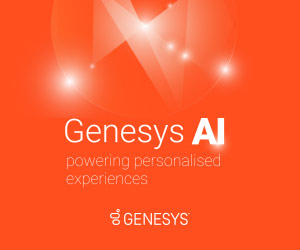 Richard McCrossan of Genesys argues that customer needs must be placed at the forefront of digital.
I recently ended a contract with a company I had used for years. It wasn't because I was lured into signing up with a bigger, better organisation or because I found a cheaper deal elsewhere. It was simply because I wasn't willing to accept the poor customer service they offered at a moment when I needed help.
While I had experienced years of fulfilling service, I was sorely disappointed to encounter such a lapse. We are now living in an age where customers expect – and deserve – more. There are so many resources available to help businesses do better, yet so many continue to miss the mark. The fact is businesses can, and should, do more to ensure that customer satisfaction is at the forefront of operations.
Digital transformation is the buzzword of the moment, and it's one every customer-facing business should be talking about. The biggest driving factor of digital transformation is gaining a better understanding of the customer.
It is all too common for businesses to blame external disruptors for their own failures when the reality is that being non-customer-centric is the biggest threat to any business. Businesses should constantly re-evaluate how customer focused they are. Even ourselves in Genesys – Amazon has entered our market now. If we remain customer-centric, Amazon may challenge us, but we will continue to thrive.
In my case, my supplier was not customer-centric in a couple of key ways. They did not keep a promise to call me back on a certain phone number at a certain time. Their chat and voice teams were not connected. When I contacted them via chat to find out why they didn't call me back, they admitted the error but were not able to arrange another call-back because: "I'm in the chat team; I cannot arrange call-backs".
Today, both of these issues are easily solved with technology. Digital brands do it by default, but all brands need to ensure basic customer needs are met in a manner that's as easy as possible for consumers.
I will say the organisation from my example was not a digitally born company. Businesses born in the digital age have a different DNA than companies that have been around a lot longer. Their DNA is digital, easy, and frictionless. However, brands that pre-date the digital age have a much greater advantage that they squander by not getting the basics right.
Businesses are under constant pressure to innovate and differentiate with digital technology.  However, consumers just want brands to answer their questions in the easiest way possible, with the least amount of effort, no matter how they ask it.
The solution is an omnichannel approach that focuses on personalised customer journeys. By personalising the retail experience and predicting its customers' needs and desires, while curating the shopper's experience via customer reviews, Amazon stripped out the need to suffer the poor product offerings and dodgy customer service in bricks and mortar shops.
Similarly, the likes of Netflix did not kill Blockbuster's success – Blockbuster simply didn't put the customer first. Let's not forget that Blockbuster once passed on the opportunity to buy Netflix for just $50 million –and the idea for Netflix came from a $40 late fee on a DVD from a Blockbuster store.
In today's world every brand should constantly reassess how customer-centric it is – what do your customers want and how are you servicing their needs? It boils down to their basic human desire, for clear, easy and engaging communication and the superhuman provision of what they want, before they want it. This means a seamless omnichannel solution is essential, with real-time abilities and analytics to turbo-charge customer engagement.
It's so important to get the basics right – put in place a single platform for all customer engagement, all channels, across marketing, sales and service. Do that and you earn the right from your customers to experiment with new innovations.