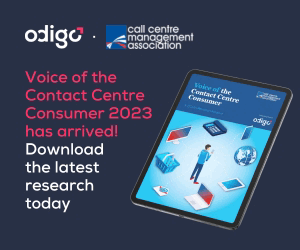 Melissa Cowdry at Odigo explains how customer service is the unexpected champion of AI.
Artificial Intelligence (AI) has been a global buzzword for many years, making headlines across the world. Recently, Google was in talks to invest $200 million into an AI start-up which creates natural language processing (NLP) software. Yet the majority of businesses are still very early in their AI journey.
While it could be assumed that the IT or marketing departments lead AI adoption in organisations, recent research shows it is actually the customer service department that is most interested in AI-based solutions (at 40%).
The question is, how did this department become the unexpected champion of AI?
Good CX Needs AI
Customer service has undergone rapid digitisation, most recently spurred on by the pandemic, causing customer expectations to significantly evolve.
Customers now expect to receive information on their queries almost instantaneously. And for more sensitive services, such as banking and energy, most customers are not very accepting of long wait times or a lack of accessible information.
As such, brands have made new communication channels, such as in-depth FAQs, online chat functions and the option to make video calls readily available.
This is where AI has stepped in as a key tool in a contact centre's communication arsenal. It underpins the tech needed to operate most of the self-service channels, such as AI-powered chatbots and voicebots, which are a crucial element of any contact centre.
Firms can pair AI with technologies such as NLP and machine learning to respond to their customers' queries on their channel of choice. As a result, customers are given the freedom to naturally express themselves using voice and written communication channels.
Another way AI has started to further enrich CX is through AI-backed sentiment analysis. Contact centres can use algorithms to help identify and analyse the tone and emotions of customers' written and verbal interactions.
These insights can be fed back to the contact centre agent and AI-powered tools can analyse this to help advise agents on next best actions.
Fielding the bulk of decision-making responsibility, for simpler customer interactions, away from the contact centre agent allows them to focus on problem-solving more complex customer queries where human interactions are needed more.
The use of AI-powered communication channels and AI-backed sentiment analysis are only some of the main reasons why customer service has become the biggest advocate for AI solutions in the business.
Data Is the Lifeblood of AI
However, AI cannot work without data, it is the lifeblood of all AI-based solutions, from voicebots to chatbots.
The gathered data insights can be used to enhance the personalisation of CX, by taking a more holistic view of a customer's profile, spanning all their interactions with the contact centre across the various communication channels.
By using AI to do so, customer interaction data can be analysed much more quickly, which not only relieves the burden from the contact centre agent but also means they get all the information they need, right when they need it to provide quality CX.
At its core, the more data that is fed into these AI models, the more they learn and the more they can do. The relationship between AI and data can be described as a symbiotic relationship, each benefitting from the other.
AI can empower the growth and capacity of the insights leveraged from analysing the data gathered, and as data is used more effectively, it can increase the scope of AI.
As a result of this interconnected dynamic, a contact centre's CX can be heavily enriched through AI-powered communication channels and AI-driven data insights.
Customer service has come to rely on AI to keep up with the growing standards of customers. It has helped lay the foundations for self-service channels and, using sentiment analysis, can respond to customer emotions.
CX can improve by leveraging more value from the data gathered and the analysis can be sped up to make sure contact centre agents have all the information they need to service their customers.
AI has deeply rooted itself in the foundations of providing good CX, and albeit unexpected, it is clear why customer service is a true AI champion.
For more information about Odigo - visit the
Odigo Website