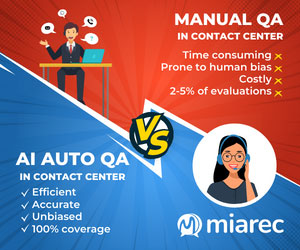 Artificial intelligence (AI) is increasing in popularity, but how can these technological developments be applied to customer service to improve CX and contact centre efficiency?
To find out, we asked our panel of experts for their top suggestions on the potential uses for AI in customer service.
23 Ways to Use AI in Customer Service
Here are 23 ways to use artificial intelligence (AI) in customer service:
1. Adjust Contact Centre Activities in Near Real Time

Use AI to automatically adjust contact centre activities in near real time. Thousands of algorithms are used to continually reforecast agent supply and customer demand, automatically redeploying available agents onto offline work such as training and coaching.
This ensures that agents are engaged and developed, which enables them to provide excellent customer experience and handle queries effectively, to increase First Contact Resolution (FCR).
It also predicts when service levels are likely to be missed and moves multiskilled agents between queues, as well as reschedules offline work to ensure there are agents available when customers need them.
Contributed by: Nick Ashmore at QStory
2. Have AI Suggest the Next Best Action (NBA)
Appropriate advice means so much more than just query resolution. Customer satisfaction and retention can be boosted by driving value to customers with appropriate personalized offers.
Many businesses have reported improved sales and contract renewals as a result of implementing NBA. Vulnerability and FCA guidance also increasingly make appropriate advice a regulatory issue.
Real-time AI suggestions are generated based on speech or text analysis and omnichannel interaction history. This level of personalization turns interactions into customer relationship opportunities.
Agents can concentrate on customer satisfaction rather than racing to review histories, searching for forms, and checking protocols.
Contributed by: Grace Dawson at Odigo
3. Gain Customer Insights to Improve Service

AI is being inserted in many contact centre processes which potentially will improve customer experience.
One area impacting both a company's costs and efficiency, as well as the customer experience, is using AI to improve the consumer's self-service capabilities.
Many consumers want to find the answer on their own or self-serve for the data they need. Using AI to mine your interactions can tell you why customers are contacting you and will help identify where improved self-service paths exist.
Implementing more self-service paths ultimately will reduce the volume coming into the contact centre, and the agents can focus more on complicated enquiries.
Contributed by: Chrissy Calabrese at Playvox
4. Reduce Missed Interactions
AI-powered chatbots and virtual assistants have become indispensable tools in customer service. For instance, in the retail industry, these intelligent systems can engage in interactive conversations, answering queries, and providing assistance for any customers promptly – all attributes that are key to driving customer loyalty.
When you consider increased personalization in this field as well, thanks to AI, then there's strong potential for not only increased engagement for the customer but increased adoption of AI tools by the retailers.
Ultimately, you are looking at a 'no interaction left behind' scenario. Missed calls or interactions are a common issue in retail and AI can help to ensure that doesn't happen, minimising potential customer churn and missed sale opportunities.
5. Enable 24/7 Assistance

AI complements the work of agents, rather than working against them, by offering real-time data-driven insights, and suggested solutions, resulting in more efficient and effective customer interactions.
Not only do businesses and their employees benefit from quick and accurate responses, but so do customers.
AI provides a great opportunity to streamline operations too! This is so important when allocating resources strategically.
Here, AI-driven systems have the potential to handle the routine enquiries that take up a lot of time, leaving agents to focus on more complex and value added tasks – increasing operational efficiency and reducing costs.
The other aspect to this is 24/7 availability. If businesses want to target customers globally, assistance needs to be ready to go.
AI solutions help greatly here, as they are available around the clock, ensuring that customers can get assistance whenever and wherever they need, giving customers the convenience of receiving support anytime.
Contributed by: Jonathan Mckenzie at 8×8
6. Use Real-Time Insights to Transform Call Experiences
AI solutions have led to new ways of solving problems quickly based on real-time insights – such as software that uses AI technology to assess both the caller and agent's conversation and levels of engagement, and provides real-time feedback based on human tone.
For example, when agents deliver a friendly and energetic voice, agents and supervisors can get an instant read on the customer experience, how agents are performing and where extra support might be needed.
These insights also empower agents to adjust their approach during calls to align to the caller's needs, such as changing the tone of their voice, as well providing feedback post-call in the form of engagement scores to understand areas of improvement.
Contributed by: Nigel Dunn at Jabra
7. Drive Quality Interactions With Customers

Why deflect when you can engage? When the focus is on leveraging AI to cut costs and drive efficiencies, we end up with the kind of chatbots that build a wall between companies and their customers.
That's not to say chatbot deflection can't be a useful part of your AI strategy. But it does ignore the real opportunity with AI – which is to drive quality interactions with customers.
We believe in using AI to assist agents. This approach helps agents achieve full proficiency faster by providing them with the information or context they need so they don't have to go digging for it during a support interaction.
By automating repetitive tasks or light-lift interactions, it also allows support agents to dedicate their time and expertise to more complex interactions.
Ultimately, AI for agent assist keeps the line of communication between your company and its customers open while checking the boxes for cost reduction and efficiency gains.
Contributed by: Kaytlin Louton at Assembled
8. Implement Generative AI to Improve Experiences
Beyond the hype and hysteria, the benefits of responsibly deployed Generative AI are impressive, in terms of both comprehension and analysis and natural-sounding text generation.
With the right supervision and human oversight, even if limited to supporting agents rather than direct customer interactions, there are numerous examples of increased productivity and interaction time efficiencies in contact centres.
It's still a rapidly developing technology though, and the race to monetize the benefits introduces additional risk, on top of widely reported errors.
For customer-facing interactions, complying with the standards of industry regulators and avoiding penalties must also be a consideration.
The bottom line is that Generative AI is beneficial provided AI ethics and risk management standards rise in line with its use.
9. Use AI-Powered Virtual Assistants to Enhance CX

The term virtual assistant can mean many things, including a human providing assistance in a virtual environment.
In the context of customer-facing bots, virtual assistants offer a host of operational efficiencies that can also be perceived by customers as enhancing CX, like accelerated responses and 24/7/365 service.
Emails, for example, which have a higher cost to serve, can be analysed and prioritized by AI in addition to providing standard automated responses to FAQs and issues.
Effective bots on other channels can even remove the need for emails or agent intervention entirely. It's also true that for many queries via chat, messaging, or email, it's simply not necessary to reinvent the wheel using Generative AI, when high-quality answers and links to relevant content provide tried and true responses.
When you know your product and customers well enough to create the right content and train bots properly, it benefits CX, agents and your business.
Contributed by: Grace Dawson at Odigo
10. Give Agents Live Support With Customer Conversations

One area where AI can help alleviate common customer service gripes are in situations where customers call or send messages that do not have an appropriate script or answer an agent can use.
AI can suggest the best option in real time based on historical and situational analyses, helping customer service teams navigate complex requests, quickly solve problems and offer solutions that meet customer needs more efficiently.
Additionally, if a customer mentions a competitor in a potential churn situation, AI can pull relevant information from knowledge bases – such as competitive battlecards – or even provide agents with potential offers to support in customer saves.
While many of these applications are still in their infancy, AI has the potential to enhance productivity, uncover important trends, and quickly deliver insights into what's working and what isn't.
Contributed by: Frank Sherlock at CallMiner
11. Automate Simple and Mundane Tasks

AI empowers contact centre agents to be more efficient by offloading the more mundane, repetitive agent tasks. An example of this is AI's ability to write agents' after-call notes.
Rather than the agent having to take time to manually write these notes after an interaction, AI can deliver automated, objective, accurate and consistent agent interaction summaries.
This allows agents to focus on the customer instead of busy notetaking work, improving productivity and saving organizations time and money.
This also helps the next agent who interacts with a particular customer, providing better context and enabling them to deliver an overall better customer experience.
Contributed by: Lauren Maschio at NICE
12. Enhance Customer Satisfaction With High-Quality Calls
It can be difficult for contact centre agents to know whether they are delivering great audio quality on calls and whether they can be heard clearly.
Intelligent headsets act as sensors that deliver critical data on audio quality and conversation performance.
Thanks to desktop apps, agents can access real-time call insights to help them instantly improve conversation quality and correct any issues during the call.
Before a call it can also assess whether the background noise, microphone position and voice quality are good, giving agents peace of mind and ultimately enhancing customer satisfaction.
13. Use Tone to Measure Customer Satisfaction

Tone is a key element of human communication. It conveys the speaker's intentions and feelings and can impact the way a message is received by the listener.
AI has made progress in the last few years but contact centre solutions that do not focus on tone are missing the most critical piece in understanding the emotional context of human conversation.
Customer satisfaction surveys suffer from low response rates and bias. AI has huge potential to help solve this and provide an accurate way to assess agent performance and customer satisfaction.
The current text-based AI solutions have limitations in accurately detecting sentiment, but paying attention to tone of voice can provide a strong indication of customer satisfaction.
Tone is not only a relevant measurement of customer satisfaction but also a way to improve it. Solutions provide real-time feedback based on tone of voice, giving agents guidance, and enabling managers to provide additional training and support to improve customer satisfaction.
Contributed by: Nigel Dunn at Jabra
14. Cut Down on Manual Tasks to Boost EX and CX
When agents are happy, customers are happy and AI-powered chatbots offer a fast-track solution to both.
They save time and effort when handling common or straightforward enquiries so agents can tackle more fulfilling or emotionally complex situations that require an empathetic ear.
Uncertain of where chatbots can be utilized? Simply speak to frontline staff, look at the most commonly asked questions on your website or use interaction analytics to understand the enquiries that are best suited to customer self-service.
AI-powered chatbots within your WFM can also give agents the freedom to control their working day. A bot can be used to communicate opportunities for overtime, and a terrific example of further progress made following the introduction of automation is the approval of shift changes and time off for training or domestic responsibilities – anytime, anywhere.
This innovation will leave your planning and frontline teams refreshed and energized to deliver exceptional employee and/or customer service.
Contributed by: Scott Budding at Calabrio
15. Reduce Costs and Enhance Service Quality

It sounds like a cliché, but AI is transforming the landscape of customer service in contact centres. WFM software vendors were early adopters of AI, applying machine learning to the forecasting and scheduling processes, delivering top-quality results with almost no user effort.
But that was just the beginning. Many contact centres are adopting AI-powered chatbots and virtual assistants. These can handle routine customer queries and tasks 24/7, freeing up human agents to focus on issues with greater added value.
Chatbots that use natural language processing (NLP) can understand and respond to human language in a more natural way, and this leads to improved customer satisfaction.
By automating routine tasks and improving efficiency, AI can significantly reduce operational costs, while maintaining or even enhancing service quality.
Software vendors are constantly innovating, and with each new release, AI is adding more value, making the business case even more compelling.
Contributed by: Chris Dealy at injixo
16. Automate Post-Call Activities
Handling times in a contact centre typically consist of three parts: talk time, hold time, and wrap-up time.
The third and final part – wrap-up time – is essential for delivering consistently good customer service but typically takes agents away from the frontline.
Wrap-up or post-call activities such as categorizing and logging contacts, summarizing call notes, sending customers confirmation emails and updating information in the CRM are critical behind-the-scenes tasks, but they all take time.
The solution is to automate post-call work using the latest innovations in AI-powered workforce engagement management technology.
Organizations could reduce their wrap-up times by as much as 80%. There are also benefits from an accuracy point of view.
The accuracy of automated post-call summarization can include the capture of crucial details which are often missed when it is carried out by the human workforce.
17. Apply Predictive Analytics and Trend Mapping

Call evaluation is essential for improving customer service. Done properly, it highlights trends and exceptions, identifies agents who are struggling or need extra support, and allows the right type of personalized training, but it takes time.
Many organizations' efforts are poorly rewarded because they can physically only evaluate between 2 and 3% of all calls. Through predictive analytics, the trends and themes emerge much faster.
As contact volumes increase and expectations need to be met for outstanding omnichannel customer experience, AI offers the perfect rescue remedy.
Modern analytics allow team leaders to benefit from insights across 100% of customer interactions while giving agents near real-time constructive feedback on their conversations, whatever the channel.
It becomes possible to track how customers are reacting and check if agents are correctly recognizing customer loyalty and using interactions to build stronger relationships.
Analytics provides the hard evidence today's contact centres need to allow targeted coaching and training and to make meaningful business and service improvements to benefit customers and employees.
Contributed by: Scott Budding at Calabrio
18. Use AI for Self Service, Gap Identification and Content Creation
Below are a few ways that contact centres are leveraging AI to boost the customer experience:
Self-Service
Leveraging AI for features such as chatbots and FAQs helps customers quickly find answers without speaking to an agent. This also helps free up agent time to focus on more complex enquiries.

AI-Identified Gaps
Powering learning with AI both automates and personalizes the experience. For instance, if an agent lacks a skill or specific training, AI can identify that gap, sending the right training to that agent in the moment of need.
Training Content Creation
Given the sheer volume of required learning materials needed for the frontline, it can be difficult to produce and deliver content when it is needed.
However, solutions such as ChatGPT can help admins create material in a few moments, making the entire process much more efficient and scalable.
Contributed by: Andrea Meyer at Centrical
19. Unlock Efficiency
Contact centres can use AI in various ways to become more efficient and provide better customer experiences. These technologies empower your business in several ways:
Natural Language Chatbots and Virtual Assistants:

AI-powered chatbots and virtual assistants can respond to routine customer enquiries, such as FAQs, basic troubleshooting, and appointment scheduling.
They can be used to automatically identify customer intent and sentiment, ensuring calls requiring human input are handled by the most appropriate team member.
Combined, this leads to quicker, more accurate customer responses, enhancing the customer experience and reducing staffing requirements.
Realtime Agent Assistance:
Through listening and transcribing customer conversations as they happen, agents can be supported with real-time guidance, next best action suggestions, and automatic call summarization.
This optimizes agent training requirements, reduces the time agents spend searching for information and wrapping up after a call, and improves quality with "in the moment" coaching.
Precise Data Insights:
Instead of sampling the occasional call or requiring extensive investment in traditional speech analytics solutions, AI-driven conversational analysis can automatically identify trends, classify call reasons, and enhance your understanding of customer needs and preferences.
Contributed by: James Mackie at Five9
20. Transactional Experiences Will Thrive Under AI
Customer experiences tend to fall into two categories – transactional or emotional. For example, changing an address is a transactional experience, whereas claiming on a life insurance policy is an emotional experience.
It's important to get this distinction right, as transactional experiences can easily be transformed with AI and automation – making them all happen quickly and seamlessly and making great strides in maximizing internal efficiencies.
Get it wrong and apply the same mindset to emotional experiences and you're going to upset customers, by not giving them what they want or need.
Unfortunately, efforts to cut costs in the short term by applying AI to all experiences risk upsetting customers and have a long-term impact on your bottom line.
It's critical that when companies are implementing these solutions they are automating all the transactional experiences that could and should be automated, but then doubling down on the person-to-person human interactions that are going to be needed.
21. Self-Service Videos in a Flash

Many contact centres see the value in creating self-help videos for customers to help them resolve common issues, but very few have the time and resources to create a library of such resources, let alone keep them up to date.
AI has the potential to change all this by turning all FAQ pages into helpful videos – without it being a time-consuming activity.
Not only that, but AI could also take a leading role in creating bespoke 'how to' videos to send to customers based on their exact requirements (that they've just mentioned in a call). This could be useful for cases where a customer is trying to fix their internet router and needs specialist support.
22. AI Can Help Kick-Start New CX Processes
Imagine you need to create a new loan process to manage and support customer applications.
AI can be tasked with generating this new process for you – including the workflows and agent scripts. It can do a lot of the groundwork, so you don't have to, and then you can invest your time in tweaking and refining the process at a later stage.
Not only that, but there's also a potential use case for creating test data, so you can easily run your tests with a wealth of fake customer data. Quite simply, instead of manually having to set up several user profiles for 'John Smith', you can just ask AI to generate test data for you.
Contributed by: James Dodkins of Pegasystems. Also known as the 'Customer Experience Rockstar'
22. Improve Training and CX

AI in customer service offers a multitude of benefits. For instance, AI Chatbots can provide customers more options to resolve their queries.
Operating round-the-clock, these chatbots boost customer flexibility and liberate human agents to concentrate on more complex issues, resulting in an improved customer experience for escalated cases.
AI can also enhance training by identifying trends, language triggers, and sentiment analysis, which can help agents refine their approach and provide better customer experiences.
Additionally, AI is becoming increasingly instrumental in ensuring compliance with regulations. It can identify vulnerable customers and enable tailored agent approaches to meet their needs while keeping businesses ahead of evolving regulatory requirements.
Businesses can use AI in several ways to improve customer experience, from enhanced analytics to automated agent responses – streamlining the experience for customers overall.
Contributed by: Ben Booth at MaxContact
For more great insights and advice from our panel of experts, read these articles next: