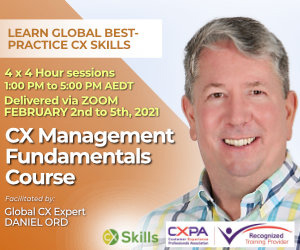 About the Event
Tue 2nd Feb 1:00pm – Fri 5th 5:30pm (AEDT)
The Essentials:
Online delivery by Daniel Ord, a CXPA Recognized Training Provider and 30 year industry veteran in CX, EX, Contact Centers and Customer Service
(4) 4.5-hour sessions
Limited to a maximum of 12 Participants – because it should feel personal
A 60 minute one on one post-workshop session online chat for CCXP Exam Candidates
A discount code for CCXP Exam Takers
Relevant for those who are pursuing their CCXP Certification credential as well as for those who aren't – or aren't yet
Recommended audience: Individuals who seek to take the rigorous CCXP exam to achieve Customer Experience certification as well as individuals with an ambition to learn more about Customer Experience for themselves and/or their organizations.
Workshop overview:
The Certified Customer Experience Professional (CCXP) credential, developed and administered by the Customer Experience Professionals Association (CXPA), is the world's most recognized certification in Customer Experience.
The Facilitator, Daniel Ord, is one of a handful of individuals globally who have earned the CXPA Recognized Training Provider status.
We cover each of (6) major competency areas and more:
Customer-Centric Culture
Voice of the Customer, Customer Insight, and Understanding
Organizational Adoption and Accountability
Customer Experience Strategy
Experience Design, Improvement, and Innovation
Metrics, Measurement and ROI
In addition we have designed and provide 2 additional modules:
Understanding Customer Experience
Essential Customer Research Know-How
We find that these 2 additional modules are not only popular but help deepen CX understanding.
In this workshop we will:
Provide a strategic understanding of each competency
Share examples, case studies and stories around each competency
Provide practice quizzes for each competency domain in the style of the CCXP exam
Establish how the competencies interrelate with each other
Understand how to establish the business case for CX
Address the roles & practices around Personas, Journey Maps, VOC & VOE programs
Build out exercises that allow Participants to apply concepts to real-world scenarios
Provide a forum for interaction, sharing and dialogue
We've been teaching Customer Experience, Customer Service & Contact Centre excellence for 20 years and have helped thousands of people around the world take and pass a variety of high level certification exams.
Join us for this enriching journey into the world of CX and take back ideas, strategies & inspiration for your own CX objectives. And prepare for the rigorous CCXP exam.
Date and Time
Starting:
Tuesday 2nd February 2021

Ending:
Friday 5th February 2021