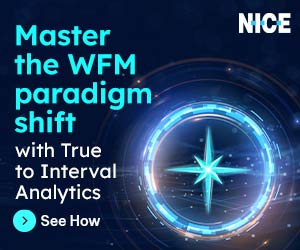 David Geffen of NICE discusses how using the data generated from your contact centre can drive better employee engagement and performance.
Too much information, known as data saturation, is a real problem for many contact centres. The digital explosion has led to a proliferation of data, and our ability to collect it has evolved far more quickly than the ability to manage and use it.
With the sheer breadth and depth of data streams readily available, how we utilise data looks much different than it did a few short years ago. In fact, 90 percent of all data collected by contact centres was created in the last two years, leaving organisations scrambling to keep up with the velocity of data turnover.
When properly harnessed, robust information equips contact centre leaders to make good decisions, increasing efficiency, engaging employees and boosting customer satisfaction. It offers immeasurable insight into employee performance, workforce effectiveness and more.
It can be analysed, operationalised and translated into actionable guidance. But without employee engagement, efforts to drive change fall flat: Regardless of the quality of actionable information at their fingertips, employees must be motivated in order to drive results.
Organisations Are Using Data to Drive Change
Data is one of the best catalysts to energise organisation-wide change. Take EE, a British mobile provider and ISP. Through the power of data and performance management, EE went from being the third-worst organisation in terms of complaints to the second-highest rated industry-wide, winning the "Best Contact Centre" award two years in a row. Further, EE's NPS improved by 20 percent.
EE's accomplishments came from using information as a foundation for transformation. Its remarkable leap in quality resulted from individual performance management and optimisation, something that isn't possible without the data to set the correct course.
The ongoing digital revolution has done more than create more data sources for organisations to manage – it has also opened avenues to identify and execute individualised training and coaching for continual improvement.
Information Fuels Energy and Improved Performance
Isolationist, siloed information practices will invariably get in the way of results. That's because data rarely exists in a vacuum; rather, it must be viewed in context. For example, an agent's adherence rate might be low, which could create the perception that he or she isn't doing the job properly. Looking at the metric on its own provides no insight into cause, such as an agent's struggle with technology or lack of understanding of how to improve adherence.
Information enables contact centre managers to zoom in on the true root of an issue rather than perceived obstacles. Coaching tailored to the agent – for example about the factors affecting adherence – can help agents not only understand the expectations for their performance but also how to improve.
Engaged Employees Outperform Their Peers
Agents are often under pressure, whether from management to consistently perform better or from customers to solve problems quickly and effectively, and that pressure is more likely to lead to turnover than to increased performance. Pressure is an important contributor to attrition, which costs the 2,000-seat contact centre on average $3.2 million each year.
There are ways, however, to redirect pressure into positive outcomes. Hands-on, timely coaching can increase agent performance and reduce turnover, but it's also an area in which contact centre managers struggle to find the correct approach.
There is no one-size-fits-all guide to coaching; the key is to design programmes based on each agent's unique personality. Recognising employees as individuals through personalised feedback and engaging tools like gamification has a positive effect on their autonomy, mastery and sense of purpose – three key drivers in agent motivation levels.
Having data on hand to measure performance is only half the battle; the other half hinges on the ability to use it effectively. When contact centre leaders are able to access data, operationalise it and turn it into actionable guidance targeted at helping individual employees improve, data can serve as a great catalyst for energy and performance, transforming organisations from reactive to proactive.
For more information about NICE - visit the
NICE Website