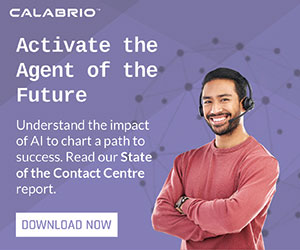 Tom Goodmanson, President and CEO of Calabrio, shares his advice for creating an effortless customer experience across all channels.
The ways in which customers communicate with businesses is changing. This year, digital channel interactions are expected to overtake voice interactions for the first time, indicating a shift in customer expectations.
To optimise the customer experience utilising the channels customers want to use, companies must have digital self-service options. However, digital self-service goes far deeper than simply adding channels; it requires omnichannel strategies that start from the inside out.
The introduction of new channels is changing the customer experience. Contact centre agents interact with customers via phone, chat, text, email, social and more. And customers expect a consistent, quality experience, no matter where they are. If companies haven't laid the right groundwork, they risk frustrating customers and sabotaging the very loyalty they're trying to earn.
The big question is: are companies really meeting digital self-service expectations?
A new report, "The Danger of Digital: Why digital self-service without true omnichannel strategies risks the entire customer experience" was recently unveiled in Nashville, at Calabrio's annual US user conference, Calabrio Customer Connect (C3). And the results are surprising.
Providing a quality experience across all channels is high on the priority list, and 93% of respondents think it's important.
But only 45% feel their companies are doing that very effectively for a variety of reasons:
42% say employees are not being consistently trained across channels,
39% say they can't combine customer interaction data from all channels and
38% simply don't have the budget.
In addition, 44% say they offer four or more channels to communicate with their brand, but
58% admit they think their customers only use two or three.
And that's where the problem lies. Companies don't know customer preferences, nor do they have the right internal processes to deliver a seamless, consistent experience across all channels.
Omnichannel strategies go far beyond simply adding new self-service options; they require a rewire of quality management, staffing and training, additional customer flexibility and deeper systems and processes integration.
To learn more about preparing your organisation for omnichannel success, download the full report.