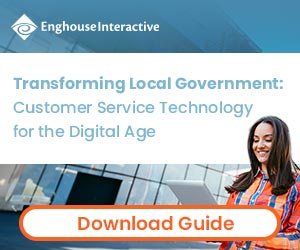 Firstly, what do we mean when we talk about self-service?

What Is Self-Service?
Self-service is an approach which allows customers to access resources or find an answer to a query without any direct assistance from a service representative.
Quite simply, it's whenever a customer resolves their own query using a business's touchpoints. In reality this isn't just the bot-led interactions that spring to mind, like chatbots or voicebots.
User functionalities via a customer portal like a website or app, knowledge bases, discussion forums and social media communities also offer self-service resources for customers.
People Value Convenience
People value convenience and expect it in both their daily lives and in the way they do business. This extends to customer support, and while agents are still an important part of customer service, 81% of customers seek more self-service options from the brands they interact with.
Self-service simply means that customers can complete an action or task on their own without assistance from a company employee.
Digital-first service specifically lets customers choose the channels that are most convenient for them, and allows them to handle simple requests on their own anytime, anywhere. This is also beneficial to agents, who, in turn, can spend more time focusing on more complex queries and tasks.
Self-service is a major component of what brands need to master CXi (customer experience interactions), the new standard for exceptional customer experience in the digital era: meeting customers wherever they are on their journey every time.
★★★★★
Why Should Contact Centres Offer Self-Service?
Today's consumers want to interact with companies in a pain-free, quick and effective way. This means finding answers to their queries at any time of day and via any type of device.
Today's consumers want to interact with companies in a pain-free, quick and effective way. This means finding answers to their queries at any time of day and via any type of device.
Self-service options are what allows them to achieve this, with modern-day deployments involving chatbots, AI, speech recognition, touch tone, forums, SMS, web and mobile options.
Contact centres that make use of self-service technologies can provide customers with choice and subsequent ownership of their interactions with a business.
Representatives can be freed up to focus on more complex tasks, and data can be leveraged to continuously improve customer experience offerings.
Is Self-Service Really a Necessity?
Yes, absolutely. Many customers expect and rely on self-service.
30% of Gen Z rate "not being able to find the information I need online" as one of the most frustrating aspects of bad customer service.
62% of Millennials would rather interact with a bot than a human.
But do you need an extensive spectrum of every potential self-service touchpoint: bots, apps, customer portals, social media and video tutorial library? That all depends on your customer needs, and your time and budget.
What's in It for Contact Centres?
Let's be clear, AI and self-service are not about replacing agents, they're about intelligent division of tasks, efficiency and customer satisfaction.
Self-service is an antidote to many agents' working frustrations, endless repetition of mundane tasks, night shifts and trying to explain verbally what's much easier to demonstrate with text and diagrams in a well-designed knowledge article.
Self-service deflects some of the call volume to where it can be handled at lower cost.
Instead of spreading a contact centre budget to employ as many 'unskilled' agents as possible, self-service deflects some of the call volume to where it can be handled at lower cost.
Remember that this deflection is desirable to customers too.
Cost savings and time savings mean agents can develop and showcase a much higher level of professionalism, benefiting both agent and customer satisfaction.
Skilled agents working on resolving complex problems to the delight of customers should be what the profession is about.
Faster Resolutions
Businesses and customers believe that the main benefit of self-service is faster resolutions.
Customers today can get whatever they need at a touch of a button, and don't always want to speak with an agent. They look for speed and ease, and their ability to successfully solve problems on their own—via search, social media, your website or app—is one of the largest opportunities to enhance digital customer experience and decrease cost.
Well-planned digital self-service solutions cater to these customers while helping contact centres mitigate volume spikes and reduce wait times.
Additionally, Gen-Z (if they're part of or are your target audience) love self-service – particularly if it's offered on social media.
According to Google, almost half of younger consumers look to TikTok or Instagram rather than search engines for answers. That said, search is still often the first stop on every customer's journey, and therefore enabling consumers of any age to resolve issues on their own via multiple channels is essential.
For advice on how to (and how not to) implement a successful self-service strategy, read our article: The Do's and Don'ts of Digital Self-Service
★★★★★
How Can You Promote Self-Service Across Your Offerings Including Website/ IVR etc?
There are a number of ways that organizations can promote self-service options to customers. Flagging them on the website and including them on interactive voice responses is a strong starting point, but promotion can go further in customer interactions. Mentioning solutions in email replies or phone conversations can bring greater awareness.
However, it's also important to remember that digital means of promotion aren't the only communication channel.
Businesses can give details of self-service options in letters to customers with a QR code included to encourage app downloads.
It's all about leveraging every communication channel possible to ensure that customers are aware of the touchpoints in case they need them.
Promoting Self-Service Use
Once you have a set of high-quality services that will keep customers coming back, how do you get them to engage in the first place?
Promote self-service when onboarding new customers.
Make alternative touchpoints visible and easy to find.

Users expect to log in or have advanced customer options on the top right of a website homepage.
Contact us information should include links to self-service touchpoints and should be accessible from a main menu.

Tell people about the options. This includes agents sharing links or reminding customers, but in a way that puts the customer first.

"Thanks for your patience while we sort this issue out. There's also a self-service option if you need support in a rush or out of hours."

Gentle prompts on agent-led channels. Don't be pushy but make changing channels easy.

Provide a link in an email, offer an automated service early in an IVR menu.

Show the benefits, make user ratings and reviews obvious.
Offer incentives like loyalty points and prize draws to encourage people to try self-service for the first time.
Provide High-Quality Not a High-Quantity of Touchpoints
Increasing self-service uptake is great, but you know your self-service experiences are effective if they convert customers into regular users.
This relies on the quality of the experience you can provide, which in turn depends on customer and business factors:
Recurrent activities that can be automated for convenience

Making payments
Booking appointments
Viewing or printing documentation
Updating details
Delivery and returns queries
Quotes and estimates

FAQs that can be answered in a predictable way

This list should be compiled with help from customers and your frontline team.

Brand, industry and competitor factors that will influence customer perception and expectations

What are your SLAs and consequently what do customers expect from you?
What do your closest competitors offer and do they do it well?
What is the standard for your industry or niche?

Budget and time

The more money or time you have to invest in researching, designing and testing, the more likely you are to get it right.

Tone of voice

Mismatches between your brand identity and the phrasing or tone of your bots and knowledge resources could undermine customer relationships. Formal, relaxed, up-beat, eccentric, careful scripting and composition can reflect brand personality and put customers at ease.
There are of course an expanding number of self-service channels, but don't be fooled into thinking you need to provide everything. It's what the customer experiences more than the channel itself that is most influential.
Yes, choice is nice but if money was no object and you could have as many agents as you needed to answer every call straight away 24/7 how much would not offering webchat, automated payment lines and an app really matter?
Customers have turned to self-service because of the negatives associated with voice, call-queues and limited opening hours. Customer experience is king!
★★★★★
How Do You Keep Your FAQs Up to Date?
FAQs can of course become out of date quickly as both services and customer expectations change.
FAQs can of course become out of date quickly as both services and customer expectations change.
The way to best deal with this is to listen to customer concerns and ensure the feedback is incorporated into future FAQ versions.
Where possible, this should be managed by a dedicated employee to ensure that none of the information becomes irrelevant.
One method of capturing this feedback is via 'Voice of the Customer' solutions.
This technology can leverage artificial intelligence to extract actionable insights from conversational platforms.
This allows organizations to analyse not only customer interactions but also brand-administered feedback such as satisfaction surveys in real time, including webchat, email, social media and even speech to text data.
Keeping FAQs Relevant and Up to Date
As the name suggests, FAQs are a common trigger for customer contact. Here are some tips on upkeep for these resources:
Plan ahead

Take extra time to make sure the system you set up is categorized and indexed in an intuitive way, so as new topics get added they are easy to store and find.

Project ownership

Create a diverse team of employees (agents, dispatch, product specialists) to ensure all customer-relevant topics, old and emerging, are covered and accurately answered.

Regular content reviews

Depending on the rate of change in your industry, monthly may well be advisable.
Any time a new product or service is added.

Managing the content network

As the knowledge base grows the number of related topics and links will become more complex. This linking helps create journeys for customers to find related information but also means updates require all linking assets to be reviewed as well.

Performance tracking

Use CSAT scoring to monitor FAQ performance.
Publicly visible ratings or reviews on web-hosted resources

Moderated comments provide deeper insight into pain points
If your agents receive fewer calls on the topics you've dealt with and there is a low level of escalation that's clearly a good result.
However, what classes as an acceptable level of escalation will depend on the industry.
High-tech products where troubleshooting always starts with common fixes, higher rates of escalation may well be expected. Experience and performance tracking will help outline the appropriate target level.
Maintain Self-Service Performance
Once you've put all this work in, make the most of your investment and maximize ROI by curating your set of self-service experiences.
Make sure all your services remain integrated and visibility across channels is maintained if your software or set of services change.
Set up a monitoring system of appropriate KPIs to track performance.

When escalation or abandonment levels increase, a review is in order to investigate the quality of the experience. Perhaps even approaching customers to get to the root of the problem.

Review customer journeys on a regular basis for any gaps or roadblocks that might develop.
Seek customer feedback.

CSAT surveys, for example, can be added to the end of chatbot interactions.

Check in with agents

Are they seeing high levels of escalation, does a service need updating or even scrapping?
Is there an existing or emerging FAQ which could be resolved via self-service?

Update knowledge bases or automated advice at regular intervals or whenever there is a new product/service release or update.
In summary, don't promote services that don't work or it's sure to backfire. The quality of your self-service will speak for itself, you just need the right signposts to lead customers there the first time.
Thanks to Enghouse Interactive, Odigo and Elizabeth Tobey at NICE
☆☆☆☆☆
Embrace Analytics to Identify Meaningful Self-Service Opportunities
Consider using Voice of the Customer (VoC) analytics to enable quality managers and contact centre managers to review customer interactions and identify patterns and trends.
These can help show at what point customers can be best served by implementing self-service automation or where a human agent is still needed.
The result may be to avoid chat for sensitive topics that require authentication to build customer trust or using WhatsApp for straightforward product enquiries to increase time and cost efficiencies.
In this way a move to more self-service portals and chatbots can still serve customers optimally, while not creating barriers that lead to frustration and dissatisfaction.
Voice of the Employee (VoE) analytics can capture how agents are feeling to identify those who are struggling and need extra support, helping uncover potential knowledge and skills gaps.
Providing agents with access to their historical performance reports also enables them to take ownership of their work and identify self-improvement areas.
Finally, avoid introducing new self-service "features for features' sake." Listen to your agents and listen to your customers to deliver the opportunities and technology for self-service that really matter.
Thanks to Jade Turley, Senior Business Intelligence Consultant at Calabrio
☆☆☆☆☆
Even More Ideas to Improve Customer Self-Service Take-Up
Want to lower call volumes and divert traffic to self-service? Here are 8 methods of doing so.
1. Begin With a Customer Access Strategy
As when implementing any new software in the contact centre, it is important to consider how it can be best used to add value to the customer and company.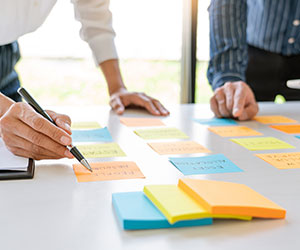 By doing this, you can increase the value of self-service in the eyes of the customer and get the business to encourage its use further.
So, Justin Robbins, a Contact Centre & Customer Service Expert, suggests thinking about a "customer access strategy".
According to Justin: "This involves walking through a series of eight to ten different questions, such as:
Where do we want to offer this service?
On which call types should self-service be offered?
Where are we going to set it up? (e.g. on an app or the company website)
"It is important to be intentional about self-service – you need to be strategic upfront and not reactive to the wishes of executives."
2. Involve Advisors in Self-Service Design
We have previously highlighted some top tips for service design, but when it comes to self-service, it can be a good idea to ask advisors for their input.
Why? Well, according to Justin Robbins: "When I ask contact centres 'what are the goals of self-service?' it is often to move the redundant, small and highly repetitive tasks away from a live advisor, so that advisors can work on more complicated types of customer interactions. So, who better than the advisors themselves to inform us on how self-service is designed?
"We find that when we go to our advisors for insight, they can walk us through the common trigger points when a customer calls in about those types of interactions. They can also test the efficiency of the self-service portal."
With voice of the customer schemes often costing the contact centre precious resources, it is important to remember that advisors handle queries all day, every day. So it can be a wasted opportunity not to speak to them, especially as it is of no cost to the organization to do so.
3. Assess Self-Service Effectiveness
According to our poll, 14% of contact centres that have implemented a self-service system have not made changes to it since its installation.
This is either because they haven't been able to assess whether or not it's effective or because they know that it is working really well.
Hopefully it is the latter, as Justin comments that "a common mistake in contact centres in regard to self-service systems is that some believe that once they have been installed, they can forget about it.
"It's really important as you implement and begin your journey in self-service that you have a way to assess whether it is affecting customers or are customers still calling in."  
So, whenever a change is made to a self-service system, it is important to check any change in contact volumes to test the effectiveness of the change.
4. Make It Easy to Access a Live Advisor
It needs to be very easy for me to move from the self-service experience to the assisted service.

Justin Robbins
While minimizing call volumes is the ultimate goal of self-service, it is important to make it as easy for customers as possible, to sustain high customer satisfaction.
One way to do this, whether the self-service is offered through an app or the company website, is to provide a link for mobile users to click on that takes them straight through to an advisor.
As Justin Robbins says, "if I am interacting with your self-service portal interface, or whatever it happens to be, and I need to go further and then speak with a live advisor, it is very important that we have designed that into our self-service system.
"So, when I need a live advisor, it needs to be very easy for me to move from the self-service experience to the assisted service."
5. Equip Advisors to Educate Customers
To increase the take-up of self-service, it is important to spread the word that the option is available. So one option is to record a message to customers who are waiting in the voice queue informing them how they can access self-service.
But, according to Justin Robbins, advisors need to be equipped to work self-service into conversations that they have with certain customers.
Justin gives the example: "when a customer calls in just to check that they have the latest product information, make sure that advisors have the tools to say: 'the system that you are using online is the exact same system that I use, so you can absolutely trust that the information given is up to date.'
"Or maybe you have just launched the self-service system. So make sure that advisors know the language or have the knowledge to explain why self-service is important and beneficial for customers."
Think about training advisors to sell the benefits of self-service – i.e. quicker response times, no postage, free to use etc – to make self-service seem worth the effort.
Contact centres can improve customer conversations through understanding and applying the art of conversation. To find out more, read our article: The Art of Conversation in Customer Service
6. Reinforce the Value of Effective Self-Service
It is important to avoid the assumption that once the self-service system has been created, the contact centre will automatically see the value in it.
So, Justin Robbins advises that "it is important for us, as the leaders in our contact centres, to be continuously reinforcing the value that thoughtful and effective self-service provides.
"What you are going to find is that if you've made sure that you have an integrated approach to self-service and you're tracking and analysing your data, you are able to go back to your senior executives and say 'this is the Return on Investment (ROI) that we have seen through our self-service systems.
"The research that we have seen is the greatest ROI is reducing overall operational costs in the contact centre."
So, it is important to track and analyse to compare how the contact centre is operating today versus the improvements that you can make moving forward, and to reinforce its value in the wider business.
By doing both, the contact centre can improve self-service buy-in, which is important in driving interest and promotion.
7. Create Self-Service Advocates From Your Existing Customer Base
There is greater return for us if we focus on keeping our existing customers and building them as advocates, rather than trying to acquire new customers.

Justin Robbins
Many companies are now focusing on pleasing their existing customers to create advocates for their business, helping them to market from within.
This is according to Justin Robbins, who adds that "one of the things that we have seen through research is that it is more cost-effective, and there is greater return for us, if we focus on keeping our existing customers and building them as advocates, rather than trying to acquire new customers.
"Self-service builds that brand loyalty within our existing customer base, and then they become advocates for who we are and what we do."
So, self-service should be specifically targeted to those in your customer base who are more likely to view the scheme as a preference over assisted service.
This is easily done if the customer base is segmented into personas, as the contact centre can promote self-service to those personas who would appreciate the self-service function. By marketing self-service in this way, you can create advocates with a specific interest in self-service.
8. Don't Provide Answers in Self-Service to Questions That Were Not Asked
When we asked our readers for their advice on making self-service a more attractive option, Mike wrote in to say: "take the time to understand what your customers are asking. Don't provide answers to questions they aren't interested in."
Justin Robbins agrees with this comment, but says that the challenge is to understand what customers are asking.
In addition, Justin believes that it is up to the contact centre to "read between the lines to find out what these customers really want to know – what they are really trying to find out. And, rather than copying a script, take time to say why this is the best option for the customer.
"So this is a great tip for being upfront and listening to what the customer is truly telling you."
For more great insights and advice from our panel of experts, read these articles next: