Want to lower call volumes and divert traffic to self-service? Here are 12 methods of doing so.
1. Begin with a Customer Access Strategy
As when implementing any new software in the contact centre, it is important to consider how it can be best used to add value to the customer and company. By doing this, you can increase the value of self-service in the eyes of the customer and get the business to encourage its use further.
So, Justin Robbins, a Contact Centre & Customer Service Expert, suggests thinking about a "customer access strategy".
According to Justin: "This involves walking through a series of eight to ten different questions, such as:
Where do we want to offer this service?
On which call types should self-service be offered?
Where are we going to set it up? (e.g. on an app or the company website)
It is important to be intentional about self-service – you need to be strategic upfront and not reactive to the wishes of executives."
2. Involve Advisors in Self-Service Design
We have previously highlighted some top tips for service design, but when it comes to self-service, it can be a good idea to ask advisors for their input.
Why? Well, according to Justin Robbins: "When I ask contact centres 'what are the goals of self-service?' it is often to move the redundant, small and highly repetitive tasks away from a live advisor, so that advisors can work on more complicated types of customer interactions. So, who better than the advisors themselves to inform us on how self-service is designed?
"We find that when we go to our advisors for insight, they can walk us through the common trigger points when a customer calls in about those types of interactions. They can also test the efficiency of the self-service portal."
With voice of the customer schemes often costing the contact centre precious resources, it is important to remember that advisors handle queries all day, every day. So it can be a wasted opportunity not to speak to them, especially as it is of no cost to the organisation to do so.
For more on this topic, read our article: Involve Agents in Strategy
3. Assess Self-Service Effectiveness
According to our poll, 14% of contact centres that have implemented a self-service system have not made changes to it since its installation.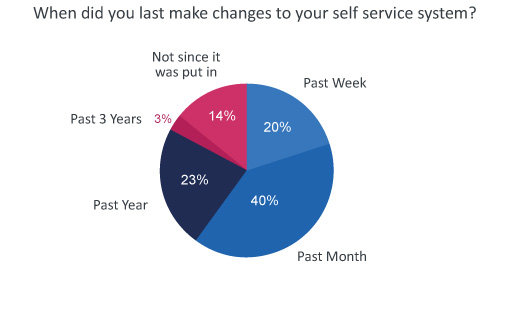 (This poll was sourced from the survey: Many Contact Centres Are Not Adapting Self-Service Systems After Installation)
This is either because they haven't been able to assess whether or not it's effective or because they know that it is working really well.
Hopefully it is the latter, as Justin comments that "a common mistake in contact centres in regard to self-service systems is that some believe that once they have been installed, they can forget about it.
"It's really important as you implement and begin your journey in self-service that you have a way to assess whether it is affecting customers or are customers still calling in."  
So, whenever a change is made to a self-service system, it is important to check any change in contact volumes to test the effectiveness of the change.
4. Make It Easy to Access a Live Advisor
It needs to be very easy for me to move from the self-service experience to the assisted service.

Justin Robbins
While minimising call volumes is the ultimate goal of self-service, it is important to make it as easy for customers as possible, to sustain high customer satisfaction.
One way to do this, whether the self-service is offered through an app or the company website, is to provide a link for mobile users to click on that takes them straight through to an advisor.
As Justin Robbins says, "if I am interacting with your self-service portal interface, or whatever it happens to be, and I need to go further and then speak with a live advisor, it is very important that we have designed that into our self-service system.
"So, when I need a live advisor, it needs to be very easy for me to move from the self-service experience to the assisted service."
5. Equip Advisors to Educate Customers
To increase the take-up of self-service, it is important to spread the word that the option is available. So one option is to record a message to customers who are waiting in the voice queue informing them how they can access self-service.
But, according to Justin Robbins, advisors need to be equipped to work self-service into conversations that they have with certain customers.
Justin gives the example: "when a customer calls in just to check that they have the latest product information, make sure that advisors have the tools to say: 'the system that you are using online is the exact same system that I use, so you can absolutely trust that the information given is up to date.'
"Or maybe you have just launched the self-service system. So make sure that advisors know the language or have the knowledge to explain why self-service is important and beneficial for customers."
Think about training advisors to sell the benefits of self-service – i.e. quicker response times, no postage, free to use etc – to make self-service seem worth the effort.
6. Integrate Self-Service and Contact Centre Systems
To provide a seamless customer experience it is important for advisors to have a seamless experience also. So it can be useful to store all customer information in one place.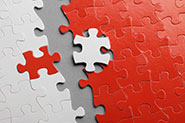 This will enable advisors to use the information that is harnessed in self-service systems when assisting advisors in future interactions. By doing so, the contact centre can encourage the use and faith in self-service, which can increase take-up in the future.
To make this point, Justin Robbins says: "when I look at today's omnichannel contact centre, the reality is that we are using a lot of systems.
"We are working with a lot of channels and increasingly it is important for us to ensure that they are integrated together, so we have a comprehensive view of the customer journey.
"Part of that is ensuring that self-service and contact centre systems are integrated."
7. Track and Analyse Your Data
After self-service has been implemented, Justin Robbins suggests asking: "Do we have certain self-service options that we have created and customers just aren't utilising them?"
If this is the case, Justin says that then "we need to be able to look at the data and derive some conclusions on what is it about that self-service, on that channel, or for that particular contact type, that's not working.
"Or perhaps you are seeing that certain channels are overloaded, and customers are going there in astonishing numbers. Then maybe you need to be able to ask the question 'how do we build that out?' or 'how do we put information into that particular part of the system?'"
The only way these decisions can be made effectively is if we are tracking and analysing our data.
8. Reinforce the Value of Effective Self-Service
It is important to avoid the assumption that once the self-service system has been created, the contact centre will automatically see the value in it.
So, Justin Robbins advises that "it is important for us, as the leaders in our contact centres, to be continuously reinforcing the value that thoughtful and effective self-service provides.
"What you are going to find is that if you've made sure that you have an integrated approach to self-service and you're tracking and analysing your data, you are able to go back to your senior executives and say 'this is the Return on Investment (ROI) that we have seen through our self-service systems.
"The research that we have seen is the greatest ROI is reducing overall operational costs in the contact centre."
So, it is important to track and analyse to compare how the contact centre is operating today versus the improvements that you can make moving forward, and to reinforce its value in the wider business.
By doing both, the contact centre can improve self-service buy-in, which is important in driving interest and promotion.
9. Create Self-Service Advocates From Your Existing Customer Base
There is greater return for us if we focus on keeping our existing customers and building them as advocates, rather than trying to acquire new customers.

Justin Robbins
Many companies are now focusing on pleasing their existing customers to create advocates for their business, helping them to market from within.
This is according to Justin Robbins, who adds that "one of the things that we have seen through research is that it is more cost-effective, and there is greater return for us, if we focus on keeping our existing customers and building them as advocates, rather than trying to acquire new customers.
"Self-service builds that brand loyalty within our existing customer base, and then they become advocates for who we are and what we do."
So, self-service should be specifically targeted to those in your customer base who are more likely to view the scheme as a preference over assisted service.
This is easily done if the customer base is segmented into personas, as the contact centre can promote self-service to those personas who would appreciate the self-service function. By marketing self-service in this way, you can create advocates with a specific interest in self-service.
10. Don't Provide Answers in Self-Service to Questions That Were Not Asked
When we asked our readers for their advice on making self-service a more attractive option, Mike wrote in to say: "take the time to understand what your customers are asking. Don't provide answers to questions they aren't interested in."
Justin Robbins agrees with this comment, but says that the challenge is to understand what customers are asking.
In addition, Justin believes that it is up to the contact centre to "read between the lines to find out what these customers really want to know – what they are really trying to find out. And, rather than copying a script, take time to say why this is the best option for the customer.
"So this is a great tip for being upfront and listening to what the customer is truly telling you."
11. Measure a Rate of Self-Service "Drop Outs" Entering the Contact Centre
To ensure that an organisation is providing a consistent experience across all channels, some contact centres measure the bounce rate from one channel to another.
For example, some contact centres are measuring Page Leakage, tracing when a caller is directed from the company website to the phone. The same principle can be applied to self-service.
As Mike, one of our readers, says, "measure how many of your customers who have reached your contact centre have searched for a self-service resolution first. This will help you understand how much your customers want self-service and what they aren't able to find answers to."
This can either be done through analytics or by asking advisors to add to a log each time they interact with a customer who mentions that they have "dropped out" of self-service.
If the advisor were also to log the reason that the customer gave for exiting the self-service process, the contact centre could also then find repeat contact reasons. This will help to highlight areas in which signposting, wording and processes could be improved to lower customer effort.
Follow the link to find out:  What's Next With… Contact Centre Metrics?
12. Use "Bounce Back" Self-Service Messages to Move Away From Legacy Email Addresses
To encourage the use of self-service through the email channel, and also to help customers move away from using legacy email addresses, one of our readers, Rob, suggests using "bounce back" self-service messages.
Explaining how to do so, Rob says: "change your email address to a new one, add a bounce back message to the old email address pointing customers to your self-serve pages and eventually cut the old email address off." 
However, Rob does warn that there is "initial extra effort for the customer, but it makes them aware of self-serve options and ensures they use a live channel or web form. This will increase your First Contact Resolution and in time reduce their effort."
Can you think of any other ways to increase the take-up of self-service?
If so, please share them in an email to Call Centre Helper.
We previously discovered that self-service may not be reducing call volumes in some call centres. Find out why by reading our article: Does Self-Service Really Reduce Call Volumes?