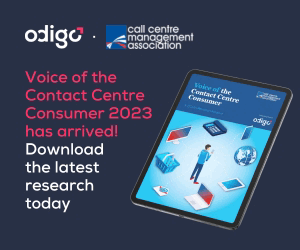 Gregor Campbell at Odigo explains why the healthcare contact centre needs digitalisation and how CCaaS leads the way.
The Covid-19 pandemic, and a reduction in face-to-face interactions, meant that 2020 saw healthcare in the UK shift towards remote, digital forms of patient care, with telemedicine at the heart of this digitalisation.
In 2021, healthcare providers can harness the power of digitalisation to empower patients and clinicians alike with greater access and flexibility – and the healthcare contact centre is where this progress begins.
The role of telemedicine in healthcare has never been more pertinent. As a result of the Covid-19 pandemic, remote patient diagnosis and treatments have become increasingly widespread.
As reported by the British Medical Journal, "The rapid spread of Covid-19, and the fact that healthcare facilities could be sources of contagion, has focused attention on new models of care that avoid face-to-face contact between clinician and patient."
Telemedicine is one such model. The use of telephone triage services, video consultations and smartphone apps have been embraced by the public, and there is broad recognition that there are better, more efficient ways to do healthcare (particularly with non-critical conditions).
The figures to support this are significant: in January 2020, 234,326 people were using the NHS app. By the 31st of December, 2020, this number had increased by 622% to 1,453,175 users.
Meanwhile, telephone-based services such as NHS 111 and NHS Pathways saw similar surges in demand. By and large, these systems have coped well under unprecedented pressure, though such a huge uptake clearly emphasises both the appetite and need for further digitalisation within the healthcare sector.
The NHS itself has committed to a core level of digitalisation by 2024. The changes brought about in 2020 will only accelerate this trend, and as focus grows on digital transformation in healthcare, contact centres could help lead the way.
The Healthcare Contact Centre – a Multi-Channel Experience Hub
An intuitive, remote healthcare contact centre experience would improve access and outcomes for patients, in addition to enabling contact centre managers and healthcare providers to focus their in-person resources on the most vulnerable and urgent cases.
As Deloitte explored in late 2020, a strong digital healthcare system can empower patients to monitor their health and be more predictive and preventative in their behaviours. Meanwhile, health services can provide greater interoperability and coordination of care pathways.
The range of channels and level of customer service and understanding needed to make this new type of system work would require a specialised kind of contact centre.
The healthcare contact centre would sit at the hub of a multi-channel experience, with agents trained not just in soft skills (such as empathy, compassion, and judgement calls) but who are also technically able to manage various channels through their technical proficiency.
As such, contact centre managers should look to specialised CCaaS solutions to play a key role in the advancement of telemedicine and broader digitalisation in healthcare contact centres.
The change is already underway. Prior to the pandemic, Gartner forecast that CCaaS would be the preferred adoption strategy for 50% of contact centres by 2022.
The Role of CCaaS in the New Healthcare Contact Centre Era
Underpinning the growing confidence in CCaaS solutions are more refined engagement models and the ability for rapid technological deployment that is now required by many industries, particularly healthcare.
CCaaS solutions offer seamless integration with existing systems, without compromising service or security – something crucial for mission-critical and data-sensitive services such as the NHS and private healthcare providers.
Cloud-based CCaaS solutions have been increasingly used by businesses of all stripes, delivering benefits such as greater operational scalability, flexibility and empathy.
All of these elements – particularly the latter – are vital to improving the overall efficiency of telemedicine in healthcare and delivering better outcomes for both clinicians and patients.
Intelligent automation (IA) makes data retrieval and analysis vastly more accurate and empowers agents with the real-time, relevant and contextual information they need to handle and direct patient interactions successfully and compassionately.
According to Gartner, within the next three years, "65% of enterprise organisations that deployed robotic process automation (RPA) will introduce artificial intelligence (AI), including machine learning (ML) and natural language processing (NLP) algorithms."
Telemedicine Tools for Bettering Patient Outcomes
Tools that feature ML models and NLP help to build systems capable of automating certain interactions, easing the burden on human agents and freeing them up to use their abilities for the betterment of patient outcomes in the healthcare contact centre.
Automated interactions through voice or text-based chatbots might once have been viewed with suspicion by patients seeking clinical advice, but they have now become much more prevalent in other areas of life.
The huge popularity of voice assistants like Siri or Alexa – with over 100 million of the latter sold thus far – has made people more comfortable with using these services, while the necessities of the pandemic have seen acceptance of their role in healthcare-based roles rise too.
All of these tools can be leveraged with agility and expertise through a CCaaS solution. The ability to do so without being held to the static assumptions (e.g., number of agents needed, estimated customer requests etc.) of in-house contact centres is what has made them so appealing to contact centre managers in recent years.
With operational capacity, system resilience and cost pressures all being constant factors in the healthcare sector – particularly public healthcare – it's clear that a CCaaS-driven healthcare contact centre could lead the way in driving value for patients and providers through digitalisation.
Healthcare providers have rightly been lauded in recent months as heroes during a time of much pain and stress. The debt that society owes them for their tireless efforts can scarcely be repaid, but by transforming patient care for the better through telemedicine, healthcare leaders can help establish a future that gives them everything they need to succeed.
This blog post has been re-published by kind permission of Odigo – View the Original Article

For more information about Odigo - visit the Odigo Website