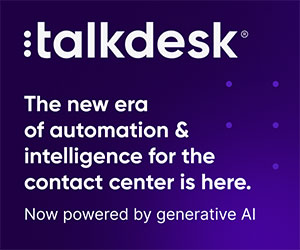 According to a new report by Talkdesk, The PX Revolution in Healthcare, seven out of 10 patient experience (PX) professionals recognize the contact centre as a high priority and strategic asset.
Despite the importance placed on the contact centre, most professionals identify legacy on-premises systems as a significant barrier to improving the patient experience.
"The cloud has helped many healthcare organizations quickly pivot their patient experience strategies to become more flexible and responsive to customers during the pandemic."
"Contact centres have become the key point of connection to health resources for many people, which has encouraged organizations to innovate with new communication tools, new strategies, and new processes that break down data silos and foster personalized experiences," said Keith Dawson, vice president and research director, customer experience, Ventana Research.
"All of this is happening concurrently with a continuing strong focus on keeping patient data secure and private. The growing CCaaS environment provides a foundation on which healthcare firms can build connections and trust with their patient customers."
The PX Revolution in Healthcare report from Talkdesk reveals that less than 40% of patients believe healthcare providers are able to deliver excellent PX in a completely digital way.
The COVID-19 pandemic has sped the adoption of virtual care while heightening PX expectations among healthcare consumers. Nearly 70% of patients say poor patient experience will negatively impact their brand loyalty.
Additionally, the report indicates bad interactions can result in patients deferring needed follow-up care, leading to worse care outcomes. Despite the clear benefits of optimal PX, not all healthcare organizations are fully equipped to provide a unified, modern experience across the end-to-end patient journey.
From a contact centre perspective, the healthcare industry relies on ageing and inflexible on-premises systems and is one of the slowest industries in terms of cloud adoption.
"As consumers, we expect customer service from any company to be seamless, synchronized and easy. Unfortunately, healthcare has become anything but easy, and the patient experience is often frustrating and confusing," said Greg Miller, vice president of industry strategy, healthcare and life sciences, Talkdesk.
"Healthcare contact centres can be an essential component of creating exceptional patient experiences and enabling patients to communicate with providers through their channel of choice, as customers have come to expect from any other industry."
Healthcare in the US is highly complex and disjointed as systems and provider organizations operate independently, leading to poor communication, coordination and patient information exchange.
According to a study by the University of Colorado, patient hand-offs can be some of the most dangerous moments in treatment. The resulting friction, bureaucracy and uncertainty for patients lead to negative perceptions and experiences.
These frustrations can cause patients to delay or bypass care in order to avoid the hassle. Healthcare providers recognize the improvement opportunity; a better patient experience translates into patient loyalty which leads to greater access to care.
This increase in care results in better health outcomes for patients and revenue for providers.
The PX Revolution in Healthcare research report from Talkdesk analyzes interviews with nearly 700 patients and more than 150 healthcare professionals worldwide, including leadership and management for patient service, patient experience and operations.
The study reveals five themes related to PX perceptions today, and opportunities for healthcare organizations to reimagine and rebuild PX using their contact centre:
1. Reimagine the patient experience
78% of patients say engaging with healthcare systems through their preferred channel is important
75% of patients are more loyal to healthcare providers that invest in strengthening their PX
2. Unify the patient journey
63% of patients do not believe their healthcare provider can deliver an excellent experience in a completely digital way
74% of patients are asked to provide the same information to multiple healthcare professionals
3. Provide seamless PX, upgrade contact centre solutions
68% of PX professionals place a high priority on contact centre upgrades
76% of organizations with on-premises or hybrid platforms intend to move to cloud solutions within two years
4. Coordinate care with omnichannel and artificial intelligence (AI)
68% of PX professionals want more communication channels to connect with patients
Use of AI for speech analytics is expected to increase by 50% within two years
5. Generate patient and business intelligence through the contact centre
 73% of providers to increase reporting and analytics investment
Modern cloud solutions incorporate privacy and HIPAA compliance while providing protected patient data to personalize healthcare experiences
"The PX Revolution in Healthcare report shines a spotlight on the challenges patients have navigating a complex healthcare journey, at a time when they are often most vulnerable and in need of proactive, synchronized communication and service. This report clearly identifies PX as an essential component for delivering high-quality healthcare," said Tiago Paiva, chief executive officer, Talkdesk.
"Cloud solutions from Talkdesk offer the flexibility and operational agility for healthcare providers to create connected experiences across any channel, which in turn enhances safety and quality, while reducing costs and improved patient loyalty."