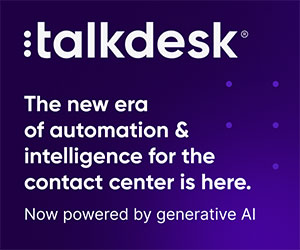 Taylor Grace at Talkdesk shares insights on employee collaboration and how it impacts customer experience.
Empower Your Contact Centre Agents to Improve CSAT, Reduce Total Cost of Ownership, and Boost Revenue.
One of the biggest factors that contribute to the success of a company is how well their employees work together as a team.
With increasingly complex workforce dynamics, it has become important to encourage and facilitate easy collaboration across the workplace to become a more efficient organization.
Almost 57% of companies have decided their contact centre agents will continue to work from home, either full-time or part-time. With this hybrid workforce comes an array of challenges, as many companies have already seen.
Contact centre agents don't have quick, easy access to experts across the organization to help when a more complex issue arises.
Beyond the contact centre, IT teams have done the impossible over the last year and stood up new collaboration tools to help virtual teams work together. But this increase in tools has created an intricate mix of applications that are complex to manage.
With separate tools and a dispersed workforce, the communication silos between teams have only increased, resulting in missed opportunities for growth across every department.
What Is Employee Collaboration?
Collaboration in the workplace involves individuals working together to solve problems across departments.
Within the contact centre, employee collaboration breaks down communication silos amongst agents and all other employees.
This allows information to flow freely between all different groups in your organization, regardless of what department they're in, or what location they're working from, to help solve customer issues more efficiently.
When employee collaboration extends beyond the contact centre, companies can deliver better service, improve the experience for both customers and agents and promote customer-centricity throughout their company.
"It's not just a single department or team: all employees contribute to the customer experience."
The Importance of Collaboration to the Customer Experience.
When we think "customer service," many of us probably think "contact centre." While contact centre personnel are on the front lines interacting with customers daily, it's not the contact centre alone that's responsible for customer loyalty.
Customers have many touchpoints with a brand. Each of those touchpoints represents the compilation of one of your teams' hard work. It's all of these people and brand interactions that contribute to—and are ultimately responsible for—the customer experience.
Bottom line: It's not just a single department or team: all employees contribute to the customer experience.
Companies that integrate their contact centre applications with the rest of the organization's unified communication tools will deliver a better customer experience than those that haven't prioritized an integration.
With fewer applications to manage and tighter application integration, employees across the organization can work together towards a single goal: servicing your customers.
The Benefits of Employee Collaboration.
When companies prioritize workplace collaboration and integrate their contact centre platforms with their unified communication applications, they realize the real business impact on key metrics:
46.5% improvement in customer satisfaction (CSAT).
14% decrease in cost.
86.5% increase in revenue.
How to Enable Employee Collaboration.
Now that we've outlined what employee collaboration is and why it matters, let's take a closer look at how you can enable workplace collaboration within your organization to achieve similar business success.
Empower Your Agents to Improve CSAT.
Customers today are savvy. They have more access to information online and digital self-service options than ever before. The average issue that makes it through to an agent is more complex and far less predictable than it used to be.
Regardless of training, agents will not have all the answers, and they need access to subject matter experts (SMEs) within the organization then and there to make sure they get the customer's needs addressed on the first try.
Forty-four percent of organizations say that agents are directly accountable for the customer experience performance of an organization. Yet at the same time, 35% of agents have to look outside of the contact centre and engage non-agent SME resources to help resolve a customer issue.
The majority of contact centre agents rely on SMEs and other departments to address customer questions and concerns, so it's imperative they have the right tools in place to actively communicate across teams to get the help they need when they need it.
Tight integration between your contact centre applications and unified communication tools facilitates employee collaboration to solve customer issues in real-time.
Ensure the customer service agent is armed with the proper tools to find the right person, based on knowledge, or expertise, and availability so they can then consult with the SME in real-time to resolve issues and improve the customer experience.
Simplify Your Tools to Reduce Your Total Cost of Ownership.
The next step to enabling employee collaboration is all about simplifying your toolset.
Agents today spend too much time just navigating the communication hurdles they face. They are juggling several applications within a typical workday.
This results in inefficiencies and redundancies in basic functions, and weeks to fully ramp. These lags have a direct negative impact on the customer experience by adding unnecessary complexity and friction.
For IT teams, multiple vendors mean more effort in managing multiple admin portals, reporting tools, multiple bills, and different support contacts.
The collaboration solutions their organizations use often lack interoperability and require a heavy lift on the IT team to develop integrations to support the different applications.
With the urgency of suddenly getting remote teams operational behind them, IT leaders are now taking a more strategic look into their tools and evaluating if there are any points of interoperability or opportunities to eliminate redundancy.
Those that have eliminated redundant business apps and shifted to a cloud-based unified communication solution on average see savings of $161,000 annually.
Among cost savings, moving to cloud-based applications also ensures teams remain agile and ready to scale up or down depending on business needs.
With a simplified tech stack also comes faster ramp time for employees and agents. This all leads to a reduced total cost of ownership.
Encourage Knowledge Sharing to Increase Revenue.
Without the free flow of customer insights and information across departments, companies cannot realize the full potential of company-wide employee collaboration.
A majority of CX leaders indicated that "positioning the contact centre as a profit centre for the business" was a priority for them. One way they are doing this is by including sales quotas as part of the agent KPI portfolio.
However, it is important to build in a variable compensation model to encourage and motivate your teams to identify upsell opportunities, which in turn will help avoid any increase in agent attrition additional KPIs may cause.
In addition to the cost savings and increased profitability per customer that comes with true first contact resolution (FCR), organizations have the opportunity not only to solve an issue or question but to use the context from that discussion to position and upsell additional products and services.
Connecting with other employees within the organization allows contact centre agents to follow through on upsell opportunities and put customers in touch with the right people inside the company to pitch and upsell new products and services.
There's a more qualitative advantage of collaboration: the value that the contact centre can bring to other departments. Contact centre agents can deliver the voice of the customer across departments to influence marketing campaigns, product direction, or even identify areas of improvement for operations.
The contact centre works with:
Marketing. The contact centre provides customer input on competitors that can influence a campaign.
Product development. Contact centres highlight product compatibility issues and opportunities.
Operations. Contact centres facilitate communication related to capacity or production problems.
Your contact centre also has enormous potential to provide other business units with valuable insight and support.
This can include input on customers, products, services, and processes—information that, when captured and used, can transform your ability to innovate, meet customer expectations, and provide great experiences leading to an increase in revenue.
If your contact centre is using communications technology that's completely siloed from the rest of the company, this makes it impossible or cumbersome for agents to find and access the right people with the right knowledge.
When you integrate your contact centre communications tools with your unified communications tools, you enable employee collaboration, so teams can share knowledge and expertise across departments. In doing so, you will foster a customer-centric culture that drives real business results.
This blog post has been re-published by kind permission of Talkdesk – View the
Original Article
For more information about Talkdesk - visit the
Talkdesk Website