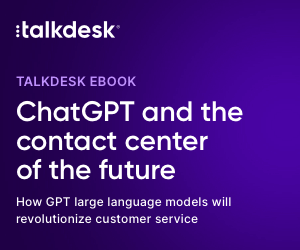 João Safara of Talkdesk discusses how to make the day-to-day working lives of contact centre agents more engaging.
First things first, to engage advisors throughout their journey, we should be improving the recruitment and onboarding process, as highlighted in a previous blog post: Contact Centre Onboarding: A First Impression That Really Counts
A successful onboarding programme that combines new learning formats, personalized assessments and automated tools can be a great way to reduce employee turnover and boost productivity.
Now, let's dive into the next step on your path toward turning every agent into a top performer: coaching and development!
At this point, it's important to be aware of how emerging trends in the contact centre and overall customer experience (CX) are poised to impact staff performance and the skills your agents need to develop in order to succeed.
The proliferation of digital channels and self-service technology is shifting the focus of many contact centre agents from time-consuming and repetitive tasks to more complex, revenue-generating customer interactions.
According to McKinsey: "The demands facing contact-centre staff are becoming more complex, more varied and more valuable. That calls for a smarter coaching approach."
In many contact centres, coaching usually faces the issues of not being targeted enough or being conducted by untrained professional coaches.
This results in a knowledge gap that often damages agent performance. Additionally, agents deal with incidental feedback instead of receiving a holistic evaluation, which makes it harder to point out areas of improvement.
Class Is in Session
Similarly to onboarding, your agent's development experience will benefit immensely from having a personalized programme that is complemented by automated technologies. Start off by infusing some artificial intelligence (AI) capabilities into your quality management tools.
This can easily solve the issue brought up by McKinsey, where coaching is not often targeted and many opportunities for improvement are missed within the contact centre space.
Speech analytics is a great way not to miss a beat in every customer interaction, helping to understand customer intent as well as automatically identify vital interactions for evaluation.
This frees up more time for both the customer relationship and agent coaching. Secondly, call recording complemented by annotations from either coaches or top-performing agents can be an outstanding enhancer to gather useful insights and provide timely feedback.
Last but not least, remember to collect all information mentioned in the previous solutions and turn them into actionable items. You can either use a learning management system (LMS) or an AI-powered knowledge base to provide your agents with adequate training modules, providing a more personalized and rigorous approach when it comes to their own individual development.
AI will free your agents from time-consuming tasks; time that you can use for building valuable interpersonal connections. Engage in regular feedback sessions to understand how motivated or stressed your agents are.
Identify their strengths and weaknesses, point out areas for further development and commit adequate resources to help your agents become better support professionals.
Creating and nurturing human bonds is of vital importance, as McKinsey shows that dissatisfaction with their immediate supervisor — including with the coaching process — was the number-one driver of agent attrition.
Last but not least, consider making your learning programme as fun and rewarding as possible. Gamification as a concept was born at the beginning of the century, but has become a big trend since 2010.
Development programmes should be incentivized through gamification techniques like leaderboards, badges and social recognition. This gives agents the chance to learn while they play, absorbing knowledge at their own pace and in a more relaxed way.
Gamification creates a spirit of healthy competition that consequently increases the levels of motivation among employees and is known to result in higher levels of engagement than traditional learning methods.
Techniques to engage employees are all about making their work experience as smooth and interactive as possible.
According to research from Gallup, adopting a strengths-based development programme can increase employee engagement by up to 15%, contributing to a more successful employee experience (EX).
This blog post has been re-published by kind permission of Talkdesk – View the
Original Article
For more information about Talkdesk - visit the
Talkdesk Website