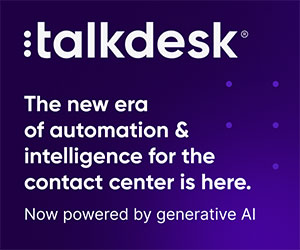 João Safara of Talkdesk discusses how to make a really good first impression when welcoming new advisors into the contact centre.
An agent's experience with your organization begins long before they start answering calls and resolving customer demands. Most definitions of employee experience include several stages that usually begin with attraction and recruitment.
These definitions have one thing in common: the importance of onboarding.
Gallup defines onboarding as: "The critical stage that connects the talent acquisition process to long-term, sustainable performance." This is the stage where new hires learn the attitudes, knowledge, skills and behaviours required to function effectively within an organization.
It plays a pivotal role in setting the employee on the path to a successful tenure with the company.
In many contact centres, onboarding can be extremely stressful and challenging for agents. They are expected to quickly absorb a significant amount of information including policies, processes, product details and technology workflows.
Then, before they know it, they are thrown into the fire and expected to handle a high volume of customer interactions, with limited opportunities to continue developing their skills.
While some contact centres will naturally lean toward emphasizing efficiency and speed of onboarding over all else, overloading agents with information or putting them in front of customers too quickly can lead to burnout and attrition.
Harvard Business Review found that 20% of staff turnover takes place within the first 45 days after joining a company.
For CX leaders that are interested in developing and retaining agents more successfully, there are a number of onboarding strategies that can help.
Let's Get Started
The first step for a successful onboarding is realizing that there is no "one size fits all" approach. Every agent is different. As such, they will have different preferences and learning formats that work better for them. That's why it's important to personalize your onboarding approach as much as possible.
In order to create personalized onboarding programs, you need to be able to assess your agents' strengths and weaknesses, as well as their familiarity with important information and processes, on an ongoing basis. That way each agent is able to learn and grow in the areas that will benefit them most.
To aid you in this process, consider assigning each agent a 'buddy' or a mentor from the ranks of your longer-tenured employees to advise them on best practices and career development.
You can take this personalized approach one step further by providing additional learning formats that better account for different learning styles and preferences.
Expand your options beyond live training sessions to include self-learning opportunities that utilize modules made up of videos or written content.
Consider alternative mediums, like using real voice and screen recordings of top-performing agents handling customer enquiries to demonstrate best practices.
You could even invest in a dynamic and collaborative knowledge base, to which every agent can contribute, as a great source of practical and up-to-date information.
When agents are ready to handle real customer interactions, it's best to ease them in. Make sure to regularly schedule breaks for feedback over the first few weeks, and evaluate their levels of motivation and stress.
The onboarding stage is when agents form important early impressions that will influence their commitment to your organization and their determination to succeed.
The more you rely on a personalized approach and automated tools to make your agents' lives easier, the more likely they will stay motivated and productive in the long run.
You don't need to take my word for it — according to Gartner, a successful onboarding experience can lead to a 15% increase in employee performance and encourage up to 20% greater discretionary effort from your workforce. That's a first impression that counts.
This blog post has been re-published by kind permission of Talkdesk – View the
Original Article
For more information about Talkdesk - visit the
Talkdesk Website