Tim Milburn, Planning Manager at emovis (also Winner of 'Resource Planning Manager of the Year' at the UK National Contact Centre Awards 2022), has provided us with some example holiday booking guidelines.
Printable Example Holiday Guidelines
Do you want to download this to share with your team?
Get your free download of the Example Holiday Guidelines now: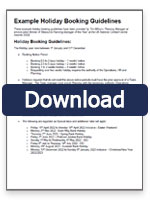 Download Free Example Holiday Guidelines in Editable Word Format
☆☆☆☆☆
These guidelines were explained in our article 'How to Manage Holiday and Vacation in the Contact Centre', where Tim explained that:
The key to keeping people happy and getting as many of their holidays approved as possible is letting them know as soon as you can what the guidelines are for requesting leave.
Having clear, documented guidelines is key to ensuring everyone knows when you can and can't book your holidays and what the approval process is. It is vitally important to ensure you adhere to the guidelines you set to ensure they are applied consistently and fairly to all agents.
These guidelines are to support the company holiday policy as it will contain rules which may not be relevant to everyone in the company.
However, having clear guidelines is key to achieving a fair and consistent approach to all effective staff.

It is also a good idea to keep a weekly track of everyone's holiday allowances and the days they have booked to ensure people don't take too many holidays too soon or leave themselves with too many holidays to take before the end of the holiday year.
If holidays are not managed effectively, there is a real danger of staff burnout or being disappointed when there is no opportunity to take the days they really need as they left it too late.