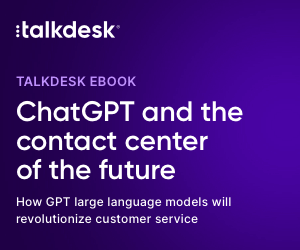 Steve Bell of Talkdesk recently had the pleasure of joining a podcast with Jon Arnold, Principal at J Arnold & Associates, on the topic of Extending the (Cloud) Value Proposition Beyond the Contact Centre.
Here's a recap of their discussion.
Jon: With our broad focus being about cloud-based contact centres, let's start with the state of things up till now. Most contact centres are premises-based, but there's serious interest now in the cloud. What have been the core value drivers of legacy deployments, and what do they still do really well?
Steve: The original core driver was that's all there was! It's really hard to pick any value driver today, but if I'm forced to pick one it would be "control", since everything is on the premises.
These systems don't do much really well these days, other than keep IT teams employed. They are hard to deploy, hard and expensive to maintain, and are stuck in innovation stagnation.
Jon: Before getting to the cloud discussion, at what point in time would you say legacy contact centres started coming up against real limitations? What have those shortcomings been, and how have things been trending?
Steve: More than anything, the world has moved ahead and legacy contact centres simply haven't been able to keep up. Legacy contact centres take forever to implement. They're too difficult  to make changes – too much IT is required to make every little change, which makes them very expensive. Platform abandonments and forklift upgrades are commonplace and cost companies billions. Poor integration with the rest of the enterprise is the norm. There's no way to easily extend capabilities with new technologies like AI. It's all trending down.
Jon: Contact centre technology aside, customer expectations have been changing as well, so let's talk about that. In what ways have these expectations been changing, and what factors are driving that?
Steve: Digital Transformation happened. Customer expectations are higher than ever, and changing faster than ever. Customers are in control, and Customer Experience (CX)  is king. Data shows that customers will choose a company for superior CX over product quality or price. CX is your competitive differentiator in the digital age.
Jon: In response to that, how have contact centres adapted, and how have vendors responded?
Steve:  Contact centres are shifting from a cost-centre model focused solely on cost control to CX-focused, balancing CSAT and NPS with traditional efficiency metrics. Contact centres have also had to adapt more nimbly to customer needs, such as adding digital channels, because that's what customers demand. This has required more focus on agent empowerment and new tools to help them better support customers. It has also required that contact centres seek out new technology that can provide that needed agility.
Jon: This brings us to cloud, which is a fundamentally different deployment model for contact centres. What are the basic elements to a cloud-based contact centre platform, and what's the rationale for using one? Which elements bring new capabilities as opposed to supporting existing functions but in a more modern way?
Steve: The basic elements are the same as a traditional on-premises system – the ability for agents to handle phone calls and digital interactions with customers, workforce optimization, reporting and analytics, enterprise integrations, security requirements, and so on. What's "new" is the improved agility, scalability, integration, performance, intelligence and pace of innovation that the cloud brings to these elements.
Jon: Cloud can bring new value to contact centres in two main areas – operations and agent engagement. How would you characterize each, and to what extent do decision-makers understand the business value of each?
Steve: Modern cloud contact centres like Talkdesk provide huge operational efficiencies over on-premises. First, you can get up and running faster – in weeks, not months or years. Second, you no longer need an IT army to make simple changes – your frontlines are empowered to do that. Third, to your agent question, you have massive flexibility in staffing – for seasonal agents, global agents, at-home agents, etc. Your agents aren't "hardwired" to their desks so they can be provisioned in minutes, anywhere.
Jon: There's more focus lately on agent engagement, and for good reason. Take us through what good agent engagement looks like, and how the cloud enables this. Let's also touch on the impact of poor agent engagement, and the ripple effect that has from the inside-out.
Steve: Good agent engagement is all about agent empowerment. The cloud can improve agent engagement and empowerment in a number of ways. For example, solutions like Talkdesk provide superior integration – agents no longer have to navigate 10 different screens to help a customer – all the information is at their fingertips. Cloud solutions will typically provide superior user experience – in particular, Talkdesk is easy to learn and easy to use, requiring little or no training. That's important when you're constantly ramping  new agents.
Jon: We also increasingly hear about having a more agent-centric environment, where front line agents have access to tools that empower them when dealing with customers. Businesses seem to be placing more value now on CX than classic operational metrics like AHT or FCR, so where does agent-centric fit into that?
Steve: Being more agent-centric supports the CX initiative. Agents need to be empowered to support today's customer expectations. If making a customer happy means another minute on a call, so be it. As mentioned earlier, traditional efficiency KPIs need to be balanced with customer experience KPIs like NPS.
In addition to the integrations mentioned earlier, new agent-centric tools include things like assisting agents with contextually-relevant knowledge. Talkdesk just launched this very thing last week with our Agent Assist product. And it means mobile-enabling agents so they are no longer tethered to their desktops.
Jon: Workforce management is a great example of this, where agents have more flexibility in setting their schedules, and supervisors are better able to optimize operations. This aligns with broader trends around remote working and workers being mobile-first. There are a lot of new capabilities and needs to address here, so what does cloud bring to make all this possible?
Steve: Yes, all of these innovations – agent-centric WFM (which Talkdesk just recently announced), remote workers, mobile workers, on-demand workers, contextual knowledge, and so many more – are able to be brought to market quickly because of the cloud. But not just any cloud. Specifically, modern cloud-native platforms like Talkdesk built on a microservices architecture, are able to accelerate feature development, delivery and customer adoption magnitudes faster than on-premises or first-generation cloud alternatives.
Jon: Taking things a step further, AI seems to go hand-in-hand now with cloud. What are some of the better examples you're seeing with that, and how far along are contact centres in actually applying AI?
Steve: AI is just one of many examples of new innovation made possible through modern cloud-native technology. Legacy on-premises systems were never designed to accommodate such new technology. Remember, they can't integrate well with existing enterprise systems like CRM, much less new tech like AI. In the case of Talkdesk, Talkdesk iQ, our AI layer, is "baked into" our platform, and we're able to leverage it across the platform. For example:
Our Workforce Management product leverages AI-driven intraday staffing recommendations
Our Studio customer experience designer leverages AI to identify customer intent in order to optimize IVR flows.
Our Analytics tools leverage AI to identify agent topical knowledge gaps and makes coaching recommendations.
Our Agent Assist product provides real-time assistance to agents based on an AI-driven knowledge base.
Jon: There's a lot of upside of course, with AI in the contact centre, so talk about the roadmap you're seeing. Where are things today, and what should contact centres be expecting over the next year or so?
Steve: I think we're just at the tip of the iceberg for AI-driven apps. There are so many ways to leverage the billions of data points obtained from AI to deliver better and better CX. I think we'll see continued adoption of new digital channels, and getting closer to the true omnichannel state versus multichannel, which is where we mostly are today.  We'll see increasingly more effective self-service, and more predictive/ anticipatory service. And I think we'll continue to see the breaking down of the physical walls of the contact centre where agents are increasingly remote and mobile.  And of course, none of this will be happening on legacy on-premises platforms.
To hear Talkdesk's full podcast, click here.