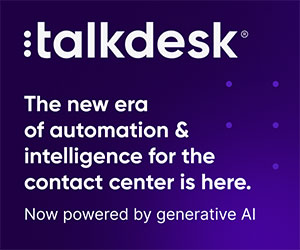 Talkdesk have announced the launch of Talkdesk Business Transformation Services, to guide companies through contact centre transformations that provide an easy transition from on-premises platforms to modern cloud solutions.
Business Transformation Services introduces a new and innovative operating model that merges Talkdesk's industry-leading people, process, technology and expertise within a customer success outcome methodology under the leadership of Chief Customer Officer, Chad Gaydos.
Talkdesk Business Transformation Services focuses on the successful management of customer experience (CX) services with a concentration on delivering efficient, easy and effective cloud implementation with a unique, white-glove approach.
"Our Business Transformation operating model provides companies with the critical management consulting, managed services and development and integration capabilities required to increase customer advocacy, enhance revenue and optimize operational efficiency," said Gaydos.
World-class contact centres are mission critical to any digital transformation, and the Talkdesk approach aligns the strategy and enablement to successful realization of tailored goals and business outcomes.
Talkdesk Business Transformation Services offers a long-term partnership that enables companies to unleash CX excellence beyond the purchasing and implementation phases, ensuring Talkdesk customers attain maximum return on investment (ROI) and realize their desired business outcomes.
"Talkdesk's process, methodology and implementation make the transition from on-premises to cloud easy and smooth," said Sebastian Anthony Corriere KMP, chief contact centre and CX strategist, VesuvITas.
"As both a Talkdesk sales partner as well as a Talkdesk certified implementation engineering partner, we work with many companies that want to move off their legacy, on-premises system and onto a cloud platform, but are hesitant due to the complications that have challenged other vendors.
With Talkdesk's Business Transformation Services, we can confidently recommend Talkdesk knowing that our clients' needs will be implemented correctly and efficiently."
The Talkdesk Business Transformation Services methodology focuses on three components of CX:
 Strategy. An actionable business plan and well-defined strategy is the foundation for a successful contact centre digital transformation. Talkdesk CX Strategy Consultants partner with companies to define their specific business needs and ideal future state, translating it into an actionable plan that presents a compelling business case complete with recommendations and an investment analysis.
Enablement. The next step in the business transformation journey is to enable the people, processes and technologies to realize a great customer experience. This ranges from business consulting services that provide contact centre and CX thought leadership and best practices, to Talkdesk's proven implementation methodology delivered by its certified Professional Services teams including partners in Talkdesk's Strategic Partner Program.
Success. Talkdesk provides a variety of services to support and enable companies to unlock and realize the value of contact centre business transformation. From technical account management, proactive network monitoring and premium support, to education and advisory services, Talkdesk is committed to supporting companies in measuring, managing and realizing the value of great CX.
"Talkdesk is uniquely positioned to help companies with contact centre business transformation," said Tiago Paiva, chief executive officer, Talkdesk.
"The contact centre sits at the centre of a critical business initiative – digital transformation – and serves the most important asset for any company, its customers."
"We are excited to announce the formation of Talkdesk Business Transformation Services to partner with and guide companies through these pressing customer experience initiatives."
The announcement of Business Transformation Services continues an ambitious programme by Talkdesk to disrupt the contact centre industry with 20 product introductions to start 2020.
Talkdesk built its reputation as an industry disruptor through an unrivalled pace of innovation, with more than 600 features added to the market over the past 18 months.
This cadence continues as Talkdesk aims to fully reveal its 20-in-20 plan at Opentalk 2020, the premier customer experience (CX) event of the year.
Taking place April 22-23, at Pier 35 in San Francisco, Opentalk 2020 brings together dozens of speakers and thousands of attendees for a thought-provoking conference focused on the customer experience industry.
For more information about Talkdesk, visit: www.talkdesk.com