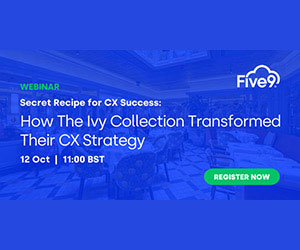 Remote work isn't new. Businesses everywhere are implementing innovative processes and technologies. As businesses were forced to close for the most part of a year, customer service capabilities have been tested like they have never been before, all while consumer demands have remained relatively unchanged.
But contact centres have shown they are more than capable of becoming the front door to customer interactions during this time, largely thanks to new technologies. One company has taken it to the extreme, proving that with the right technology, you can work literally anywhere.
Five9 has sent one of their senior consultants, Jason Griffin, to a cliff in Wales, where he set up his remote office dangling off the side of it on a portaledge. Here he was testing his ability to set up his remote office as a contact centre agent, and, as the video clip shows, it all went rather swimmingly.
With the right technology in place, great customer experience can happen anytime, anywhere. Whether it's a cliff edge, mountain, snowstorm, or any other situation open to the elements, the flexibility which cloud technology provides allows business to continue as usual and ensures a high level of customer service is maintained.
The past year has proven good customer service doesn't have to be routed to the traditional brick-and-mortar contact centre. A more flexible and agile approach can do much to empower agents, while resulting in greater satisfaction for themselves and for customers alike.
The video highlights that businesses need to respond to the evolving needs of consumers and agents, and how the latest Five9 technology can help them to reimagine customer experience – no matter what the situation.
For more information about Five9 - visit the
Five9 Website