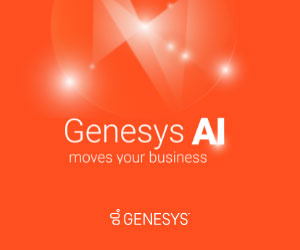 Genesys has published the Genesys 2021 Sustainability Report, detailing the company's progress toward achieving its Environmental, Social, and Governance (ESG) goals.
The report, highlights the role of the cloud in creating a more sustainable future for all.
Sustainability has increasingly become a focus for organisations globally. Yet many organisations are still operating with traditional on-premises solutions, a preventable obstacle that impedes their ability to achieve more sustainable business practices.
Genesys is partnering with businesses around the world to migrate them to the company's cloud solutions, which can reduce emissions created by their legacy technologies by at least 80%.
In addition to accelerating the sustainability efforts of its customers, cloud migration plays a significant role in the path to carbon neutrality for Genesys by minimising Scope 3 emissions, the largest representation of the company's carbon footprint.
With more than 90% of new bookings in the fiscal year 2022 coming from the cloud and subscription services, the company is on track to meet its carbon goals.
"The progress we've made in our first year is a testament to the culture of action and empathy we have at Genesys," said Bridgette McAdoo, Global Sustainability Officer at Genesys.
"Every Genesys employee, regardless of level or location, has ownership of our path to a more sustainable future. Together, we're committed to embedding sustainability into the core of our business to be a catalyst for the change we hope to see in the world."
In 2021, Genesys launched its inaugural sustainability report, establishing a baseline for the company and setting goals to contribute to a more sustainable future for the communities it serves.
The new report outlines the progress the company has made toward those goals, including double-digit reduction in emissions, increasingly diverse representation across the organisation, and new ways the company is using its products for positive impact on people's lives.
New to this year's report, Genesys explores the environmental impact of its remote workforce, finding the company's North America based employees to have the largest average carbon footprint per person.
In evaluating the emissions of its employees as they work from home, the company aims to develop programs and benefits that foster sustainable living.
In a new reality where so many organisations have increased flexibility in their remote work policies, expanding sustainability beyond the office provides new opportunities for positive environmental impact.
Genesys 2021 Sustainability Report Highlights
Nearly a quarter (22%) reduction in greenhouse gas emissions year-over-year and third-party assurance of environmental data and methodology.
Achieved Silver Rating from EcoVadis, progressing from Bronze Rating in just one year. This establishes Genesys in the top 25% of companies evaluated by the sustainability rating provider.
Double-digit year-over-year growth in diverse representation across the majority of underrepresented groups in North America, increasing overall representation from 19.8% to 21.6%, and from 18.9% to 20.4% in leadership roles.
Increased the number of women in leadership roles by 12% year-over-year across the Genesys global workforce.
Positively impacted more than 244,000 lives through partnership with organisations that provide crisis response, such as the NSPCC (National Society for the Prevention of Cruelty to Children); Be My Eyes to connect visually impaired people with sighted individuals for visual assistance through a live video call on their behalf; Thrive to enable businesses to incorporate well-being breaks into the workflow to help end the burnout epidemic; and others.
For more information about Genesys - visit the
Genesys Website