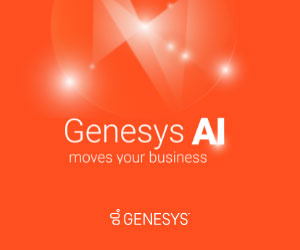 Genesys have announced their partnership with Google, as they look to integrate with Google Cloud's new Contact Center AI solution.
The integration enables brands to rapidly deploy some of the industry's smartest bots capable of resolving issues faster while improving customer satisfaction, sales, employee efficiency and more.
Genesys customers, which include 65 of the world's top 100 global brands, can now use the simple, secure and flexible Google Cloud Contact Center AI to train and use new bots in a fraction of the time. It ultimately shrinks deployment time from a few months to as little as 24-to-48 hours.
Historically, implementing bot technology in Interactive Voice Response (IVR) and text-based systems has been time intensive, requiring extensive fine-tuning yet still failing to provide an exceptional customer experience.
Genesys and Google Cloud debuted the integration in a demonstration with a global online retailer at the Google Cloud Next 2018 conference in San Francisco.
These capabilities are driven by Kate, the Genesys AI platform, which powers the company's natural language understanding, orchestration, predictive routing, automation, and more to help businesses deliver the sales, marketing and service outcomes they want.
By integrating Kate with the natural language understanding capabilities of the Google Cloud Contact Center AI, the system can detect what consumers are saying as well as glean their intent.
As a result, businesses can more quickly and predictively match inquiries with the right bot, human or combination thereof – whichever resource is best equipped to resolve the issue and optimise the chosen business outcome(s).
In addition to delivering a differentiated customer experience, organisations can drive efficiencies as they automate many mundane interactions with consumers such as making payments, returns and checking balances, while allowing more complex issues to be handled by employees.
Blended AI by Genesys enables the easy hand-off between bots and live agents to solve customer needs faster.
"Contact Center AI empowers enterprises to use AI to complement and enhance their contact centres," said Rajen Sheth, the director of Product Management for Google.
"Google Cloud's goal is to make it as easy as possible for our customers to use AI for contact centres through our relationships with key partners like Genesys."
"As the Genesys AI platform is now integrated with Google Cloud Contact Center AI, our joint customers can deploy a bot much more quickly than in the past. It's as simple as activating and training it on desired intent and actions," said Peter Graf, Chief Product Officer, Genesys.
"Together, we are making customer experience AI more accessible to companies of all sizes and sophistication levels."
This integration is the latest collaboration between Genesys and Google Cloud. In addition, Genesys PureEngage customers can now choose to host their contact centre applications on Google Cloud Platform.
This new story has been re-published by kind permission of Genesys – View the original post