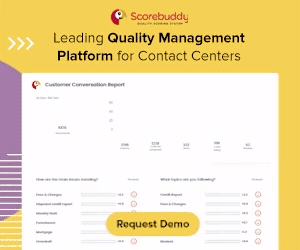 Leadership in any role is tough. In fact, 77% of organizations struggle to find effective leaders. But providing excellent leadership in a service centre can be especially challenging for many reasons. Customers depend on and expect a great experience, and this only happens when leadership is on point. This isn't an easy task.
Service centre leadership goes beyond simple day-to-day management. It depends on the ability to create a great work environment and empower agents to be the best they can be.
But what makes a great service centre leader? How can leaders create customer-centric company cultures? We answer these questions and more in our latest blog post.
What is an Excellent Service Centre Team Leader?
The key elements of great service centre team leaders are the same as those in any industry. These leaders need to be excellent communicators and empathetic towards their agents and customers alike. Other notable traits of team leaders include:
Great Customer Service Skills
This may seem obvious. But service centre leaders must understand how to effectively communicate with customers and their employees.
Remember, service centre leaders are responsible for the customer service standards in their facility. It is up to you to make sure your agents are properly trained in all aspects of the service.
The Ability to Identify Areas for Improvement
Effective leaders provide constructive criticism effectively and sensitively. They know how to assess performance and provide the tools agents need to develop their skills. Leaders also know how to recognize call centre employees for a job well done.
In-depth Knowledge of Their Audience
Service centre leaders must properly communicate their vision and goals with their team. They must also establish trust and confidence. This requires active listening, providing consistent feedback, and following through on their promises.
The Ability to Inspire, Empower and Motivate Teams
Empowered employees are positioned to thrive in their work. In turn, leaders who empower their teams are more likely to be trusted.
Encouraging empowered employees is a win-win for everyone. This is important because one in two employees has left a job because of a poor manager.
Embracing Call Centre Agent Coaching
Employee performance is dependent on effective coaching and training. Leaders must consistently monitor, evaluate and assess, and provide feedback on agent performance.
Leaders must also make tough calls, have honest conversations, and not be afraid to provide constructive feedback. This is the best way to ensure your service center team is properly trained and motivated.
How to Foster a Culture of Customer Service
Embracing a culture of excellent customer service has several benefits, including a 22% increase in staff productivity, a 17% improvement in customer engagement, and a 48% increase in profits.
But beyond profitability, customers expect a great experience every time they get in touch with a company. Quality customer service boils down to how service is instilled and embraced in company culture. Here are some of the ways to focus on getting that culture right:
1. Share Your Customer Service Vision
97% of executives and employees feel lack of alignment can negatively impact a project or goal. Communicating your customer service vision with staff is a vital way to get everyone on the same page. Make sure your vision is simple, direct, and easy to remember.
2. Hire the Right Staff
Your service centre staff are the first line of communication with customers. New employees must have a customer-service mindset, are willing to learn, and are passionate about their work.
3. Prioritize Training
Great customer service starts with great soft skills training and thorough coaching. This is the best way to set your employees up for success in their daily work.
Incorporating your customer service vision with training and onboarding materials will further reinforce its importance, and encourage employees to use it in their daily work.
4. Be a Role Model
Along with excellent training, engaged service centre leaders are key to customer-centric company culture. Employees need to see leaders embracing the company vision by leading by example.
5. Reward Employees
Building an employee rewards program is a fantastic way to celebrate your employees. Rewarding employee performance also improves job satisfaction rates, which in turn, helps employees stay invested in their work.
Resolving Service Centre Problems
One of the major obligations of a service centre team leader is dealing with conflict. To do so, you must become well-versed in understanding and resolving issues within your call centre. This can be done by understanding the most common customer and agent frustrations.
Common Customer Frustrations
In most situations, customers only call a call service center for one reason: they are having an issue. Stress levels are already high. And the call hasn't even begun. Customers can get angry and frustrated for several reasons, including:
Long wait times. Nobody likes to be put on hold. One way to address long wait times is to understand your
Average Hold Time (AHT), an essential quality assurance KPI (key performance indicator).
An uninterested customer service representative.
Poor agent soft skills, like showing empathy.
Lack of follow-up.
No resolution on first contact.
Improper transfers or a confusing phone menu structure.
Common Agent Frustrations
Customers are not the only ones who get frustrated. If agents are not properly trained in dealing with customer conflict, they feel unprepared to resolve issues. This lowers morale and raises the risk of losing the customer for good. Other examples of the biggest agent frustrations include:
Struggling to answer a customer question.
Not meeting a customer's expectations.
Serving too many customers at one time.
Technical issues, like transferring a call.
Poorly written scripts.
Lack of automation or antiquated systems, i.e., manually entering in customer information.
Working in customer service can be stressful for everyone. But a problem-solving approach will help service centre leaders get the results they want.
One way to do this is by utilizing a quality assurance (QA) program. The tools in a QA program help service centre leaders bolster both service and employee morale quickly and effectively.
Find the Right Technology For Your Service Centre Team
Good call centre leadership is easier with the right tools. A system that helps leaders to replace spreadsheets and offers flexible scorecards that adapt to your business needs. Other tools, like learning management systems, automated workflows, and automated evaluations are key to helping service centre leaders go above and beyond in their roles.
The Bottom Line
Fostering a company culture focused on excellent service starts with the right technology. When combined with top-notch training and an engaged service centre leadership team, a quality assurance software platform can position your centre for success.
This blog post has been re-published by kind permission of Scorebuddy – View the
Original Article
For more information about Scorebuddy - visit the
Scorebuddy Website