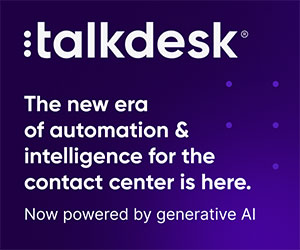 Nuno Brito at Talkdesk explores the best practices, software features, and metrics to consider for your inbound call centre.
All call centre calls fall into one of two categories; they are either inbound calls or outbound calls. In this blog post, we will explore inbound calls. You will learn more about:
What are inbound calls?
3 common inbound call types.
3 best practices to handle inbound calls.
10 software features to optimize your inbound call strategy.
10 metrics for inbound call centres.
What Are Inbound Calls?
An inbound call is when a customer calls in. These are calls initiated by customers and received by call centres. Most inbound calls fall under customer service or tech support—customers reaching out to the call centre to get their queries answered or issues solved.
Help desks answer inbound calls too. However, these calls may come from employees.
Three Common Inbound Call Types.
The most common call types received by an inbound call centre are related to customer service. These include:
Orders and payments. Despite the popularity of e-commerce, many shoppers still prefer to place their orders over the phone. Inbound calls facilitate customer transactions via phone. Shoppers also might contact a company with billing questions or to find answers for a payment issue.
Product and tech support. Customers call for help to solve a wide array of issues, from returning damaged products or changing account information and passwords to complaining about product malfunctions.
Upgrade, renewal, and cancellation of products and services. The popularity of subscription-based businesses (monthly clothing deliveries, online streaming services, and more) for both consumers and the enterprise, such as software as a service (SaaS) and cloud storage, has increased the number of calls related to the upgrade, renewal, and cancellation of products.
Inbound call centres can be configured to address a wide variety of a brand's sales, marketing, and customer service needs. When structured to achieve clear objectives, inbound call centres can also be revenue-generating.
Today's inbound call centres often provide customer service not only through telephone calls but also via email, chat, and more.
Three Best Practices to Handle Inbound Calls.
There are a lot of circumstances that can impact the performance of an inbound call centre. Contact volumes can spike at any time for any number of reasons—natural disasters, a new service launch, and a product recall are just a few reasons customers might flood a call centre on any given day.
Here are three best practices for inbound call centres to implement:
Focus on customer experience. Consumers no longer rely simply on price and product; today, it's all about the customer experience. Inbound call centres can play a central role in delivering customer experience—everything from how agents answer calls to training processes needs to be developed in a customer-centric manner.
Cultivate engaged agents. The idea that happy employees make for happy customers might be trite, but there is a certain truth to it. Engaged employees that feel an emotional commitment toward the company become invested in helping the company succeed. Reward your best agents and inspire others with recognition, whether during a regular staff meeting or via gamification dashboards incorporated into your call centre platform.
Focus on the right KPIs. With so many variables to measure, it's easy to assume each metric is equally important. Such an overwhelming volume of data can lead to analysis paralysis, and the important metrics can get lost. Inbound call centres should look at 10 crucial KPIs to measure the success of the operation. These should include operational (i.e., number of calls answered) and customer-related metrics.
Ten Software Features to Optimize Your Inbound Call Strategy.
Running a busy inbound call centre can often be a difficult task. However, without leveraging the right call centre software features, running your inbound call centre smoothly can be next to impossible.
Set your team up for success by ensuring that you are using the following must-have inbound call centre software features:
1. ACD.
Leveraging a good automatic call distributor (ACD) allows teams to effectively route callers to the most appropriate agent or department based on predefined information. ACD also serves as a foundation for many other call centre software features and processes such as skills-based routing, call monitoring, acquisition of call metrics, and more.
2. IVR.
A multi-level interactive voice response (IVR) allows callers to easily select where they would like to be routed to based on a series of prompts. Call centre managers and admins can customize the greetings, menus, levels, and prompts so callers can listen to recordings with helpful information, choose to be routed to a specific agent, or leave a voicemail for a department.
3. Skills-Based Routing.
This call centre software feature routes callers to the most appropriate agent based on both the caller and the agent specificities. It can route the call according to the caller's IVR selections, the phone number the caller dialled, and the caller's interaction history with the company.
It also takes into consideration the agent's skill set, area of expertise, and any other construct that is important, such as the languages their agents speak, their geographic location, and more.
4. Customized Call Queues.
Inbound call centres should have separate queues for each department, a predefined maximum queue size, waiting limits in each queue, and features like Callback from Queue and Queue to Voicemail to help reduce caller headache as much as possible.
5. Call Centre Software With a Built-In CRM.
To solve customer issues, cross-sell and up-sell, or simply interact with callers, call centre agents must have access to accurate information about the caller. Call centre software with a built-in CRM and Enhanced Caller ID is the best tool to help agents with detailed information about the caller (i.e., name, phone number, picture, company, and position).
If the caller has contacted the company before, the agent will also see their entire call history, call recordings, voicemails, and more in real-time. With comprehensive information about the caller available in real-time, agents will always know who is calling and can adjust their approach accordingly to provide a better customer experience.
6. Business Tools Integrations.
Call centre software that integrates with Salesforce, Zendesk, and others enriches the information displayed to agents so they can have a 360-degree view of the caller.
In addition to seeing rich contact information and call logs, the agent will have access to previous tickets, cases, events, notes, chat transcripts, and more so they will know the caller's entire contact history with the company.
7. Dedicated Phone Numbers.
For inbound call centres that have agents who field specialized call types, dedicated phone numbers are a must. These agents must offer a direct line to their customers so that they don't have to navigate a complicated IVR system, search for their agent extension, or wait in a queue.
Allowing agents to pass out their dedicated phone number is great for VIP customers, vendors, high-value business contacts, or callers who need to reach an agent in a specialized department. It will not only help to reduce caller frustration, but also increase operational efficiency.
8. Virtual Agents.
A virtual agent is ideal for solving common issues and automating routine tasks when agents are not available after hours, or to free agents during peak inbound traffic periods, allowing them to focus on more complex issues.
Virtual agents will make it simple for the call centre to help customers—no matter what time they call—and boost call centre efficiency.
9. Real-Time Metrics.
Real-time metrics are essential for inbound call centres. A real-time agent dashboard will provide data like service level, average wait time (AWT), longest wait time, average handle time (AHT), number of available agents, and more so that agents can make more informed decisions.
Managers should also have access to this information so they can make strategic in-the-moment decisions to help improve call centre efficiency and customer experience.
10. Historical Reporting.
Managers must have access to comprehensive historical metrics so they can make data-driven decisions that will have a measurable impact on the call centre as a whole.
To be most effective, managers must have the ability to accurately evaluate the performance of each agent, department, phone number, campaign, team, and the entire company based on historical data.
Advanced call centre software enables inbound call centre agents to get a clear view of their performance with comprehensive real-time and historical reporting. Agents are then able to make data-driven assessments of their efficacy and adjust their workflows accordingly.
Reporting metrics provide an unbiased picture of call centre agent performance. Call centre solutions with robust reporting functionality offer customizable agent reports, so that managers and admins can have an overarching picture of how the call centre is performing.
Analysing call centre metrics may even help reduce agent stress. Agents will not have to guess how they are doing. Further, it will give call centre agents the chance to establish clear-cut goals for themselves.
Ten Metrics for Inbound Call Centres.
Inbound call centre agent performance is measured according to several metrics, including first call resolution (FCR), average handle time (AHT), and average speed to answer (ASA). Inbound call centres sometimes stipulate service goals the centre to work toward in a service-level agreement (SLA).
For any new inbound call centre agent or manager wondering what to make of the metrics they see in their report, below are the top 10 metrics call centre agents should track:
Agent status. Agent status allows call centre agents to mark their availability, so it's visible across the team. Typical agent statuses are "Available," "On a call," "After-call work," "Offline," and "Away." Agent status can be used to determine if agents are using their time effectively.
Average abandonment rate. The average abandonment rate is the percentage of calls terminated by callers after being added to a queue.
Average handle time (AHT). The sum total of talk time, hold time, and after-call work an agent engages in, divided by the number of calls handled. Average handle time can be used to easily determine agent efficiency.
Average hold time. The average hold time is the amount of time customers were put on hold when on a call with an agent. Hold time should not be confused with wait time, which is defined as the time a customer had to wait before an agent answered the call.
Average speed to answer (ASA). The average speed of answer is the amount of time it takes for the agent to answer an inbound call, including the time when the agent's phone rings, but excluding the time the caller spent in IVR or queuing.
Average talk time (ATT). The average talk time is the amount of time an agent spends talking with customers. It excludes other activities an agent might need to complete the interaction.
Call disposition codes. Call disposition codes allow call centre agents to assign a tag to each call after it has ended. These tags can describe the call type, reason, outcome, and desired after-call action. Analysing the percentage of different disposition codes an agent has recorded is a quick way to quantify the success of their calls.
First call resolution. Examples of first call resolution definitions are: The total number of calls resolved correctly on the first attempt divided by the total number of calls in a given period of time; or the total number of calls resolved correctly on the first attempt divided by the total number of first calls.
Service level. The service level is the percentage of calls answered and missed within a predefined threshold, e.g. 20 sec. Measures the availability of the contact centre to its customers.
Total calls. The total number of calls handled by the agent in a given time period.
In addition to looking at the data on their own performance, inbound call centre agents may appreciate having visibility into their ring group or the performance of the call centre as a whole. This may help them with benchmarking and goal setting. Some companies even use call centre gamification as an incentive system for performance.
Call centre agents benefit greatly from having access to reporting metrics. This is why advanced call centre solutions come with real-time and historical reporting out-of-the-box.
This blog post has been re-published by kind permission of Talkdesk – View the
Original Article
For more information about Talkdesk - visit the
Talkdesk Website