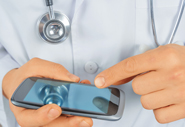 We will see greater use of mobile apps in the healthcare sector in 2015, according to mplsystems.
The multichannel contact technology specialist believes that more intelligent customer experience desktops, greater use of mobile apps for field-based teams, enhanced customer self-service technologies and the increased security of personal healthcare data will prove key factors for the coming year.
Driving smart decision-making with Customer Experience Desktops
With 80% of medical data effectively unstructured and stored across multiple platforms, healthcare providers are finding it hard to deliver the right information, in the right place and at the right time to healthcare professionals.
For 2015 we expect to see general healthcare providers focus more on bringing disparate information together – and displaying it to professionals at the right time of the healthcare journey via a single, intuitive view, regardless of the device being used.
Service delivery via smart mobile devices
Mobile technology is now starting to be used extensively across the healthcare sector – not just with specialist customer applications but also as a means of improving productivity and flexibility for medical professionals.
40% of doctors, for example, feel that mobile devices reduce the time they need to spend on administration, while over half find that access to data via mobile devices plays a key role in expediting decision-making.
Replacing complex appointment booking and scheduling with streamlined self-service technology
Too many providers still rely on overly complex manual processes at one of the key points of patient contact, namely appointment booking and scheduling.
Expect to see 2015 lead to an increased take-up of online services such as customer online booking portals – accessible via mobile apps – that deflect traditional service demands by allowing customers to book appointments or order prescriptions on a 24/7 basis.
Extending mobile apps to field-based medical teams
The combination of truly integrated mobile apps and smartphone and tablet devices extends the reach of customer engagement to field-based employees and other remote-based health sector professionals.
With mobile apps completely integrated with back-office systems, staff can access, update and save customer/patient information directly to the central system – eliminating duplicate working and replacing outmoded paper-based processes.
Safer and secure access to patient information
The security of patient information is of increasing concern within the healthcare sector, particularly given the iterative nature of interactions, with data often needing to be passed from one stage to the next.
Thanks to cloud architectures, healthcare businesses can now access relevant data safe in the knowledge that it remains centrally and securely stored, with no sensitive patient information stored on mobile devices or local PCs.
"As consumers we're all engaging with organisations across multiple channels, whether it's in person, via phone, online or – via our mobile devices. Consequently it's essential that healthcare sector businesses, ranging from hospitals and care providers to medical and pharmaceutical firms, take full advantage of the kind of customer experience management innovations that can not only help reduce costs but simultaneously improve the overall quality of healthcare services being delivered," said Paul White, CEO at mplsystems. "However, it's really important that healthcare firms still maintain the agility they need to build service offerings that can adapt to match evolving customer expectations. That's why in 2015 we expect a much greater focus on more flexible, cloud-enabled approaches that allow customer service innovations to scale with customer demand."
For more information about mplsystems, visit their website.
Published On: 11th Feb 2015 - Last modified: 22nd Mar 2017
Read more about - Archived Content, IFS
---