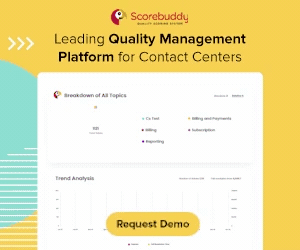 Dick Bourke of Scorebuddy shares his advice for improving your customer experience and, in doing so, your Net Promoter Score (NPS).
Your agents don't operate in a vacuum, many variables influence the delivery of a customer experience. Organizations need an ability to identify root causes and effects on both good and bad outcomes, to repair broken processes or procedures and to develop priorities for coaching and training agents. The frequency of underlying root causes should drive your organization's priorities and focus.
Tagging call centre quality assurance and assessment scores with root causes will give you a clear direction for managing major elements of contact centre performance:
Knowledge gaps that need to be closed
Agent skill gaps that need coaching
Authority and permissions: Do agents have the authority to delight the customer?
Broken or inefficient processes
Desktop tool failures supporting the agent (not fit for purpose or poorly deployed)
Environmental negatives (low-res screens, poorly lit rooms, poor ergonomics)
The goal is to understand the impact of these elements on the outcome of an interaction and, more importantly, to tie that to the customer sentiment using Net Promoter Score (NPS).
We begin our series with the QA topics of root cause analysis and agent self-awareness, which can have a direct impact on how to improve NPS score and customer experience.
How Does Agent Self-Awareness Drive Improved NPS and Call Centre QA?
"How likely is it that you would recommend our company to a friend or colleague? And could you please rate your recommendation on a scale of 0-10?" These are two questions that can induce anxiety into the boldest companies.
It seems as if there are always some floating inconsistencies or issues that could prevent overwhelming enthusiasm for customer responses. But the questions are real and have been so since 2003 when Frederick Reicheld of Bain & Company wrote about what he coined the Net Promoter Score (NPS) in a 2003 article for the Harvard Business Review. So what is NPS Score?
Reicheld's premise is simple. Answers to the "likely to recommend" question are rated on a scale of 0-10 and the responses are divided into three groups as follows:
Promoters (rating of 9-10)
Passives (7-8)
Detractors (0-6)
The Net Promoter Score is determined by subtracting the percentage of detractor responses from the percentage of promoters. The goal is to get as high a Net Promoter Score as possible as an indicator of customer perception of a company's service and support.
How to Improve the NPS Score
Net Promoter Score is based on just one 'killer' question: Will your customer risk their reputation by recommending your brand to their friends? It is all-embracing, so businesses must ask themselves important questions related to their customer service delivery and overall engagement. Companies also need to understand and separate transactional NPS (recommendation based on a recent interaction) and Brand NPS (how they feel about your products or company generally).
Brand NPS is the accumulated experiences with the brand, much of which is beyond the control of the contact centre.
However, the contact centre is typically where direct interpersonal interactions happen, which sometimes can become emotionally charged and, as such, can have a critical impact on the overall Brand NPS score for that customer.
It is at this point that it becomes crucial to institute customer surveys into your contact centre operation to assess how to improve your NPS score. Immediately following an interaction with an agent, customers should be given one of two surveys (or in certain instances, both): general or transactional.
Whereas a general survey will be a quick question regarding the customer's overall experience, a transactional survey will refer to a specific instance (such as troubleshooting, verification call, etc.).
Boosting the NPS depends on four factors and companies have found different ways to go about attaining their Net Promoter Score benchmarks:
Manage the overall customer experience which will be reflected in a positive NPS score.
Live the customer journey by tracking every touchpoint in your company's customer engagement process so that high-impact improvements may be made appropriately.
Incorporate contact centre agent self-awareness to allow for performance course-correction opportunities and improved customer perceptions.
Understand the causes of low NPS scores by targeted customer surveys
How to Improve NPS Score Through Call Centre QA and Agent Self-Awareness
The contact centre is a logical touchpoint in the exploration of the customer journey because of its obvious customer engagement elements. Interactions, resolutions and relationship building all add up to overall customer perception. So, what's the best way to encourage agents to work effectively on how to improve NPS scores?
The key is to get the agent to look at interactions through the customer's eyes, to feel what the customer feels, to be self-critical.
One tested approach is to promote the concept that agents should be empowered with ownership of their own performance measurement, where they make improvements based on their assessment of real-world scenarios. This tactical approach lines up with the evolution of a strategic contact centre QA framework, in which the tactical goal is to get a deeper understanding of both sides of the customer service experience, agent and customer. With this approach, agents are urged to self-score their own success metrics on their calls, thus prompting them to analyse and course correct if necessary.
When agents have the authority to own their own performance, morale is increased and staff turnover slows because they have some input on the expected results. Allowing them to alter their performance at their own recognition of flaws lets them have some control over the improvement process without feeling like they are being reprimanded for inadequate performance time and again. This scenario also frees up the Quality Assurance Manager for other work that will help the centre improve overall effectiveness.
Just a little bit of autonomy goes a long way in identifying areas for improvement. When employees are encouraged to make changes based on their observations, they become more self-aware, they have a deeper understanding of the effect they can have on a customer and will feel more in control. In addition to improving productivity within the contact centre, acting on this feedback will also boost agent productivity as they will be more motivated and engaged with their work.
In one case, experienced agents were trained to self-score. Initially they were more stringent in scoring than the evaluators, but over time they developed a greater self-awareness and understanding of the customer's needs. This was measured closely with NPS scores being attributed at an agent level and it was clear that the NPS scores for self-scoring agents improved 3-4 points over traditionally scored agents.
Under these circumstances, employees will feel valued, more in control and more inclined to stay and will be willing to offer up suggestions and positive improvements in the future. Your training investment will pay off in the long run and staff churn will be reduced, minimizing the turnover rate and training of new employees.
Boost Morale, Reduce Churn and Identify Areas of Improvement
Empowering contact centre employees to own their work will not only boost morale and cut down on staff churn, but will most importantly outline the fundamental causes of poor service. Poor areas of performance, once identified, can then be directly addressed with appropriate changes. In a scenario, for example, of an employee's self-scoring data being in stark contrast with customer feedback, there will be a disconnect in expectations on both sides.
When empowered, the agent will have the opportunity to make suggestions which will close that gap and resolve any customer dissatisfaction quickly. What may be temporarily uncomfortable in the self-awareness exercise will ultimately result in an acceptable solution and will serve as an essential stepping stone in working toward better customer experiences.
When it comes to how to improve your company's NPS score, don't feel like you're out there all alone. Engage your contact centre agents and let them self-identify areas of improvement and you're well on your way toward getting only positive answers when your customers are asked: "Would you recommend our company to a friend or colleague?"
In Summary
To move the Brand NPS needle and answer the question of how to improve NPS scores, actions and improvements are needed straight across the customer journey. However a contact centre is shown to have a disproportionate impact on customer sentiment for those customers who need to contact you and through word of mouth on those that haven't contacted you.
Using a combination of root cause analysis and methods to improve agent self-awareness of their role and impact on customer sentiment, the contact centre can systematically improve the customer experience, and so can drive an overall improvement in both Transactional and Brand NPS.