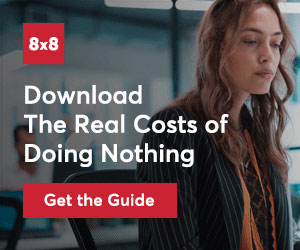 Choon Khee Koh at 8×8 explores how to retain the human touch amid a transforming customer landscape.
Which business are you more likely to purchase from: a business that efficiently directs your queries to the right department and is willing to hear you out, or one that requires you to navigate endlessly through automated menus while making you repeat your concerns like a broken record?
With customer service requests increasing by 14% in volume year-over-year and customers reporting that 70% of a positive buying experience is based on how they are treated, being empathetic to customer concerns is critically important.
In fact, 90% of customers say that they are willing to spend more when companies provide personalized customer service.
While automated multichannel communications are critical to scaling, effective use of voice solutions is sometimes overlooked as a way to demonstrate empathy that will drive brand loyalty and ensure retention.
How Current Customer Service Solutions Can Make You Appear Cold
In a time where automation is rapidly reshaping the entire business landscape, it's tempting to look towards voice-activated menus and chatbots as cure-alls for efficiency.
But the haphazard application of these solutions can result in a customer experience that may be detrimental to your brand.
In 2023, the year of AI breakthroughs, 50% of customers still report frustration with chatbots. And some customer service hotlines have become so tedious to deal with that 67% of customers would rather avoid calling altogether, and will only do so as a last resort (40%).
While these statistics paint a less-than-optimal picture for customer service overall, they also point to an opportunity for businesses to use voice solutions to provide a five-star customer experience.
Voice Solutions Allow You to Demonstrate Your Commitment to Customers
The most effective solutions are usually the simplest. Considering the wants and needs of customers who call in allows you to design voice solutions that show you empathise with them.
Speak Their Language
Empowering customers to communicate in their native tongues puts them at ease while allowing them to speak their minds.
Our text-to-speech platform localizes your automated menus into 45 different languages (and can read them aloud so that the visually impaired can freely navigate your systems, too).
Text-to-speech technology can also be used to ensure that order status, discounts, and other communications that might otherwise be left unopened, are instead read out loud to customers.
App-to-App Calling
While texting is a convenient and often preferred way for customers to get simple messages across, voice calls are still the most effective mode of communication when it comes to resolving disputes and complaints.
In-app voice calling makes it easy for customer service agents to directly listen to the customer, confirm the request verbally, and either resolve the issue or professionally hand the call off to a higher-level manager where escalation is required.
It also shows concern for the customer's time, by eliminating the need for them to toggle between platforms.
Ensuring the Privacy of Customers
Record numbers of digital scams have made the average customer more vigilant than ever when it comes to who they share their personal data with.
Call masking helps businesses win customer trust by ensuring the security of their personal numbers and keeping all phone calls within the confines of a business application.
By generating random numbers whenever in-app calls are made, you can help your customers eliminate breadcrumbs that bad actors can exploit, while demonstrating your commitment to securing user privacy.
A Word of Caution: The Risk of Over-Reliance on AI
Even before ChatGPT and voice-generated assistants took the world by storm in 2023, customer service teams may already have been relying too much on AI without realizing the level of frustration they might be generating or their diminished ability to truly listen to customers.
With recent developments enabling artificially generated voices to mimic human speech to a startling degree, the temptation for businesses to implement automated solutions more broadly, without carefully considering the business impacts, has never been stronger.
The potential for AI is undeniable, but as customer service experts, it's important to remember that there is still no substitute for real human interaction, especially if the goal is to show empathy for customer concerns.
Get the Best-Fit Voice Communication Solution for Your Business
As renowned customer service and experience expert Shep Hyken says, "Customers are people, not numbers." And we offer voice communication solutions that will allow you to deliver the personalized customer service that customers demand.
This blog post has been re-published by kind permission of 8x8 – View the
Original Article
For more information about 8x8 - visit the
8x8 Website