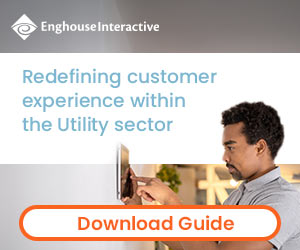 Our experts take an in-depth look at what mobile customer service apps are and how they can benefit your contact centre.
What are mobile customer service apps?
With a growing number of consumers now viewing mobile devices as their primary means of communication with the contact centre, it is becoming increasingly key for businesses to ensure that customers using mobile devices have a quality experience when they reach out to businesses – regardless of the specific communications platform they opt to use.
Customer service apps are simple mobile communications platforms which allow contact centres to directly interact with customers using a mobile device.
The framework can be used to create a custom white-label mobile application, or it can integrate into a contact centre's existing mobile application. The application can then be created to interact with the contact centre in a variety of ways, including voice calls, texts, emails, chat and social media.
This allows companies with contact centres to allow their customers to evaluate their requirements and select an appropriate channel of communication that best suits them, through an app.
Full integration with existing contact centre architecture can also allow the app on all customers' devices to react instantly to changes made to systems configuration and also  provide the customer with a greater level of detail into channel availability and queuing durations.
Customers can use mobile apps to register products, create support tickets and receive value-added services, incentive offers and multiple service capabilities from customer service organisations.
How do mobile customer service apps work?
Mobile customer service apps provide an efficient and convenient way to find information, get answers and contact customer service, which can help reduce contact centre workload and costs.
Mobile customer service apps allow a company to transform its app from being purely transactional to providing cross-channel service conversations. Agents have a full customer history and view of customer preferences via the app and are able to provide a personalised experience for each customer.
Built on top of a fully featured IVR platform, a mobile IVR navigator can take a standard voice IVR workflow and present it visually to the mobile phone user via their screen.
This enables customers to see the menus and prompts instantly rather than having to wait to hear them, allowing them to tap their way quickly through the menu levels, thereby reducing the overall interaction cycle time.
The application allows users to enter transaction details such as account number and date of birth, enabling them to quickly get access to the information they need through self-service, or to rapidly gain a place in a queue for an agent with the necessary skills to address their needs.
Customers also have the option to book a call-back either as soon as an agent is available or within a specified time window. Customers can also elect to start a webchat or to send a request for information (which could result in an email being sent to the contact centre queue for actioning).
Key features
Visual menu navigation helps the customer find their correct path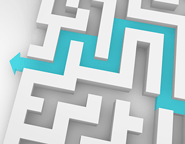 Visual menu navigation displays a full set of menu options on a device's screen, allowing users to quickly choose the path that is right for them.
Standard navigation tools, such as a back button, enable users to freely navigate menus and travel down multiple paths – answering multiple questions – in one interaction.
Customers can view current wait times
User-friendly contact options allow customers to initiate agent-assisted service any time through their mobile app. Customers can view current wait times for multiple communication channels and select the method that best fits their needs.
The user-friendly call-back process adds customers to a virtual queue while continuing to provide agent availability status updates, removing much of the frustration of traditional hold methods.
Channel thresholds can automatically direct traffic elsewhere
Mobile applications can be made to be selective on what channels are presented to suit the opening times and staffing levels of the contact centre, e.g. if emails are peaking, then an email option to respond can be hidden.
These can be managed automatically by setting thresholds that the application will react to.
Self-service resources enable customers to help themselves
Apps enable businesses to educate customers and help them to find the right information on their own – all through one portal.
Additional self-service resources, such as FAQs and knowledge articles, can be accessed through the mobile IVR platform, bringing answers to customers' fingertips.
New channels will instantly appear on customers' devices
As an organisation, if you decide to open a new channel of communication for your customers, any addition will be instantaneously visible and available on all your customers' devices.
This means that your new channel can be quickly utilised without the requirement for additional advertisement or the complicated configuration of a third-party application.
Agents can receive screen-pops of key information
Customers can use context and other data gathered via the app to better prepare agents for each interaction.
Agents can receive screen-pops of key information, providing them with valuable context to better serve customers.
Agents are able to make location-specific decisions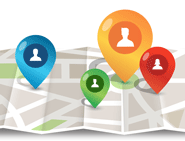 Using geolocation context within the app, agents are able to provide location-specific decisions and recommendations for customers.
For example, if a passenger is in the wrong terminal for their flight, the agent can let them know.
Push notifications can respond to contextual information
Businesses can use mobile customer service apps to send push notifications via the app in the form of an SMS or automated voice call to respond to contextual information.
Customers are in control of the engagement
Customers can control when and where they want to engage with customer service agents and can turn notifications and live chats off when they are not needed.
Integrated feedback functions measure customer satisfaction
Many customer service apps have integrated feedback functions to measure satisfaction with specific support channels, such as live chat, as well as analytics for both overviews and visibility.
Which areas of the contact centre can it help to improve?
Apps can simplify the customer experience
Mobile customer service apps can help improve the overall service when dealing with a brand, whilst at the same time simplifying engagement and delivering a smoother experience to customers when engaging with the company.
Your customers can find the best option for them
Apps can also help improve customer service by allowing the direct empowerment of the customer by letting them know how best to contact a company.
This reduces potential customer frustration in the face of delays. It also improves contact centre efficiency by automatically letting users know when there is peak traffic and suggesting an alternative means of contact such as text or email.
There are also applications that can be created to help a business manage communication with its customers. The most popular use will be to manage voice traffic peaks by giving customers alternatives for contact such as email and chat.
Customers can connect to the contact centre without starting over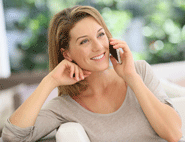 Often customers aren't able to resolve their issues through an app and need to connect with customer service.
However, they do not wish to leave the app to do so. Through mobile customer service apps, customers can be connected to agents without having to leave the app, ensuring a better customer journey.
Call volume could drop as customers visit the app for answers first
If your contact centre is available through a mobile app, many customers will go to the app first to find answers. This could reduce the number of questions received in the call centre.
Provide your customers with an easy-to-find, helpful guide within the mobile app that allows them to self-serve while still giving the answers and information they need.
What to watch out for (disadvantages)
The need to download the app
One of the biggest disadvantages is the obvious need to download the app from the iTunes or Android store. This tends to make them better suited to regular customers.
An alternative is to develop a lightweight, mobile-friendly facility on the website that looks like a mobile app.
Expecting too much of the technology
One of the potential dangers with mobile customer service apps is that businesses get carried away with this kind of technology and try to do too much with it.
Organisations need to be aware of their customers' preferences and they need to track those and ensure they adapt their approach accordingly. The technology may have all the capabilities that the business is looking for, but they need to make sure they apply it properly in order to get optimum results from it.
Annoying customers by sending duplicate messages
It's important to ensure that your mobile customer service app is not duplicating push notifications from other sources – this will frustrate the customer, who could end up receiving multiple notifications via the same device.
Overlooking the need to monitor the customer experience
Monitor potential problems, see what's working and what customers seem to enjoy most about the app. Always action feedback as this also helps customer service when problems arise.
Offer solutions and helpful information from your mobile app in an-easy-to read and intuitive format. Enable customers always to be informed and up to date.
Directing already-irritated customers to download the app
Be aware that downloading an app is not an intuitive part of the customer service process and can create a barrier to content that should be easily searchable so that solutions can be found with the minimum of stress.
Asking an annoyed customer to download an app will irritate them further.
How much should I budget?
The running costs of a mobile application will vary depending on the devices using the application. Some apps will be priced on data traffic, so cost will be directly proportional to the number of users exchanging data with the contact centre.
There will also be an initial cost to set up the system and develop or modify the mobile application. These costs can vary depending on whether the application is developed in-house or by third-party staff and also on how simple or complicated the application is.
A contact centre making 40,000 agent calls a month and converting 10% of them to self-service using either the traditional Voice IVR or Mobile IVR Navigator solution could potentially achieve savings that could pay for the initial technology investment in under one calendar year.
Overall, prices vary per agent per month and also depend on the number of locations. Examine the customer service app options available to your contact centre and ensure the solution that's best for you is easily deployable and scalable, with the option to cancel at any time.
Typical costs would be in the range from £20,000 to £150,000, depending upon complexity.
Thanks to the contributors who helped supply the information for this article (photographs left to right):

• Roy Sayles at Azzurri Communications
• Anthony Stephenson at Enghouse Interactive
• Lucille Needham at Genesys
• Chris Dealy at injixo