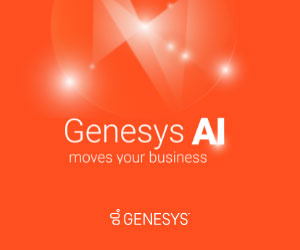 IP Integration (IPI) has been honoured by Genesys during the Genesys Partner Vision 2020 virtual event.
IPI was named "New Partner of the Year" in recognition of the pivotal role it played helping essential, front-line organizations quickly and seamlessly move their operations to Genesys Cloud, allowing them to continue to provide the very best customer service, while also protecting their employees.
IPI has been a Genesys Cloud Partner since 2019.
The contact centre technology vendor has invested heavily in understanding, supporting and complementing the Genesys contact centre portfolio.
These investments include developing a programme that removes the risks associated with moving away from legacy, on-premise contact centre environments while also ensuring its clients can maximize their investments as well as offer increasingly innovative services to their own customers.
The programme builds on IPI's 20-plus years of experience in designing and supporting some of the UK's busiest and highest-performing contact centres.
"The last year has been hugely challenging for the contact centre industry, with many organizations forced to reinvent their operations more or less overnight," said Dave Glasgow, Director at IPI.
"The whole IPI team stepped up to help the industry meet this considerable challenge, working round-the-clock to support clients – both new and existing – shift to Genesys Cloud without any risk to their operations, and with the shortest possible time to value. This award recognizes their hard work and expertise."
"The Partner Vision 2020 was set up to recognize our partner ecosystem in these extraordinary times. Now more than ever, our customers need to partner with companies that offer a clear vision, flexibility and opportunity to deliver continued value and support," says Bas Diepen, vice president alliances and channels, EMEA.
"IPI has demonstrated its dedication to delivering continued value to our joint customers, making them an ideal winner of this award in recognition of their partnership with Genesys."
This news story has been re-published by kind permission of IP Integration – View the original post