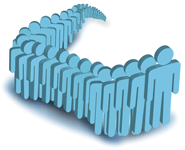 Chris Key looks at some reasons why you need a single unified queue in your call centre.
1. Respond to Twitter complaints before they escalate
Detect and respond to complaints or comments which customers post on Facebook and Twitter before they escalate.
It is possible to route tweets and Facebook messages into the unified queue and forward them to the next available agent. Some call centres use social media interaction 'miners' to accomplish this and others use customised software.
2. Handle queries outside of business hours
Through the support of email, chat, Twitter and other social networks, it's possible to handle enquiries outside business hours with fewer staff members.
Most customers won't expect a phone call in the evening but would be pleased to receive an email or chat response.
3. Create auto-responders for instant responses to FAQs
Provide automated answers to frequently asked questions on Twitter.
You can create auto-responders by detecting certain keywords such as "opening times" or "contact details" in the text of a tweet. An instant answer will always please a customer.
4. Respond quickly to SMS messages
Respond quickly to SMS messages within the same interface.
SMS messages can be converted to an email and sent to the unified queue.
There's no need for the agent to move to another SMS messaging interface.
5. Deliver an efficient response to deaf customers
Some unified queues offer deaf minicom (textphone) services or support video sessions, so that agents skilled in sign language can communicate with deaf customers effectively.
6. Manage resources based on levels of channel use
The unified queue system can help build a profile of channel usage based on the time of day.
This way, your business can allocate resources more efficiently, improve customer service and keep costs down.
7. CRM integration allows agents to view up-to-date records
Integrate with customer relationship management (CRM) systems for greater service.
With CRM integration, agents see up-to-date customer records (such as through screen-pops), regardless of which channel the customer chose to initiate communications. This can help to improve response times.
8. Display average response times by channel on your website
Unified queue reports generate real-time response statistics which can be displayed on your website to help customers choose the best channel of communications.
The single queue for all channels helps your business to interact more effectively with today's consumers, who not only prefer but expect to be able to contact you in different ways.
This means contact centres can reduce telephone costs while completing more transactions within acceptable timescales. And, it means that every customer or potential customer is rewarded with a timely and satisfying experience, regardless of which method of communications they choose.
After all, customers are far less likely to go elsewhere if all their needs are met by your business on their first point of contact and at every point thereafter.
With thanks to Chris Key at Hostcomm
---
---