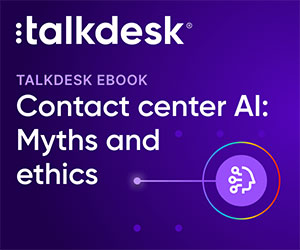 Duane Peck at Talkdesk explains how you can prevent high call volume and mitigate the downstream impacts of holiday-driven contact centre surges.
The five-day holiday shopping weekend that extended from Thanksgiving through Cyber Monday continued a trend that we at Talkdesk have been following since 2020. We analyzed call data from a representative group of retail customers for the long Thanksgiving weekend and found that their volume increased just under 41% compared to the previous year.
Although some of this can be explained by the organic growth of our customers, many pandemic-driven conditions are still in effect and have even been confounded by new variables, including:
Continued Reliance on E-Commerce
While customers are finding their way back to shopping in brick-and-mortar stores, the penetration of e-commerce sales, which reached new heights during the pandemic, has sustained a level higher than its previous 2019 growth trajectory.
Online shopping and fulfillment are not only more expensive for retailers but are also naturally more service-intensive (with "where is my order?" being a top inbound contact centre issue). Depending on the category, online purchases are up to three times more likely to be returned than items bought in physical stores.
Supply Chain Complications and Disruptions
By now, everyone is familiar with the supply chain disruptions and product shortages retailers have been coping with for much of 2021. Labor shortages and increased costs have also compounded this new challenge, wreaking havoc for global retail trade. As a result, many shoppers have adjusted their buying habits to mitigate supply and fulfillment issues by stocking up in case of shortages.
How Retailers Can Prevent High Call Volume During the Cyber-5 Period
While supply chain issues and delivery delays are not on their hands, there are some action items retailers can take to prevent the high call volume and customer service restraint:
1. Improved Automation and Self-Service
One consistent theme we have seen with retail prospects and customers throughout 2021 has been their focus on bolstering their automated self-service capabilities.
The benefits of providing customers quick access to the information they want, in their own terms, are obvious—reduced costs through call deflection, improved customer satisfaction, and improved resolution rates, just to name a few.
During the holidays, these capabilities become critical. Whether via virtual agents (voice or chat driven), SMS, or customer-facing knowledge base portals, customers want immediate access to answers such as "Where is my order?", "What are your store hours?" or "How can I buy a gift card?"
Stronger capabilities to deflect these calls away from live human agents and provide satisfying results create a win–win for both your service operation and your loyal customers.
2. Smarter Returns Processes With the Help of Artificial Intelligence (AI)
The post-holiday returns avalanche has been a costly challenge for most retailers that continues to grow in size. As consumers increasingly expect fast, free shipping, they have also been conditioned to expect free and seamless returns.
In America alone, last year, shoppers returned more than $428 billion in merchandise, accounting for 10.6% of total 2020 retail sales. But there are now tools and technology that help retailers salvage a fraction of that lost revenue.
AI-powered agent tools, for example, can help human agents to shift a portion of returns to exchanges by suggesting in-stock alternative products and upsell opportunities.
3. Proactive Customer Communication
All good customer experiences are centered around communication. Ensure you are proactively reaching your customers and informing them of anticipated delays.
Next year, if you expect holiday shipping cutoff dates to be earlier than normal and want your customers to be prepared for fulfillment alternatives, make sure this messaging is available early and highly visible throughout all customer touchpoints.
This blog post has been re-published by kind permission of Talkdesk – View the
Original Article
For more information about Talkdesk - visit the
Talkdesk Website