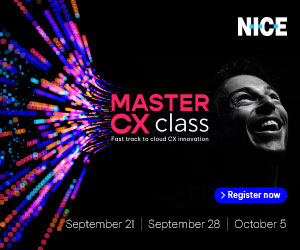 Kenneth Brisco of NICE discusses the best ways to measure customer satisfaction throughout the customer experience.
As we step into the second month of 2019, it's crystal clear that we now operate in a customer experience economy. No longer do price and product alone compete in the marketplace – customer experience, customer loyalty and of course customer satisfaction are all just as critical to a company's success.
Measuring customer satisfaction is vital for growth in any organisation; it provides insights into what works and offers opportunities for optimisation. Customer satisfaction is essential for improving loyalty rate, reducing costs and retaining your customers.
How Do You Measure Customer Experience in Your Organisation?
There are several metrics to choose from when evaluating customer experience. ​​Trying to determine which ones are best for your company can be a daunting task.
To help simplify these decisions, Forrester Research has categorised customer experience metrics into three levels: Relationship, Touchpoint and Customer Journey.
To ensure that your measurement programme is capturing a complete picture of your customer relations, it is best to measure at all three levels.
Let's take a quick look at each of them:
The Relationship level is defined as the lifetime experience that customers have with your brand. Commonly used metrics at this level are Customer Satisfaction, Customer Effort Score (CES) and Net Promoter Score (NPS).
The findings from these metrics express the overall perception of your organisation over a lifetime of interactions. The Relationship level helps to determine how loyal customers are to your brand and what the future will entail with them.
The Touchpoint level provides visibility into specific, discrete interactions that your organisation has with your customers. Examples of these interaction types include chatting with an agent online to resolve an issue, adding a new feature to your service over the phone or servicing a product at a retail store.
Commonly used metrics at this level include Average Hold Time (AHT), Average Resolution Time and sentiment analysis. These metrics are usually given at the completion of an interaction and provide great feedback into areas that may need substantial improvements.
The Customer Journey level is defined as the set of interactions required to accomplish a customer task or goal. A typical customer journey will usually require interactions across multiple channels. Practical examples include the steps taken to get a new credit card or upgrade your mobile phone.
The Customer Journey level helps organisations understand how past interactions can influence current and future interactions and journeys. Visibility into the end-to-end journey helps to identify customer patterns across multiple touchpoints and uncover gaps and bottlenecks between interactions as well as give a voice to the "silent majority" of customers who don't provide feedback to surveys.
NICE Nexidia recently released an innovative metric, the Journey Excellence Score (JES), that enables measurement of customer experience quality at the customer journey level. JES calculates scoring based on the root causes behind journey interactions across multiple touchpoints and over time.
While there is no "one size fits all" approach to measuring customer experience, there are certain factors that should be considered to help drive the effectiveness of your metrics. Your organisation should look at three important questions before implementing your measurement programme:
How do these metrics correlate with your corporate goals?
What plan of action will be used to respond to feedback in a timely manner?
How will this programme be used to incentivise employees?
Analyse That Data!
How you collect your data is important, but how you analyse your data is even more important. For your business to stay alive and top of mind, prioritising customer satisfaction is incredibly important.
Using NICE Nexidia solutions will help you dive into the wealth of your big data with comprehensive, positive outcome-based analytics that mine the full range of business insights from all customer touchpoints – the omnichannel experience.
Through this data you'll see how your organisation can bring about behavioural change in the contact centre and drive best-practice optimisation.
Prioritise your customer satisfaction. There's a wealth of information out there and the possibilities are endless, but it all starts with accurately measuring customer satisfaction and analysing that data! ​