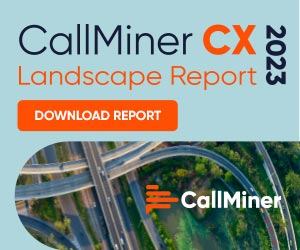 Robert Stanley of CallMiner shares the most effective ways to boost contact centre efficiency, as given by contact centre experts.
The struggle with contact centre efficiency is common at one time or another. And because efficiency is directly tied to minimising overhead costs in the call centre, it's a prominent challenge.
Coping with unanticipated upticks in demand, staff turnover, and other common call centre challenges only further complicates matters for managers working to create an efficient, productive, and effective team.
Tips for Contact Centre Efficiency
To gain some insights into the specific strategies and tactics call centres can use to boost efficiency and arm you with effective strategies you can put to use, we reached out to a panel of call centre experts, managers and leaders and asked them to answer this question:
What is the most effective way for a contact centre to increase efficiency?
Find out what you can do today to boost efficiency and improve call centre performance by reading our pros' responses below.
"The best way for contact centres to increase efficiency is…"
…to stop focusing agents on efficiency, even if that is counter-intuitive. Have agents focus instead on fully resolving customers' needs on the first contact whenever possible and preventing repeat contacts.
One contact centre stopped sharing average handle time statistics with agents and focused agents on first contact resolution metrics instead. Repeat calls went down, but so did average handle time!
Another contact centre stopped asking agents to work on emails in between calls and assigned agents to either the phone queue or the email queue. Efficiency increased in both queues and errors dramatically declined because agents were more focused.
Now, here's the caveat. Management should still track productivity metrics like average handle time, emails per hour, or chats per hour.
Rather than putting those metrics in front of agents, contact centre leaders should look for outliers. These are agents whose productivity is significantly above or below the average. An outlier is likely someone who needs some extra assistance.
Jeff Toister, a Customer Service/Experience Author
"One of the most important aspects of a call centre is that phone traffic flows correctly…"
Nothing slows down the efficiency of a call centre more than poor call traffic distribution. If customers are being sent to the wrong department, then they are tying up customer service personnel from helping the right people. It ties up lines and makes the whole centre fall behind.
Tyler Riddell, Vice President of Marketing for eSUB 
"The best way for contact centres to increase efficiency is…"
Motivational posters were part of a study at a call centre, and they found office art and motivational posters increase productivity by 33% compared to barren offices.
Published in Human Resource Management, an independent study conducted in a real-world work environment concluded that workers in an office with motivational pictures increased their performance success rate by 33% compared to call centre employees with the same task in an office lacking motivational art.
Additionally, call centres can simply increase productivity with small investments in recognition and reward items.
According to Gallup, 69% of employees would work harder if they were better recognised. And our studies have shown that constant recognition reinforced with small, cost-effective gifts can increase productivity by 20%.
Simply institute daily and weekly goals to reward employees with small items such as lapel pins or fidget toys for hitting or exceeding those goals.
Unfortunately, the general mentality is that a pay cheque is not a reward; it is expected for simply showing up. However, positive reinforcement and reward-based behaviour gets the most out of employees while they are there.
Vincent Nero, the VP General Manager of Successories
"The number one way to increase efficiency in a call centre is by…"
…being responsive and getting back to potential customers in a timely manner. Prospective customers like to feel that they matter.
Being responsive, setting follow-up reminders, and doing what you say you are going to do increases customer acquisition and helps the centre run more efficiently.
Rachel Ivers of Baceline Investments 
"There are several effective ways for call centres to improve efficiency including…"
Reduce Turnover – Keeping a stable team will help you to reduce training costs and time. It will also help you to monitor productivity on a longer-term scale. Do your best to:
Monitor and generate engagement; check in often
Make on boarding and ongoing coaching as stellar as possible
Encourage honest and open communication
Strive for ongoing learning, skill building, and development
Discover and provide purpose/meaning … set quarterly goals outside of day-to-day responsibilities.
Optimise individual efficiency – Ensure there is enough 'refresh time' to have people running 100% when on the queue. Burnt-out staff produce less.
Have the best technology – Finicky technology that makes day-to-day functions difficult adds to the frustration and takes up far more time and effort than most realise. No sacred cows … watch out for any processes that are time vampires.
Metrics, Measure, and Monitor – Make sure your metrics and associated goals are clear and concise while aligning with efficiency and effectiveness. Make each metric public and ensure everyone knows why that metric is measured. Monitor each metric and make performance accessible to all so goals are transparent and everyone can contribute to reaching milestones.
For most, contact centres are the heart of the business. Make sure your employees believe in your core values. Lastly, make it fun! Keep a stimulating environment that people enjoy working in.
Katherine Dougherty, National Sales Centre Director at MaidPro 
"One of the biggest strains on contact centre efficiency? Too many portals…"
Many agents end up with multiple tabs open on their screens, flipping between them to complete the enquiry generation process. This juggling act severely impacts lead quality and quantity. Average handling times (AHT) increase. Errors happen. Compliance missteps occur. Customer service diminishes.
So much of contact centre efficiency hinges on using the right technology. It's crucial that contact centres implement a tool that pulls in all of the necessary portals and processes into one simplified platform.
Kolin Porter is the Vice President, Product Innovation at Higher Ed Growth
"The best thing that you can do to increase efficiency at a contact centre is…"
…to implement continuous training. Most centres do front-end training and that's pretty much it. They don't do anything else except maybe monitor a few calls and give some feedback.
When it comes to contact centres, a huge amount of money is lost when someone has an undeveloped skill. If someone is making a mistake for two months waiting for his/her quarterly coaching session, thousands of dollars can be lost. Continuous coaching and training helps mitigate this risk.
James Pollard is a marketing consultant at The Advisor Coach
"There are several ways that contact centres can increase efficiency …"
And most fail to do simple things that would make a great impact on floor productivity. Here are eight good practices a contact centre should have:
1. Motivation is the key to success in any contact centre: Every agent is different when it comes to motivation. However, it is up to the executives and floor team to find out where the happy medium is with everyone. Also, it is understood that a customer service team and a sales team need different types of motivation techniques. This is the main key to keeping agents happy and productive. Happy agents equal better productivity and better quality.
2. Proper training: Giving proper training to agents in the beginning is very important as they will learn how to resolve certain issues and have the proper knowledge of the campaign. This will improve campaign performance overall, including agents' service levels. Training documentation needs to be updated regularly, and ongoing training is important for improving efficiency.
3. First call resolution: In today's busy world, each customer wants to resolve their problem(s) fast and efficiently without having to constantly follow up. Therefore, it is very important that the contact centre have a strong training session for any given campaign so that agents are aware of all aspects and can offer a one-call resolution for each client that they are in contact with.
4. Reduced queue wait time: This can be done by having a strong dialler that can reroute calls to different agent groups. Example: Campaign A has a high call volume but Campaign B has fewer calls and the agents that are assigned to Campaign B are not busy. Rerouting the calls to the Campaign B agent group improves efficiency. This can be achieved if all agents are trained on both campaigns so that the queue hold time can be reduced.
5. Re-visiting key performance metrics: When thinking about a call centre and metrics, we mainly focus on Average Handle time (AHT) or average talk time. These are some of the main metrics; however, we also must think about the call outcomes and other key factors that can impact the business. Depending on the business, these factors might be customer satisfaction, new sales, lifetime value of customers, and first call resolution rate, and these should also be measured to have a good balance between efficiency and effectiveness in a campaign.
6. Agent desktops: Having a user-friendly desktop for agents so that they can efficiently have everything they need in one area is a great way to have a healthy AHT, and most importantly agents can assist the customers efficiently and effectively.
7. Agent empowerment: Having all the information that the agents need is very important so that they have the right information at the right time. In return, the customer experience will improve and agent frustration will be reduced.
8. Daily meetings with agents: Daily meetings with each team member are useful not only to know what is expected of the team for the day, but they also make everyone feel that they are part of a strong group and help team members feel motivated before they start their daily duties.
If all these points mentioned above are practised, the contact centre will have a great track record with their clients and agents alike.
Srii Srinivasan, Founder of Chargeback Gurus
"Key components in increasing the efficiency of contact centres include…"
Live call monitoring, coaching, and inter-agent chat. Being able to monitor calls and have the instant support of other more seasoned agents give newer agents a sense of security and confidence. Confidence in employees increases efficiency.
Jeff Greenfield, Co-Founder and Chief Operating Officer of C3 Metrics
"Steps in increasing contact centre effectiveness include…"
Hire the right agents to fit your company culture and pace of your call activity. Use agent profiles and pre-screen your candidates with vigour. If your agent is coming from a low-call-volume centre, likes the lull between calls, and does not have the mindset of a face-paced, efficiently routed centre, they will fail.
Use technology to give your agents access to information quickly and in a universal standard for easy adoption. The use of CTI on screen prompts, logic based scripting, and easily accessible FAQs allows agents to access customer information and solutions quickly.
Create a shared agent environment where calls are routed by agent skill set. The use of skills-based routing within your ACD can drastically help to positively impact overall ASA and reduce agent handle time.
Choose the key metrics that you will use to monitor your performance. What is not measured is not met. To create efficiency, you will need to select quantitative measures like average speed to answer (ASA) and benchmark global percentage of calls to be answered in a defined number of seconds and measure your occupancy rates. Keep control of your agent disconnect time – this will need to be measured vs. your occupancy to assess how productive your agents are. Finally, make sure you have agent scorecards that accurately reflect their performance vs. the metrics you are measuring for quality and productivity.
Reward your agents with incentives when they hit your performance metrics. Have a clear process for escalations. Give your agents a support team that is accessible both on the floor and during the live call. We suggest keeping your management to employee ratio in the neighbourhood of 20:1 or less. We strive to be at 15:1, with team lead support on deck during the call.
Continuous improvement training as your agents progress through your established skill sets. By establishing a continuous training schedule, you can be sure that each agent will receive the appropriate training to handle assigned call types. This allows agents to feel confident in the skills that they obtained for the assigned level.
Feedback loops are imperative to success. We tend to focus on scheduled agent feedback meetings and use inter-agent chat to allow agents to share common issues and get answers. Chat can be accomplished in many ways. We have an internal chat system designed into our agent dashboard.
Smitha Baliga is the CEO and CFO of TeleDirect
"One way to increase contact centre efficiency is…"
There is nothing worse than receiving a sales call with a long awkward pause before a connection is made. Not only is it a strange way for a conversation to start, but it wastes the time of your prospect and the time of your sales agent.
Eliminating this delay on every call by using dialling software is a sure-fire way to cut down on inefficiency throughout the work day.
John Rydell of PhoneBurner. 
"The most effective way that contact centres can increase efficiency internally is…"
Through outsourcing their quality assurance to a country that offers labour at a lower wage.
For North American call centres that have in-house sales/customer support personnel, oftentimes there are multiple players of management. This may include a team captain, a quality assurance specialist, a campaign coordinator, and a programme/floor manager that all report to a unit director and other persons within senior management.
These multiple layers of accountability serve to ensure a well-oiled machine, and there is often a good ratio of 30:1 front-end call reps to management.
The QA can work independently from the team – if the feedback/coaching can be transmitted to a team leader that is in touch with the team regularly.
Aside from decreasing operating costs, this also allows team meetings that are typically run by a team leader or campaign coordinator to also include QA feedback. If a QA person is responsible for delivering coaching/feedback, it can be time-consuming.
Oftentimes for QA – aside from new products and script changes – the soft skills and deviance from the script can be more closely related to the work environment.
Rather than segmenting the QA role away from the team leader – by a 3rd party delivering consistent feedback, especially if they work in a time zone that will operate when the home time zone is off work or sleeping, it can be part of a morning ritual.
Scott Nazareth, CEO of Loanerr.
"The key to having the most effective contact centre is…"
One word…. HIRING.  Hiring the right people, with the right attitude, outlook, and demeanour will always have the biggest impact on how efficient your contact centre can be.
If you have the right people on the team, you can easily implement processes (many of which will come directly from the people you hired) and have employees that enjoy their work.
Ben Friedman is the Co-Founder and Head of Operations at All Set
"The best way to increase efficiency of contact centres to increase efficiency is…"
As someone who has used a contact centre in the past, I know there is always room for improvement. From my past experience, a lot of my customers were frustrated with the agent and their inability to solve their issue, which resulted in lots of transferred calls and long wait times. This could have been easily improved by identifying the reasons customers are contacting my business – sorting and transferring calls based on the reason of contact. It would send my customers to the correct agent every time, improving the wait time and efficiency of the contact centre. Using feedback also helps the contact centre monitor the effectiveness of the agent and their ability to satisfy the customer. It would help detect any issues with the agent and offer managers a way to communicate any problems directly with the agent.
Lisa Chu, Owner Black N Bianco. 
"The most effective way for contact centres to increase efficiency in a sustainable and meaningful way is…"
To work backwards through their organisation: the most efficient contact centre is the one that doesn't need to be used.
Understanding why your customers are contacting you, and using that Pareto analysis to fix upstream issues is the most important work of a contact centre manager.
Call prevention is the highest performance outcome, but to reduce inbound calls, you need to work with other areas of your operation (sales, product development, IT, etc.) to address root cause issues.
In addition to increasing efficiency of your contact centre, you'll be able to increase customer satisfaction and loyalty.
Brett Remington is the Executive Director of the Wisconsin Center for Performance Excellence
"We've had success in increasing efficiency of contact centres by…"
Isolating the most important behaviours at the agent and team level and reinforcing them consistently through training, recognition, calibration, and call coaching.
The contact centres I've been working with have made huge progress in quality and efficiency by working with agents and nailing the first 30 seconds of the call: opening with confidence and empathy, showing up as an expert, and letting the customer know how much you care.
We've aligned coaching, training and performance management systems around this focus. Calls go more efficiently and more smoothly.
Karin Hurt, Founder of Let's Grow Leaders
How Can I Improve My Call Centre Efficiency?
There are a number of individual ways to improve the efficiency of a call centre, many of which come from the experts in this article. Most tactics can be classified in one or more of the following four categories:
The Customer: Understanding the customer, reasons for calls and even having relevant personas is all necessary data for improving efficiency in a particular call centre.
Agents: Improving the ability of individual agents, refining your hiring to improve agent quality and working to continually train reps for improvement are typical ideas for improving the overall function of a centre.
Technology: The ability to listen to calls, segment callers to the correct department and see metrics that matter to the operation are all great examples of how tech can be implemented in a call centre.
Processes: From intricate details, like the specifics of a call centre's hiring process, to how supervisors review performance and listen to call recordings, there are a great deal of processes and systems.
Many of these categories of improvement have crossover. For instance, a piece of technology could improve the customer experience, agent performance and the overall processes all at once.
Successful Call Centre Strategies
It's important to understand both the needs (of your customers, reps and company) as well as how to meet those needs via technology and/or processes.
You might consider solutions that help you listen to your customers or streamline QA processes, such as speech analytics solutions. Tools such as speech analytics can help boost agent performance while also ensuring compliance with regulations.
This blog post has been re-published by kind permission of CallMiner – View the
Original Article
For more information about CallMiner - visit the
CallMiner Website