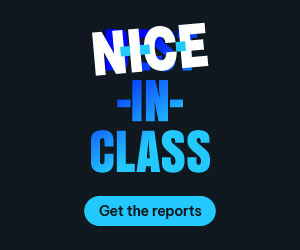 NICE has been recognized by destinationCRM's 2023 CRM Industry Leadership Awards as a top five finalist across three major categories honoring the Best CRM Software, Solutions, and Innovators across the contact center industry.
These three awards categories include Best Contact Center Infrastructure, Best Contact Center Interaction Analytics, and Best Workforce Engagement Management (WEM).
destinationCRM/CRM Magazine's 2023 Industry Leadership Awards highlight the top technology vendors in customer service, marketing, and sales, covering enterprise and midmarket/small business CRM suites, contact center infrastructure, contact center interaction analytics, marketing automation software and solutions, salesforce automation software and solutions, customer data platforms, business intelligence and analytics, workforce engagement management, and contact center outsourcing, based on feedback from leading industry analysts and consultants.
"We are once again pleased that destinationCRM's judges acknowledged that NICE delivers an industry-leading combination of Contact Center Interaction Analytics and Infrastructure, and Workforce Engagement Management on the CXone open, cloud CX platform," said Barak Eilam, CEO, NICE.
"We are honored to see that our substantial investment in CX innovation along with our significant business success is reflected in these awards, as we enable organizations to differentiate through customer experience in today's digital era."
Addressing NICE's strengths in the "Best Contact Center Infrastructure" category, destinationCRM wrote, "CXone has emerged as the centerpiece of NICE's entire contact center portfolio, and with good reason.
Analysts have long said that CXone is a complete package that contains everything a contact center could ever want, and it's only getting better with NICE's ongoing development around its Enlighten AI engine."
According to industry analyst and awards judge Max Ball, principal analyst at Forrester Research, "With CXone, NICE has melded functionality into a single platform that provides omnichannel customer service, full workforce optimization capabilities, and powerful AI."
Referencing NICE's position in the "Best Contact Center Interaction Analytics Category," destinationCRM.com noted, "NICE has been a stalwart of the interaction analytics space for decades, and 2023 has been no different.
Its CXone Interaction Analytics is AI-powered, omnichannel, and able to identify trends and root causes across 100 percent of interactions—whether they're voice, text, or digital—to understand what was communicated, identify outcomes, and evaluate the overall experience.
Analysts expect the product suite to only get better and further NICE's dominance in this area as the company continues to incorporate its Enlighten AI engine more deeply."
Addressing NICE's third award, "Best Workforce Engagement Management (WEM)," Sheila McGee-Smith, founder and principal analyst of McGee-Smith Analytics, said, "Integrated seamlessly with a CX platform? Check! Best-of-breed solution with any contact center solution? Check! Continually raising the bar? Check!"
Added the publication, "But NICE is not just in it to check off boxes. Its solutions are the real deal, and the company keeps pushing the envelope as it more deeply integrates its Enlighten AI engine into the larger CXone platform, helping to simplify a very difficult process."
Added Rebecca Wettemann, founder and CEO of Valoir, "NICE continues to be one of the most attractive WEM vendors for customers with very complex requirements."
This blog post has been re-published by kind permission of NICE – View the
Original Article
For more information about NICE - visit the
NICE Website