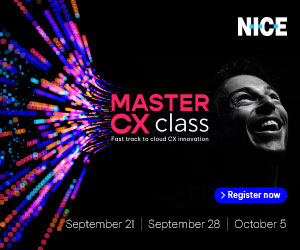 NICE has announced the launch of new virtual events presenting thought leadership and best practices for ensuring extraordinary experiences in the face of dynamic change.
While many organizations have ensured business continuity by having employees operate remotely from home or in hybrid remote/in-office environments, neither the pandemic nor the pace of change is showing signs of abating.
Agility in understanding the implications of change and swiftly making critical decisions that drive unparalleled customer and employee satisfaction is pivotal to business success.
This series of virtual events, named "Agile Customer Experience: Leadership for a New Reality" will demonstrate how organizations can leverage intelligent analytics, automation, cloud and WFM technology to deliver agile customer experiences that generate loyalty.
This series of virtual events will feature revered analysts and NICE product leaders sharing steps companies can immediately take to empower agents as they work remotely and drive workforce agility.
Analyst firms slated to present include Aberdeen, DMG Consulting, McGee-Smith Analytics and more. Key virtual events in the series include:
October 15, 2020: Paul Stockford, President & Chief Analyst, Saddletree Research, will discuss "The Contact Center Perfect Storm and the Agile Workforce"
November 12, 2020: Donna Fluss, President, DMG Consulting LLC, will present "WFM Re-Imagined for the Post COVID-19 Workforce"
December 1, 2020: "How AI-Driven Quality Monitoring Delivers Agile Customer Experience" by Sheila McGee-Smith, President & Principal Analyst, McGee-Smith
December 3, 2020: Dana Shalev, Head of Product Marketing, Multi-Channel Recording, NICE, will discuss "Contact Centers' Irreversible Trends"
Eran Liron, Executive Vice President, Marketing and Corporate Development, NICE, said, "While a lot has changed in the past six months, the importance of customer and employee experiences has not."
"Agility in rapidly adapting to change, whether in customer or employee needs or the business environment, directly impacts loyalty and determines the leaders of tomorrow."
"We're pleased to bring this series of virtual events to help organizations deliver agile customer experiences and stay on the winning side of the finish line."