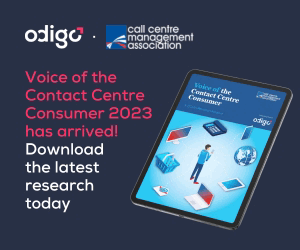 Alain Mathon of Odigo shares his advice for those who are considering moving their contact centre to the cloud.
Cloud hosting refers to more or less shared hosting (on private or public clouds) outside the company's dedicated information system (IS), i.e. outside its premises. It is an alternative to on-premise hosting, which refers to on-site hosting.
Each year brings further adoption of cloud technology for business use. Whereas in 2015 the cloud computing industry was worth $67 billion, it is projected to grow by 142%, to $162 billion, in 2020 – according to Forbes.
More and more companies are deciding to make extensive use of cloud-based solutions as part of customer experience projects. This is not surprising when you know that the ROI of cloud-based CX software is 3.2 times higher than its on-premise counterparts.
The Cloud to Reduce Costs and Improve Performance
Is the purchase and maintenance of your IS costing you money? The transition to a contact centre as a service (CCaaS) solution is often made with costs reduction in mind.
With the cloud, there is no need to invest in the installation (sometimes requiring the intervention of an integrator) or in the maintenance of expensive infrastructures to support your contact centre applications.
Also, you can say goodbye to the cyclical purchase of equipment, the renewal of quickly obsolete licences, and the need to keep a myriad of technical and business skills in-house.
Another advantage of a SaaS (software as a service) platform is the pay-per-use option. Thus, if you use your solution more than usual during a given period of the year, you are no longer required to scale up the infrastructure accordingly throughout the year. You are only charged for the actual use.
In addition, with a CCaaS solution, adopting new services or upgrading becomes much easier.
Finally, the cloud allows you to better share your data since the majority of SaaS-based applications are able to interact within application ecosystems. This greatly simplifies the injection of data into your agent's console and links between applications.
In short, the cloud allows you to free yourself from IT and hardware constraints, access the platform from anywhere, and always be up to date. All this while saving money!
As a result, you can remain 100% focused on your core business.
The Barriers to Cloud Migration
There are three types of barriers to cloud migration: fear of losing security, fear of losing customization, and resistance to change.
In terms of security, it is undeniable that in the era of the GDPR, the use of the cloud raises a number of issues around storage, retention, portability, continuous accessibility, and data protection.
For this reason, it is crucial to ensure that your service provider has obtained ISO-27001 and ISO-9001 certification, but also that it complies with specific industry standards (such as PCI DSS for blue card processing or HDS for medical data).
Whether you choose a private or public cloud, you can store your information in data centres and on secure infrastructures.
However, companies handling a large amount of sensitive data will often prefer to rely on the private cloud, which has even more restricted and protected access. This effectively reduces the risk of disruption and natively integrates resilience mechanisms.
In these circumstances, you will achieve a level of security similar to, or even higher than, that of on-premise hosting.
What about customization? While the requirement to adapt a cloud provider model is sometimes seen as a disadvantage, significant progress has been made in this area.
Today, a well-designed solution based on the private cloud (with the creation of dedicated instances) allows a degree of customization that is second to none, even in the case of very heavy IT processes.
Let's face it, migrating to the cloud still remains a small revolution for many. The weight of history, the cultural dimension, or the habit of controlling the entirety of one's information system are all factors that contribute to a certain resistance to change. This is why it is crucial to choose a partner able to accompany you throughout this migration.
Support, a Key Element for a Successful Cloud Migration
When it comes to cloud customer relationship solutions, there is nothing better than a publisher that is also an integrator and a telecom operator to provide an end-to-end service. This gives you a degree of flexibility that is difficult to match.
Also, if part of your information system (legacy, customer records, etc.) remains on-premise, APIs make it easy to link the solution to not only telephony tools such as Skype, but also CRMs like Salesforce, Microsoft Dynamics, Zendesk, etc.
Only a service provider able to implement an agile approach focused on understanding the customer's business infrastructure can ensure the success of your migration to the cloud. This is why it is crucial to set up a real change-management methodology with the help of technical and business consultants.
Present throughout the migration, they are able to better understand the nature of customer issues to configure the solution and the cloud system according to your contact centre's needs.
The ideal is to start with a one- or two-month immersion phase with the business and IT teams. This gives them the time to better understand how the solution works and get proper training.
In addition, as IT constraints must always be kept in mind, especially when it comes to security, the identification of key processes will allow the cloud platform to be perfectly integrated into the customer IS via a large catalogue of APIs.
Finally, a test phase of the solution must systematically precede its production launch (always leaving the customer with the possibility to revert to an older version, if necessary).