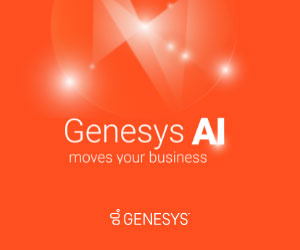 Keith Pearce of Genesys shares a great story of how one customer service advisor inspired a large organization to reconsider its policies.
Ingrid Skjærseth loves to travel. It's her passion. Ingrid also loves a challenge and considers herself rather tenacious. That's why she was drawn to Ving, an Oslo, Norway-based travel company.
The job is demanding and presents a challenge. And with a love of travelling, it seemed like the perfect career path.
Ingrid started with Ving in 2008 and, generally, her job is quite fun. After all, she plays a part in helping people plan vacations all around the world.
Her passion for travel and people helps her create amazing experiences for individuals and families alike. However, one day her job wasn't so fun.
Ingrid held a variety of positions at Ving but had only been taking customer service calls a short time when she took a call from a customer named Ane, who wanted to cancel the reservation for her travel companion.
Under normal circumstances, that's not such an unusual request, and because Ingrid was rather new to Ving, she cancelled the reservation as the customer asked.
But that wasn't the end of this case. A day or so later, Ingrid received a call from her internal policy group and was informed that disabled people like Ane weren't allowed to travel unaccompanied. Without a companion, they would have to cancel Ane's reservation.
Ingrid was distraught. This policy was in direct conflict with her personal belief that everyone should have the freedom to travel as they wish. But duty-bound, she called Ane to deliver the bad news.
Ingrid's heart was heavy as she told Ane about the policy. And Ane was frustrated and disappointed, which was apparent in the tone of her voice.
But more than disappointed, Ane was also convincing. She told Ingrid that other airlines can accommodate disabled people, and given the fact that all airlines carry wheelchairs on board, it would only seem natural that Ving can assist disabled people too. Ingrid agreed.
Ingrid consulted her boss but was told that policy is policy. This gave Ingrid pause. Surely there must be a solution.
So, Ingrid went to work. She did her own research, evaluating the policies of other airlines. Sure enough, Ane was correct. Several other airlines had policies to accommodate disabled travellers.
Not only that, Ingrid reviewed local and international laws regarding the treatment of disabled people and found that the Ving policy was out of line with most of the industry.
Armed with this information, Ingrid went back to her supervisor, who wholeheartedly agreed: the airline should change its policy. But it wasn't only her boss that Ingrid needed to convince — it was the airline.
Ingrid contacted the leader of the policy department at the airline and presented her case, which was difficult to argue with. But she went one step more. She presented an ultimatum: "If we can't change policy to help Ane, then you have to call her and tell her why."
That's a mic drop moment. Not only did Ingrid seek the best solution, she was holding her company accountable. This wasn't just about changing a rule — it's a fundamental issue of right and wrong. How could anyone argue with that? No one did.
The Ving policy group agreed and immediately issued a policy change and updated the language on their website to inform disabled persons about their procedures. Ingrid won. More importantly, Ane won.
But Ingrid wasn't done. Not only did she help change the rules, she also arranged for Ane to receive a gift at her destination in Bulgaria. Upon Ane's arrival at her hotel, she was greeted by a bottle of wine, chocolates and a gift card — all to demonstrate what a valuable customer she is.
"Ingrid is such a kind, caring person — and one of the best colleagues that I have ever worked with," said Ann-Renée Degnes, Ingrid's colleague.
"I'm proud of Ingrid for all the good things she does for our customers and the team."
Recognizing the need for change is one thing; it's another thing entirely to go about to enact change. Ingrid seized a moment that not only helped a customer, but all customers to follow.
It's this selfless act that makes Ingrid a CX Hero — in the eyes of her peers and customers like Ane.