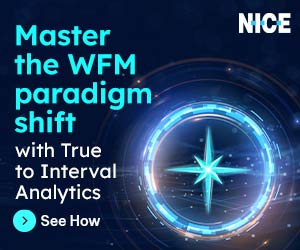 Imagine trying to settle a new continent or explore a new planet – so much would be unfamiliar, including unmapped areas, suspecting locals, and not even knowing what you don't know.
Now, think of your contact centre agent, similarly sent off into the new era of digital everything – still trying to deliver exceptional customer service, but under pressure, a lone pioneer in a new territory, and challenged in unprecedented ways by the change in culture and surroundings.
How will they navigate? Your agent needs to be prepared. A prepared and happy agent will be empowered to be a good ambassador for you in this new place and ensure superior customer experience. So, what can you do to best prepare them?
First, understand where you are sending your agent off to. The environment today is more demanding than ever. There is more technology they need to master.
Also, the natives are restless. The consumer's uncompromisingly high expectations are always continuing to rise. They demand quick resolution. Generally, they have less patience and feel like they have even less time. They prefer to use seamless self-service channels, so if their issues aren't resolved there and they are routed to an actual agent, they're not happy about it.
This also means that your agents are rarely handling routine questions – rather they are attending the tricky and complicated issues that couldn't be resolved in self-service. And your remote agent, whether they realize it or not, has little supervision or coaching to maneuver through these thorny areas.
On top of that, it's important to recognize that the organizations behind agents these days are experiencing their own changes and growing pains. They tend to be driven by processes, and sometimes fail to meet consumers' demands and needs in a timely manner.
So often there is underlying tension between consumers and the organizations. These organizations are even internally conflicted, and another common friction exists between agents and contact centres.
While attrition rates in contact centres have always been a problem, in the shadow of the "great resignation" it's worse than ever. Just as it did for people everywhere and in every field, COVID prompted contact centre agents to rethink their desires, priorities, and work expectations.
And like many others, agents, too, have demanded more flexibility in their work location, in their schedules, and in the way they are trained.
Against this backdrop, what can be done to empower agents and leave them better prepared for the many challenges? Like any pioneer who faces both the immediate and longer-term hurdles of having to settle in and make the new reality sustainable, your prepared agents will need the right tools to both survive and thrive.
It means solutions for the best real-time resolution of consumer needs so agents are set up for success. This could include interactions being routed in a smart way, using AI, to the most relevant available agent.
This can ensure that agents will receive interactions that best suit their skills, making it easier for them to excel. And during a call, agents will be supported by real-time guidance and automation to take the burden of mundane tasks off their shoulders.
It also means larger, long-term support and training that works for the agents personally, creating optimal balance in their lives.
This could mean offering agents some much-desired scheduling autonomy, giving them the flexibility to self-schedule according to preference, with automated approval flows, and easy access to unique needs, like over-time, last minute changes, swaps, and bidding for shifts.
This could also mean providing agents with modern, smart training that leverages gamification and the latest best practices to keep them engaged and empowered.
This blog post has been re-published by kind permission of NICE – View the
Original Article
For more information about NICE - visit the
NICE Website