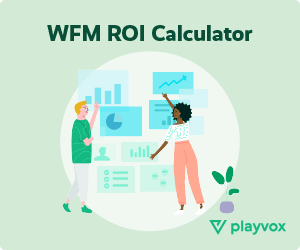 Quality assurance and monitoring is a tough but necessary part of operating a contact centre for consistently high customer experience at scale. Quality scorecard monitoring ensures customer service standards are met and exceeded using an adapted set of metrics to measure agents' performance.
But once the data is gathered, what are the next steps? How do you properly analyze and take action upon it?
If one of your main responsibilities is to analyze data and implement action plans to meet specific metric goals, join us as we unpack how to turn QA scorecard data into valuable information for your contact centre.
What Are QA Scorecards?
Customer experience is a key brand differentiator, and customers are opening up their wallets for a good one. In fact, 86% of customers say they are willing to pay more for a good customer experience.
And because customer experience is crucial, quality assurance is equally important. Quality assurance (QA) refers to the people, processes, and systems for monitoring customer calls to ensure they are being handled by agents in a desired fashion, also known as quality management.
Your contact centre needs a structured, systemic quality assurance program to measure how agents are performing and ensure customers are consistently receiving an excellent experience.
Building a QA program is a worthwhile investment in your customers, and at the core of these programs are contact centre QA scorecards.
Contact centre QA scorecards are a foundation for analysts, team leads or managers to score an agent's customer interactions and improve their overall performance. An effective scorecard is valuable for your agents, significant to your management and advantageous for your customers.
From Data Disconnect to QA Scorecard Success
Leveraging scorecard metrics to deliver a stronger customer experience seems simple in concept, but many contact centres experience a real disconnect between this data and tangible outcomes.
So, how can you shift from data disconnect to tangible progress?
Start by exploring these strategies to turn your QA metrics into QA gold.
Give Factual Feedback
If you have installed the right metrics to measure quality, you have a great foundation to deliver factual, productive feedback to your agents.
TIP: As you coach agents, remember to hand out feedback in an objective and useful manner. Be empathetic and show willingness to help an agent improve. When you use data to back up your feedback, it's a springboard for agents to strengthen their performance.
Deliver Scoreboard Metrics to the Agent in Real-Time
Ideally, agents have the ability to analyze their performance within minutes of ending communication with a customer. Having software in place allowing customers to rate their experience and immediately pass that information along to the agent saves an immense amount of time (and money).
Your customer also knows their voice matters, and the feedback is instantly available. That's a win-win!
TIP: The scorecard metrics provide valuable insights into an agent's handling of customer interactions while it's still fresh in their mind. This empowers agents to act immediately or change their behaviors in a self-directed way.
Coach Underperformers
Once your QA scorecard metrics are analyzed, it's easy to spot which objectives are being met and areas needing improvement, including identifying which agents are underperforming and specific areas for coaching.
Whether you provide hands-on coaching or use relevant software, this is a great opportunity to set new goals for underperformers and help them grow as a call centre agent.
TIP: Set a deadline and clear goals for reaching agreed-upon expectations. This is one way to empower your agents. And continue using QA scorecard metrics to measure growth over time to keep the conversation going.
When you notice an underperformer changing course and doing something right, be sure to celebrate their improvement!
Reward Overachievers
In addition to pinpointing agents who have room for improvement, QA data and scorecard metrics also help you see who's going above and beyond. It's important to let those employees know they're valued when providing exceptional service.
Show your appreciation through a clear reward system, such as Extra Mile points to be redeemed for gifts, or simple public recognition of a job well done. Now more than ever, rewarding and motivating call centre agents is important for your organization's success.
And with many contact centres operating in a hybrid model and also using more work-from-home agents, frequently celebrating success is one more way to keep agents engaged and connected.
TIP: Smaller achievements shouldn't go unnoticed either. As a manager, recognize agents by showing your appreciation publicly. Whether you voice their merit vocally, in writing through an online communication platform, or on a simple office whiteboard, small wins add up!
In essence, the key to making the most out of the data produced from QA scorecard metrics is to drive the information back to agents so they can improve front-line customer service.
Having tons of raw QA data can be confusing, time-consuming, often a headache to decipher, and sometimes it's just overwhelming.
But, with the help of the right software to analyze the information, metrics can be presented in an easier, more user-friendly way – allowing you to take more immediate and effective action, while improving your team's success and overall customer experience.
This blog post has been re-published by kind permission of Playvox – View the
Original Article
For more information about Playvox - visit the
Playvox Website