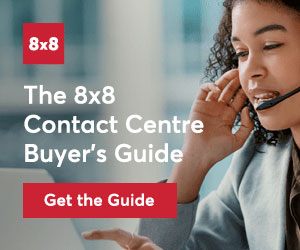 8×8 have launched research with the CCMA looking at consumer attitudes towards chatbots.
The findings, based on 2,000 consumer interviews in November, reveal that businesses are struggling to meet customer service needs, with more than half (57%) of those surveyed reporting increased difficulty in receiving customer service since the pandemic.
An aspect of this is that 67% have experienced an increase in wait times on calls. More and more businesses have embraced the use of chatbots, but consumer trust is holding them back from being an effective tool.
While just one in three (34%) say their trust in chatbots is increasing, this drops among those aged 45-54 (32%) and 55+ (22%). Additionally, companies are losing out on business and risking customer retention, with 64% of consumers surveyed reporting they've abandoned a query because the chatbot did not understand them.
Though the ability of chatbots to handle complex enquiries has increased in recent years, 60% of people in the UK are only happy to use them for relatively straightforward, transactional queries such as delivery updates, placing orders and checking account balances.
Whilst those aged 16-24 prefer to use chatbots (35%)more  than human advisors (26%) for delivery updates, many prefer more complex or emotive topics to be handled by a human advisor. For example, 68% of consumers would prefer to report fraud to a human, with just 11% preferring to use a chatbot.
For registering a complaint, just 12% would prefer to be served by a chatbot whilst 62% would prefer to speak with a human advisor.
Currently, just 26% of consumers agree that chatbots make customer service feel more personal. Personalization is key to the future of chatbots and understanding consumer preferences will be crucial.
Chris Marron, Director Market Intelligence at 8×8, commented: "Organizations should not rely on chatbots to build trust. The human connection remains critically important."
The most effective implementations recognize that artificial intelligence augments human advisors, it does not replace them.
"To be ready for the future, organizations should aim to meet customers on their terms and use the channels of their choice. This research demonstrates personalization of interactions and channels will be crucial moving forward."
Stephen Yap, CCMA's Research Director, said: "The pandemic has accelerated the mainstreaming of chatbot technology. This is great news for contact centres looking to deal with increasing demand."
"Chatbots are without doubt becoming normalized as a self-service option for basic transactions. However, providers need to work harder to build customers' trust in chatbots and to ensure that the option of a human advisor is still available for more complex queries. For now, the role of the chatbot is to act as a gatekeeper."
Follow the link to download the full report: Are Chatbots Ready for Prime Time?