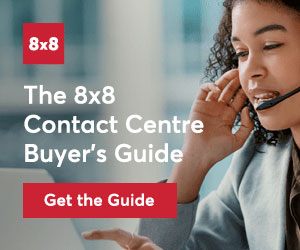 Jessica Smith at 8×8 gives tips on rethinking traditional call centre self-service in the contact-free economy.
Self-service tends to be a point of contention in the contact centre for a variety of reasons, mostly because customers have found this type of service, in many cases, to be underwhelming.
Potential issues with ineffective menus, limited options, being forced to connect with a live agent, or having to repeat information, are just some of the ways consumer frustration has risen when it comes to traditional self-service.
This way of thinking, however, has started to change as AI infuses self-service interactions. As technology continues to improve, and businesses look to enhance their self-service strategy, consumer preferences are beginning to shift.
We've passed a tipping point as customers are changing their tune about self-service. No longer is this channel seen as a nuisance but as a preference instead due to convenience, consistency, and interaction simplicity.
In fact, Gartner estimates that 85% of people will start with self-service first in 2022, which is up from 48% today. When AI powers these experiences in the form of, let's say "AI-assisted self-service", it's even more likely we will witness customers gravitating towards this highly efficient channel.
Furthermore, as we've entered this notion of a contact-free economy, the contact centre is shifting into even more of an epicentre for connecting with customers, and ultimately driving revenue.
Automation in the form of self-service strengthens your ability to meet customer demands quickly and easily and to connect in this new era we are seeing emerge.
Additionally, we can all agree that our time is an incredibly valuable resource. And it almost feels as though time has been altered for just about everyone these days. We expect our time to be considered and respected — adding to the appeal of self-service.
AI-assisted self-service answers the question of how to effectively connect with customers in the contact-free economy, and deliver intelligent experiences that value their time.
Three Tips to Rethink Self-Service Today
With companies approaching AI from a variety of angles, 8×8 has three recommendations that will enhance your ability to care for customers and respect their time.
1. Go Beyond Voice for Self-Service
Offering options when it comes to self-service will be key. Whether you're designing voice self-service, webchat, or even offering SMS interactions, this idea around channel flexibility or channel choice is crucial when designing an ideal paradigm for self-service.
As we continue to see the rise in the consumption of text-based channels, it's imperative to think about how best to address self-service within these channels.
Having a multifaceted approach will help address the variety of preferences among your customer base. Self-service and digital channels are growing in popularity somewhat in tandem, meaning your business can make enhancements to the two simultaneously to actively consider how to match new demands.
2. Deliver a Seamless & Cohesive Process
Self-service should be effortless. These experiences should be designed with flexibility and personalization in mind. If these experiences are clunky or frustrating, your customers will be conditioned into thinking this channel is unproductive.
Even worse, they may take their business elsewhere if the channel they prefer continues to present challenges.
Additionally, if the interaction needs to be escalated to a live agent, this needs to be a seamless transition. The system needs to accurately capture data and context that will then be presented to the agent upon connecting with the customer.
This ensures a highly cohesive experience from a virtual agent to live agent without bumps in the road that could potentially delay resolution times or frustrate the customer.
3. Always Consider Self-Service as a Work in Progress
Designing a self-service experience and letting it sit for years is exactly the kind of thing we need to avoid. Self-service should be looked at as a living, breathing system that is constantly evolving.
Having a frequent evaluation cadence to understand, 'what's working, what's not, and where I can make adjustments?' is essential to evolving your self-service approach.
Data visibility and analytics are essential for addressing issues and finding room for improvement. Without that visibility, you are blindly making decisions or potentially missing out on opportunities to make small tweaks that could directly address customer experience (CX) or efficiency gains.
Self-service is never a one-size-fits-all approach. Whether it's through speech recognition, natural language processing(NLP)/natural language uUnderstanding (NLU), conversational AI, or biometrics, your options are somewhat endless when it comes to designing AI-assisted self-service.
Understanding that self-service can be a work in progress gives room for this to be very iterative. With this in mind, it's important to think about the overall administration and design tools for these experiences.
Be sure to have a system in place that allows for advanced iteration by easily making adjustments in your workflows as opposed to requiring deep programmer or IT expertise.
Self-service is truly a channel on the rise, delivering results in this changing landscape we are all navigating. As you may be thinking it's time to take a look in the mirror or perhaps just reimagine self-service, I encourage you to see this channel as a new best friend to the contact centre.
Consumer preferences are changing, the technology is advancing, and the tools available uncover endless possibilities. I think it's fair to say the sky's the limit with AI-assisted self-service and it's time to get creative!